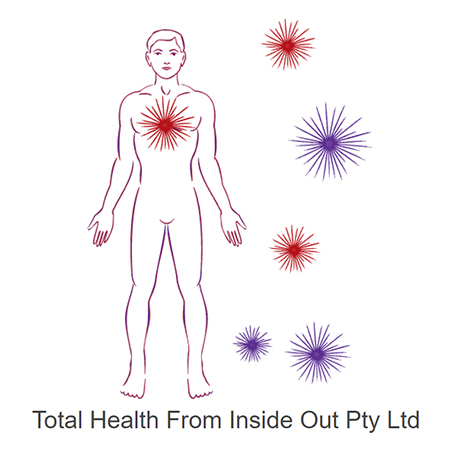 Total Health 'From Inside Out' Pty Ltd
Clicking on the Send Me Details Now button opens an enquiry form where you can message Total Health 'From Inside Out' Pty Ltd directly
Send Me Details Now
Natural Medicine Clinic for all Family needs, Muscular Skeletal Therapy, Nutritional Medicine,Cooperate Health Service & Individual Retreats
Total Health 'From Inside Out' Pty Ltd
Servicing area
Brisbane and Gold Coast, QLD, Northern Rivers NSW
---
Focus areas
Tinnitus
Cancer management
Eczema
Heart disease
Infertility
Menopause
---
---
Natural & Naturopathic Medicine

Provides services for assessing, prevention and treatment of acute health issues such as: pain management, sprained ankle, muscular skeletal issues & injuries, cuts, skin diseases & problems, (like acne, eczema, dermatitis, psoriasis, rosasea, vitiligo), allergies, chronic fatigue, blood pressure issues, depression, anxiety, stress, ADHD, childrens health, infertility, immune system problems including colds & flus, pregnancy support, mens health issues, digestive issues & disorders, headaches & migraines, fibromyalgia, chronic disease, cancer, dietary issues, weight management, obesity, metabolic syndrome, detoxification, womens health, and many more.

Our Natural & Naturopathic Medicine service offers support on a physical and emotional level and aims to assist the patient to take responsibility for their health and wellbeing.

We provide not only an alternative but a complementary service, as we work alongside conventional Medicine for the benefit of patients.


---
Naturopathic Health Check

A Naturopathic Health Check will help determine your level of Health and Well-being.
The check-up looks at the markers of the body which reflect True Health, Well-being and Vitality.

Our physical body is the Marker of all truth and by looking after ourselves and starting to look at all the signs, such as; exhaustion, stress, nervous tension, anxiousness, bloating, muscle tension, pain and many more, we have the ability to heal and live a life in full vitality, health and harmony.

Naturopathic Health Check includes:
Blood Pressure & Pulse Check
Heavy Metal and Free Radical Test
Testing for Chelating Ability to absorb and eliminate Minerals
Digestive Health & Bacterial Growth Test
Yeast/Candida/Celiac Test
Testing Bodys Acid-Alkaline Levels
Dehydration Test
Glucose Test
Testing Inflammation marker for Kidney, Bladder and Uric Tract
Testing of elevated Liver Enzymes
Calcium / Magnesium-Deficiencies
Test for Bodys Ability to Digest Protein
Testing for general Infection and Inflammation markers
Test for Oxygen Levels in the body - oxygen concentration in the bloodstream
Stress profile and Stress & Adrenal Marker Test
Vitamin & Mineral Deficiencies
Lack in Essential Fatty Acids
Serotonin & Dopamine Levels
Allergies and Food Intolerance
Bodys Toxicity Levels
Check of body posture and hip alignment
Check of Spinal Alignment
A Naturopathic Health check is recommended at least once a year and can include; Tests, Structural check for correct body alignment and re-assessing your health status.



---
Musclular Skeletal Therapy (MST)

MST assesses and physically treats muscular and connective tissue (fascia) pain, injury and dysfunction affecting movement and mobility. MST is applied in the preventative, corrective and rehabilitative phases of therapy to restore and maintain the normal integrity of the soft tissue structure (muscles, tendons, ligaments and connective tissue) of the human body.

MST is a gentle non manipulative therapy that allows the body to realign and address the cause of structural problems, and alignment and muscular skeletal issues, without force or by just masking them and burying them deeper. This therapy works on the physical as well as on the emotional level of the above mentioned issues.

Muscular Skeletal Therapy Treatment includes a combination of:
Connective Tissue & Soft tissue treatment => Esoteric Connective Tissue Therapy (ECTT)
Muscle & Joint treatment => ECTT & Energetic Facial Release
Pain Management => Chakra Puncture (a form of dry needling)
Pain Management => Natural & Orthomolecular Medicine & PNI
Muscle and Connective Tissue release => ECTT & Gentle Massage
Postural assessment and correction => Structural, Back, Joint & Alignment Therapy
Corrective exercises (stretches, strength) => Holistic Sports Medicine & MTT & TENS machine
Core stability exercises => Medical Training Therapy (MTT)
Stability exercises => MTT - Proprioceptive Therapy
Emotional & Neurological conditions => Esoteric Healing & Psycho-Neuro-Immunology (PNI)
Diet and nutritional advice => Natural & Nutritional Medicine

Today Steffen practices this mode of muscular skeletal therapy that helps the body to gently re-align. It is non invasive, painless, non-manipulative and supports any acute or chronic muscle, spinal, joint problem or pain.

Treatments are available for women, men and children of all ages.

For more information on Esoteric Connective Tissue Therapy
http://www.esotericconnectivetissuetherapy.com


---
Gentle Massage

The Gentle Massage is a specialized treatment that opens the body up to its own ability to re-balance, not only works with the physical body and its conditions, but also address the emotional blockages that may be there affecting or causing the conditions to arise in the first place. The technique de-constructs the tension and stress held by your body and leads the individual to a new place of harmony, stillness and balance. It also works to:
improves physical and mental performance
decrease muscle tension and pain
help prevent acute and chronic injuries from occurring
reduce anxiety and restores clear thoughts
improve immune system functioning
improve circulation and reduce blood pressure
calms the nerves, restore concentration and focus
promotes health and a feeling of well-being
relieves physical problems associated with repetitive task
increase the flow of energy in our bodies and more
---
Energetic Facial Release

An extremely nurturing experience, the gentle Energetic Facial Release techniques assist us to release that which we have held on to so tightly in our faces - and bodies - restoring the true emanation of each area of our face.As the years pass we can see the emotions that have imprinted themselves on our faces and in our expressions Energetic Facial Release support letting go from conditions and emotions such as:
stress, grief, sadness, hurt, fear and anger
jaw issues and teeth grinding
fingernail biting/gum chewing
pain
hay fever
negative thoughts and beliefs
sinuses
tinnitus
depression
TMJ issues
clenching
frustration
concentration problems
---
Chakra-Puncture

Chakra-Puncture is based on the oldest form of medicine, re-dating both the Chinese and Japanese forms of acupuncture. It uses very fine Japanese needles for a light, gentle needling technique on the surface of the skin, without any deep needling.
Sessions can be undertaken as a stand-alone session or in a program format such as the Chemo Wash Program (to support those undertaking Chemotherapy) a cold and flu preventative treatment course, or a 12 week Detoxification Program to clear toxins, chemical loading and heavy metals from the body. The Detox program offers great support for those clients who are choosing a way of life that reduces the need for stimulants and or numbing products such as coffee, cigarettes, alcohol, drugs, gluten, dairy and sugar.
It is very supportive for weight loss too.

Chakra-puncture can assist with a range of acute/chronic conditions such as:
diabetes
anxiety
sleeplessness
arthritis
digestive disorders
cancer support
sciatica
tinnitus
bladder conditions
vascular conditions
restless legs
allergy
kidney disorders
knee problem
depression
eczma

weight management
back/neck pain
detoxification
fertility
hormonal conditions
fibromyalgia
chronic fatigue
sinusitis
emotional states
menstrual disorders
hay fever
headaches
prostate disorders
migraines
racy head
to name but a few.

For more information on Chakra Puncture please visit:
www.chakra-puncture.com


---
Nutritional and Orthomolecular Medicine

Orthomolecular Medicine is a form of complementary and alternative medicine aimed at maintaining health through nutritional supplementation and based on the assertion that there is an optimum nutritional environment in the body and that diseases reflect deficiencies in this environment.

Treatment for disease, according to this view, calls for the "correcting of imbalances or deficiencies based on individual biochemistry" by use of substances natural to the body, such as vitamins, minerals, amino acids, trace elements and fatty acids

The term "orthomolecular" was coined by Linus Pauling to mean "the right molecules in the right amounts" (ortho is Greek for "right"). Practitioners of orthomolecular medicine ensure that treatment must be based on each patient's individual biochemistry.



---
Call us on 0405 845 753, or 'Make an Enquiry' below, to find our more about our services, or to book your first appointment.
We're open 6 days.
| | | | |
| --- | --- | --- | --- |
| Monday | 7:00 am | To | 6:00 pm |
| Tuesday | 7:00 am | To | 6:00 pm |
| Wednesday | 7:00 am | To | 6:00 pm |
| Thursday | 7:00 am | To | 6:00 pm |
| Friday | 7:00 am | To | 6:00 pm |
| Saturday | 7:00 am | To | 3:00 pm |
Professional Membership
ANTA - Australian Natural Therapists Association
---