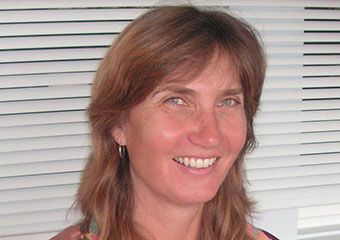 Inga Kaiser - Unity Clinic
Clicking on the Send Me Details Now button opens an enquiry form where you can message Inga Kaiser directly
Send Me Details Now
Naturopathy , Homoeopathy, Herbal Medicine, Nutrition, Reiki and Bowen Therapy
Inga Kaiser - Naturopath & Bowen Therapist
Servicing area
Launceston, Tasmania
---
Focus areas
Complementary medicine
Wellbeing
Chronic illness
Preventative healthcare
Chronic health issues
Stress Management
---
0497 762 169 - ATMS accredited

---
I am a Naturopath and Bowen Therapist, practising since 2003. The naturopathic treatment methods I specialize in are classical Homoeopathy, Herbal Medicine, Diet & Nutrition, Reiki, Counselling and Bowen Therapy.
My focus lies on preventative health care and the holistic treatment of chronic illnesses, such as:
Digestive Disorders

Headaches/Migraines

Skin Problems

Arthritic Complaints

Autoimmune Diseases


Allergies/Intolerances

Depression/Anxiety

Stress Symptoms

Hormonal Imbalances

Muscular Aches and Pains

Sleeping Difficulties

Recurrent Colds and Flus

Fatigue/ Lack of Energy


Children's Health Care

Women's/Men's Health Issues
The principle of Naturopathy is to aid the body's natural ability to heal itself by using a variety of traditional complementary medicine modalities.
The holistic approach of Naturopathy considers the underlying cause of disease rather than focusing on symptoms in isolation. This is especially essential in chronic and autoimmune illness.
Causing no harm is paramount for a Naturopath. All methods applied are not known to cause any adverse effects and should be compatible with prescribed medication.
Coming from a professional background of Social Work and Counselling (Germany) I believe in the importance of body and mind unity as a basis for achieving and maintaining health and wellbeing.
By taking time and listening to you I would like to understand and assist you in:
finding the "missing link"

suggesting dietary or lifestyle changes being realistic and practical

selecting individual treatment options that are helpful and affordable

aiming to achieve cure, optimizing health, improving life quality
For your initial consultation please bring with you all relevant medical reports and a list of currently taken prescribed medications and nutritional supplements.
Pathology Testing is available and can be ordered through a Functional Pathology Laboratory.
To test for food or environmental sensitivities I use muscle testing based on Kinesiology.
The dispensary consists of a comprehensive range of homoeopathic remedies, flower essences, medicinal herbal extracts and a selection of high quality nutritional supplements.
For more information about the body work Bowen Therapy please see the separate heading on this website.
Welcome to my clinic and I look forward to meeting you
Gift Vouchers
Concession Discounts
Opening hours: Monday to Friday by appointment

Qualifications

---
Diploma in Social Work, Germany

Certificate in Gestalt Therapy/Counselling, Germany

Advanced Diploma of Applied Science - Naturopathy, 2002, Perth/WA

Certificate in Advanced Level of Bowen Therapy, 2003, Perth/WA
---
TESTIMONIALS
Inga is an incredibly useful person to have on your team if you're unwell. I experienced some months of illness last year for which I saw my GP and Inga. Listening to both and taking into account their thoughts was useful, but being able to discuss things with Inga at length was especially helpful. She has a deep and detailed understanding of medical matters, the time to listen, and a willingness to think a little more outside of the box than the medical establishment. I had never had Bowen previously and it was nothing short of a revelation. I've had osteopathy before, and have some training myself in massage and shiatsu. Bowen is better than any of them. It's deeper (although it can be gentle), incredibly effective and has immediate effects too. I'm also still using herbal tinctures which I get from Inga which I believe have had a dramatic effect. Inga is worth every cent. She is also a deeply lovely and caring person, and the value of that, when one is not feeling well, can't be overstated. Thanks Inga!
The support, advice and patience of Inga made my experiences at her clinic better than I could have ever hoped for. Inga took the time to explore the many possible causes of my discomfort and she ensured we were on the right road to recovery. Through this, I felt trusting, comfortable and safe with Inga and her treatment plan. In the past, I had been told I was incurable, however, after seeing Inga I am definitely on the road to a much healthier and happier life!
Inga is a caring and thorough Naturopath with the knowledge and advice to match!
Sandra Cox
Finding a person who has a happy personality, listens to you, is knowledgeable and has been able to get my body in such a good condition with naturopathy has been a blessing. Coming back from overseas I had very bad body stiffness and a bad headache. Off to Inga for Bowen therapy and walked out feeling great. I have been to other Bowen therapists on the mainland and have found Inga is perfect for my body.
Inga - a blessing in disguise!
I've said right from the first time I met her, she is all about your
Health and not your money.....I went to her full of pain, inflammation, she knows her stuff, and is not one to dose you up on multiple potions, only what's necessary, reassuring you that the goal is to reduce what's needed to a minimum..
Anyway as of today, I am absolutely amazed how much better my health is, and a follow up apt. Wasn't necessary at this stage.
Ive been to a few naturopaths, and hands down Inga is the best, don't hesitate in going to her, it'll be the best thing you do for yourself.
Thanks Inga, you're a treasur
I only wish I had heard of Inga and Unity Clinic as soon as I moved to Launceston. However, better later than never...and with Inga's care and compassion, and her great homeopathic remedies I am in better health now than I have been for years. Having gut problems and its associated anxieties, and other ailments that come with the joy of ageing now relieved, I can recommend Inga as a practitioner who really knows her stuff. Thank you!
I was referred to Inga by a family member. I have found that Inga is a very knowledgable and highly skilled health practitioner. I am very happy I have found her and we are fortunate to have a practitioner like Inga in our area.
A very lucky day when a friend referred me to Inga Kaiser. Inga is a very skilled Bowen therapist and combined with sound health & lifestyle recommendations gives a great result.
Gary V
I have been seeing an Osteopath for 15 years with varied success.
I have been seeing Inga for 4 months and my body feels better and pain levels are non existent compared to before Inga's treatments.
Jazmin Beveridge
I could not recommend Inga more highly. She has literally changed my entire life. I have been seeing Inga for a few years now and throughout this time she has helped me navigate through some health challenges and helped me go into remission from an "incurable" condition. The power of herbal medicine continues to amaze me. Inga has been a great support to me and is always available to answer any questions or concerns I have and I always walk out of her clinic feeling so inspired, positive and motivated to take charge of my health. Every minute you spend with Inga is time well spent! She will change your life!
Aisling Fry
When I first discovered Inga I was delighted to find the perfect practitioner. She combines Bowen Therapy with Naturopathy to achieve the best possible outcome for her clients. When she suggested she might be able to help with the knee problem I have had for many years, I was keen to give it a try. Inga has such a depth of knowledge and experience, I can honestly say that even in a short space of time I can feel a difference.
Thank you Inga!
Andy Del Vecchio
Positive: Communication, Professionalism, Quality.
After four visits to Inga I had to buy new shoes. My old shoes which had worn out unevenly, were now killing me, because Inga had actually straightened out my gait and posture. My shoulders and neck have also never felt so free.
Inga is very good in her profession……5 stars!

Barbara Lovell
Prior to finding Inga I had suffered for about 3 years with gluteal tendonitis (diagnosed) and had visited physios who had applied very painful pressure to try and break up tight tendons and muscles. Pain level daily was at least 7-8, and I could no longer follow my passion for running. After my 2nd visit to Inga the pain level had dropped to a 3 and now it is completely gone and I am getting back into running. Loving it!!!
Thank you, Inga. You are absolutely amazing and I will keep coming back each month for a regular "tune up".
---