Learn how your food, exercise, sleep & stress affects your health based on your glucose biomarkers.
Now available for non-diabetics.
Join the Vively waitlist now to get a 30% discount.
Join the waitlist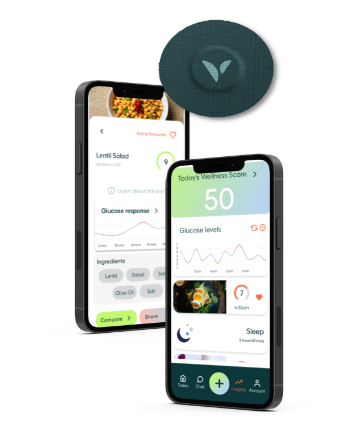 Clicking on the Send Me Details Now button opens an enquiry form where you can message Laura Colbert directly
Send Me Details Now
Offering Ayurveda and Postpartum Support
Vita Sana Wellness
Focus areas
Nervous system
Relaxation
Joy
Wellness
Circulation
Lifestyle
---
---
About Vita Sana Wellness
Vita Sana Wellness focuses on rejuvenating and nurturing all clients by working with the Ancient Universal Wisdom of Ayurveda. Ayurveda works towards balancing Mind, Body and Soul, so the treatments given aim to help clients achieve balance and inner harmony.
What is Ayurveda?
Ayurveda is "the science of life" and has been practised for more than 5000 years. It is a holistic health system based on living in harmony with nature and the universe. Through understanding that the five elements combine to create three constitutions or doshas which are like patterns of energy, Ayurveda teaches us how to understand our individual true self. We each have a unique nature and by understanding this we are able to help prevent illness as well as cure disease. Ayurveda heals, prevents disease, vitalises and helps achieve good health through dosha specific diets, lifestyle changes, sound therapy, meditation, herbal medicines, bodywork therapies, Panchakarma and Yoga plus more providing a complete healing system. By offering healing on all levels whilst following a path that moves with nature rather than against it, Ayurveda aims to maintain the health and well-being of a person and also maintain the happiness and balance of a person's mind and soul.
Your Experience
Offering clients that little bit more is important at Vita Sana Wellness, from the moment you walk in to the moment you go home, I strive to achieve this, helping you leave feeling completely whole. I work towards providing a space that completely facilitates the healing treatments I provide and with a passion to help bring inner harmony and balance to clients, your experience at Vita Sana Wellness will leave you wanting more. I don't believe in rushing clients in and out, so following your treatment you will be offered a balancing organic Ayurvedic tea where you can take your time to completely absorb the treatment you just received before heading home.
---
Your therapist
I am a nature loving therapist and enjoy spending my days in Cockatoo where I can take a beautiful walk to the local Yoga studio, spend hours walking in the forest or do gardening in my backyard.
I was drawn to Ayurveda when I became very passionate about re-balancing myself and recovering from being ill. Ayurveda taught me the importance of understanding your individual self, what balance means on all levels plus how nature plays a big role in our health and wellbeing. With a lot of hard work I regained my health, re-balanced my life and learnt some invaluable lessons that I will be forever thankful for.
I am a qualified Ayurvedic Relaxation and Abhyanga Massage Therapist; I have completed Level 1 and 2 of Sekhem Natural Healing and currently study an Advanced Diploma of Ayurveda with goals to continue studying in order to keep growing my skills as a Therapist.
I absolutely love what I do and transfer that into every treatment. Being able to help others find balance in their lives as I have found, brings me a lot of joy and I hope to be part of your health and wellness journey.
Laura Colbert
I would love to hear from you with any enquires, bookings or just to say hello so please give me a call or click the "Send me Details" button and I will get back to you shortly.
---