Learn how your food, exercise, sleep & stress affects your health based on your glucose biomarkers.
Now available for non-diabetics.
Join the Vively waitlist now to get a 30% discount.
Join the waitlist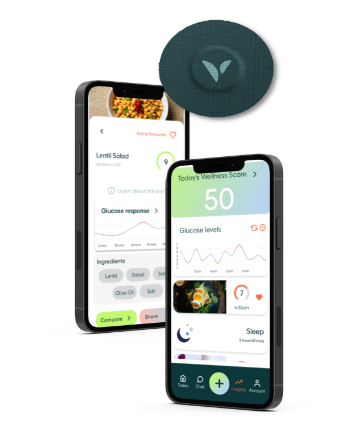 Clicking on the Send Me Details Now button opens an enquiry form where you can message Laura Colbert directly
Send Me Details Now
Offering rejuvenating and nurturing Ayurvedic Treatments with an aim to help you achieve balance and inner harmony through thoughtfully planned out treatments tailored to your individual needs
Vita Sana Wellness
Servicing area
Servicing The Dandenong Ranges and Surrounding Areas
---
Focus areas
Nervous system
Relaxation
Joy
Wellness
Circulation
Lifestyle
---
---
Abhyanga/Traditional Ayurvedic Massage
Abhyanga Massage is a therapeutic Ayurvedic Massage using warm medicated oils which heal and detoxify the Mind, Body and Soul. Compared to other styles of massage, Abhyanga is very unique as the whole treatment is tailored according to your individual dosha/constitution. Medicated aromatic oils and specific techniques are selected which help to release physical, mental and spiritual toxins plus deeply penetrates into the muscles and cells.
Benefits of Abhyanga:



Rejuvenates the whole body




Nourishes the mind and body




Restores balance in the mind, body and soul helping to relieve stress




Increases longevity




Detoxifies the body on all levels




Calms the nerves and benefits sleep




Strengthens the Dhatus (the body's tissues) and lubricates the joints




Tones and prevents stiffness of the muscles



What to expect?
The treatment will begin with a short consultation and I will ask some questions in order to determine your dosha type and imbalance, then I will carefully select the oils and plan an appropriate Abhyanga for you. Each Abhyanga begins with an anointment of the 7 Sacred Points and Ohm chanting (optional). Gandharva Veda music will be played during your treatment which is the eternal music of nature and your treatment will close with the healing sound of a singing bowl. Try Swedana/Steam Therapy after your treatment to receive optimal benefits.
Swedana/Steam Therapy
Swedana/Steam Therapy is a companion treatment following an Abhyanga as it helps the medicated oils penetrate further into the tissues. When having a Swedana your body temperature increases and the tissues of your body open allowing impurities to move from deep within the tissues and as the tissues open up toxins/ama are expelled through the skin. A Swedana can help to improve circulation, reduce inflammation and promotes healing.
What to expect?
Following your Abhyanga you will be asked to sit in the steam box within the treatment room, keeping your head out and you will remain there for around for around 10-20 minutes. Afterwards you can wipe the sweat/oil away with a dry towel.
Ayurvedic Relaxation Massage
Ayurvedic Relaxation Massage is a very healing massage incorporating Traditional Ayurvedic techniques which help to awaken the body and release any pain or tension. Carefully applied pressure is used which helps to balance the nervous system and ease the stresses of the day, giving you a deep sense of relaxation. Extra care is taken into ensuring you achieve complete relaxation and are able to let go and absorb the benefits of this healing treatment. Included with this massage is a Healing, Chakra Re-aligning and Aura Closing, which compliments this treatment beautifully. (optional)
Benefits of an Ayurvedic Relaxation Massage:



Boost immunity & improves circulation




Detoxifies the mind and body




Calms the mind & aids in releasing emotions




Helps with lowering stress levels




Brings you inner harmony




Relieves any muscle tension



What to expect?
The treatment will begin with a brief chat so I can understand how to tailor the massage to you, then I will select oils that will help achieve mind, body and spirit harmony. I will explain the sequence of the massage allowing you to totally let go during the treatment. Gandharva Veda music will be played during your treatment which is the eternal music of nature and your treatment will close with the healing sound of a singing bowl.
Contact Laura today to book an appointment
---
Gift Vouchers
Looking for that perfect present for that special someone, friend or colleague? Why not treat them to a rejuvenating and nurturing treatment from Vita Sana Wellness. Call or click the "Send me Details" button to organise a gift voucher and I will get one out to you either via mail or email.
---
What My Clients Are Saying:

I took a scenic drive to Cockatoo for an Ayurvedic massage/holistic healing session that turned out to be the best Abhyanga I've ever had! (and I've had several good ones in India and Bali) It was so much more than a massage though, Laura made it into a divinely therapeutic experience that left me feeling nurtured and nourished. Traditional Ayurvedic oils infused with medicinal herbs matched to my dosha were used that smelt & felt amazing. Indian flute and classical Indian instrumental tunes were playing throughout my massage as I floated off into a state of bliss! Care & thought was taken into the finer details: the ambience of the room, a beautiful bowl of water with rose petals lay in my eye view under me, sound healing with a Tibetan bowl at the end, followed by a lovely shower with organic products and a Vata balancing herbal tea at the end of my massage. Overall the pressure and massage techniques used seemed perfectly attuned to my needs as I felt my whole body and nervous system calmed & rebalanced. Definitely worth the drive out to this gorgeous Cockatoo sanctuary. Highly recommended. – Aparna

I had a wellness massage with Laura & I feel well! Even after cleaning the floors & up a bit at night, I'm feeling good. I've already booked in again. Thank you Laura. – Cindy-Lee
My session with Laura came about at a time when I needed it most. It was such a privilege to have the session in the comfort of my own home and the slow pace of how we began helped accelerate my healing before the massage even started, as if my body needed to slow down so desperately, this was the first call and it was answered with kindness and grace.

Then the massage began and I found myself falling asleep three times during the luxurious two hours, I was so relaxed... The oil was so gentle and calming on the skin. The techniques Laura used were absolutelyincredible. I loved how she even spent time on the face, which is a place quite frequently ignored and such an important one at that.

A truly healing experience. She is a master in this field. I would recommend Laura to anyone and everyone looking for relaxation, healing and grounding. - Tara

---
---