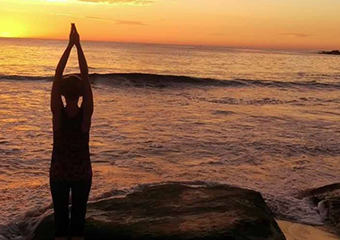 Want to find out my availability, pricing or opening hours? Click on Send Me Details Now to get started.
Send Me Details Now
Clicking on the Send Me Details Now button opens an enquiry form where you can message Donna Ruetman directly
Remedial yoga why is it different? Remedial yoga is a therapy that works the inside and outside of the body, it's a work in not a work out.
Shoalhaven Japanese yoga
Servicing area
Conjola Park, Ulladulla, Manyana
---
Focus areas
Gaining strength
Stress management
Love
Nurturing
Joy
Health issues
---
---
Our Story
Completed 14 months of training, on the 6th December 2018 and I obtained my 10137 NAT - Certificate IV in Remedial Yoga Teaching with COTY Australia's leading industry and government accredited remedial yoga teacher training course.
An amazing journey, fantastic teachers and an awesome group of ladies to grow and learn from.
My yoga biography
Yoga saved my life and made me a better person.
I began practicing yoga at about 18 and have been practicing for 48 years.
I knew that yoga was for me from my first class, the poses suited my body and I felt better when I finished the class. The teachers made me feel comfortable and taught me that I was there for myself. It took a while to sink in, as I have been a competitive person in previous sports like netball and swimming.
With the direction, honesty ,compassion and friendship of my teachers such as Kerri Beverstock from Balance Body Yoga and Judith Sanchez from Yoga with Judith, both Hatha Yoga teachers , I learnt about life and how to stay in the moment, they gave me a place to go the when the stresses of life got too much. For that I am forever grateful to them both.
I worked in Sydney as a Licensed Customs Broker for 35 years and found myself helping up and coming customs brokers with their studies and exams, I really enjoyed the teaching and nurturing side of this. I was made an offer to teach the Customs Brokers study group and write the exam questions and answers, however I found myself unfulfilled with the subject matter. So I endeavoured to find my calling.
My passions in life is yoga and swimming, with further thought I enrolled in a Swimming Teaching Course and starting teaching, however due to my soft voice the kids could not hear me, which proved difficult in this environment, swimming teacher role was not for me.
I returned to a Customs Brokers position and kept dreaming of the perfect job for me. Working as a Customs Broker was very stressful the stress started to affect my life energy, so I decided to enrol in a Yoga Teacher Course. I typed in google and found The Yoga House in Gladesville, they had a course starting the next week so I went for it and enrolled I didn't think too much about how I was going to manage working full time and how I was going to pay for it. I had faith that the universe would provide.
I commenced the Japanese therapy Yoga course in 2015 training under Lisa Masters and Lyn Keogh, amazing teacher , who showed me love, compassion, empathy and how to love myself, they gave me confidence to believe in myself. The teachers said that the course would change my life. The course entailed 150 hours of personal practice, when I first started my personal practice at The Yoga House I had a lot of fat around my belly had no confidence in myself and low self-worth, my shoulders were tight, they rounded forward from working behind a desk for 35 years, I had pain in my collar bone from 2 previous breaks as a child, my hip clicked, and my legs were weak, I felt very unhealthy.
I learnt so much about myself in this course. The course covered subjects such a macrobiotic diet of eating whole foods my previous diet was very unhealthy I had no idea how to eat I never ate breakfast and lived mostly on coffee, lunch consisted of something quick and dinners was pretty much the same. I learnt how to eat for the first time in life. I learnt what my portion size should be. I started to eat breakfast for the first time in my life, I started to take time to have lunch, my meals became a healthier choice, with a lot of vegetables and less takeaway.
Healing your own body and working on your own health issues make you a more empathetic and better teacher.
The course covered the Introduction to therapy yoga, how yin and yang as applied to body upper and lower, the function and structure of the body, meditation techniques, eye diagnosis, front and back inward and outward focus, the laws of the universe, Animism, left and right imbalances, yoga breath, teaching methods and strategies, history and philosophy of yoga 1 and 2, vocation training yoga teaching included writing a business plan.
As part of the completion of the course I started to teach yoga, which included a 10 week course for vitality and weight loss from 6am to 7am every Tuesday. I found when I returned home from teaching my energy levels were high and I felt so happy doing what I loved to do.
I then obtained a teaching position at gracefully fit in Oatley NSW every Saturday afternoon, until April when I moved to beautiful Conjola Park.
I am now trying to start up classes in Mollymook and Ulladulla and loving every minute of it. I found my place in life.
June 10 2018
It's been just over 12 months now since I started my business and teaching in Mollymook, Ulladulla and Manyana. I enjoy every minutes of teaching, although I discovered many challenges along the way, both good and not so good, it's the not so good where I learnt and grow the most in my teaching and business. I have always loved a challenge and I am so blessed to have so many beautiful students, who have made my dream come true.
Services
Mobile Yoga on the South Coast NSW
1hr
Japanese remedial yoga helps to restore imbalance within the body. Yoga with donna will travel to your home for $15.00 for 1 hour of yoga or you could join a class at Manyana at $10.00 on a Saturday morning or Ulladulla at $5.00 on a Tuesday afterno
Qualifications
Remedial Yoga Therapy Certificate Iv
---