What is yoga?
Yoga is a modality that incorporates meditation, stretching, breathing and relaxation exercises used to improve self-awareness. Yoga has several advantages, including increased flexibility, improved attitude, better balance, improved muscular strength and less tension in the body. Yoga instructors help those who are suffering from either mental or physical problems such as:
Depression

Insomnia

Diabetes

Headaches

Migraines

Asthma

Carpal tunnel syndrome

Inflammation

Heart disease

Anxiety

Stress

Hyperthyroidism
After completing your yoga training, you may join one of the following peak yoga industry associations in Bendigo:
Yoga Australia

Australasian Association of Yoga Therapists (AAYT)

BKS Iyengar Association of Australia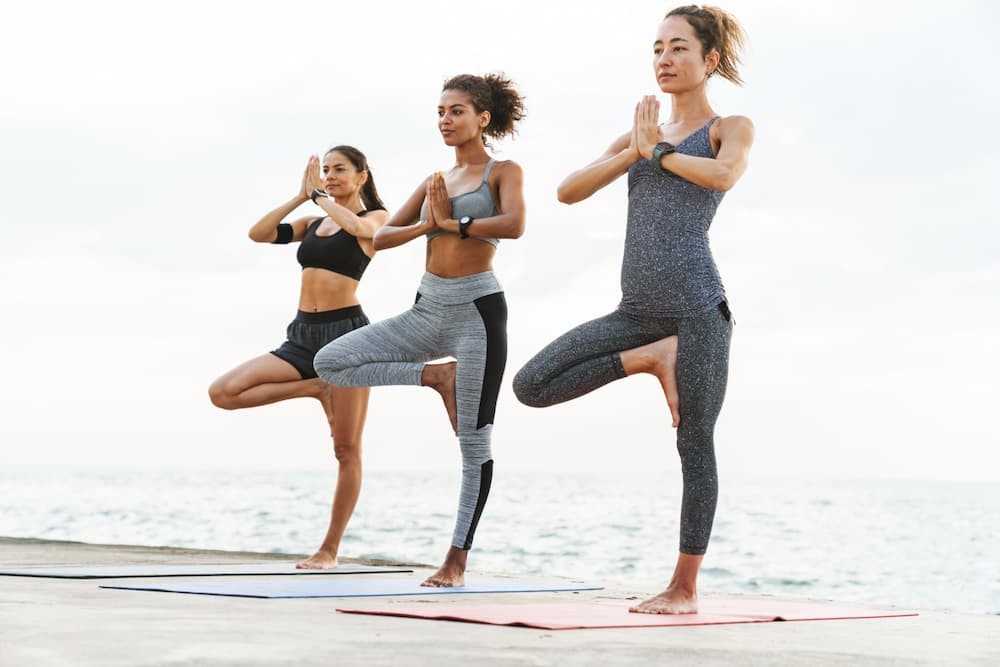 Should you study yoga?
Are you looking for a career where you get to stay fit and promote health and wellness so that others can live their life to the fullest?
If you said yes, then consider a career as a yoga instructor! If you want to work as a yoga instructor in Bendigo, here are some of the skills and qualities you'll need:
Time management: because you'll be required to deal with many classes on a daily basis.

Excellent verbal communication skills: during the yoga classes you will need to clearly explain how each of the poses will be completed.

Physical stamina: since you are required to move continuously throughout the day and execute various yoga postures.
If this matches your professional goals and interpersonal skills, continue reading to learn more about Bendigo's yoga training options and career opportunities in Victoria.
What are the course and study options for yoga teachers in Bendigo?
To work as a yoga instructor, you must first complete a 200-hour yoga teaching training program. Delivery options in Bendigo-based yoga courses may be tailored to fit your desired learning pace as well as other obligations you may have such as on-campus, online and blended learning systems.
In Bendigo, yoga instructors with considerable expertise either teaching or working in this field teach these classes. You will study more about the history of yoga, physiology, meditation, and yoga postures during your lessons. You'll also need to complete a practical work experience module alongside your studies. As a result, you will receive personal coaching from a qualified yoga instructor, which will help you have a deeper understanding of what yoga instructors do on a daily basis and increase your self-confidence as a yoga teacher.
Are you ready to commence working as a yoga instructor in Bendigo but don't know where to start?
Natural Therapy Pages has gathered a list of yoga courses in Bendigo for you to browse through at the top of this page. Once you compare your options and shortlist your favourite courses, you can get in touch with the Bendigo yoga institution with any further questions you may have regarding their:
Curriculum

Accreditation

Term dates

Tuition fees
This will help you make an informed decision about the best institution for you.
What happens after you complete your yoga course in Bendigo?
Completing a certification course will give you the knowledge and abilities to teach yoga to one or a group of people. Furthermore, as a graduate of an official yoga institution, you will have the ability to join one of the many yoga membership organisations. This will improve your credibility, making it easier to find a job. There are many different sectors within the health and wellness industry that constantly seek for yoga instructors to join their team:
Yoga studios

Physical therapy offices

Fitness centres

Gyms

Rehabilitation centres

Community health centres
Self-employment by starting your own private practice specialising in yoga may also be a future option for you if you want greater control over your job. Before you start and advertise your yoga sessions, you'll need Yoga Alliance certification. Natural Therapy Pages can help you with the process of attracting new customers once you've received your license by letting you list either your in-person yoga classes or online yoga sessions.
It's critical to remember that growth and learning are essential components of improving your yoga teaching skills. Once you finish your initial training, you should consider taking a diploma certificate course to expand your knowledge. This will allow you to specialise in one of the following yoga styles: