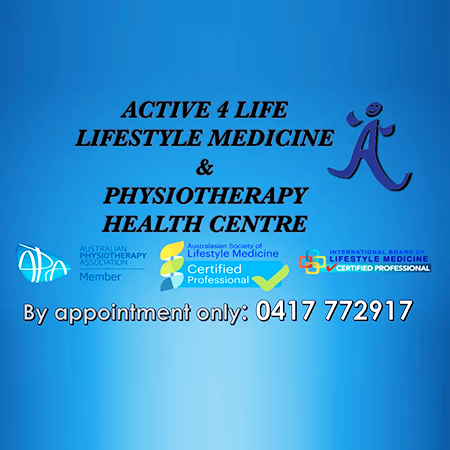 Active4Life Physiotherapy, Remedial Massage, Health Biohacking and Lifestyle Coaching Service
Poor diet and lifestyle habits are at the root of type 2 diabetes, obesity, heart disease and other chronic diseases. Lifestyle medicine has the potential to reverse disease symptoms or prevent them entirely. Find out how it works at Active4Life Physiotherapy, Remedial Massage, Health Biohacking and Lifestyle Coaching Service.
Manual Therapies & Lifestyle Medicine
Servicing area
Singleton, New South Wales
---
Focus areas
Optimal health
Massage therapy
Coaching
Fitness
Lifestyle medicine
Physical rehabilitation
---
---
Active4Life Physiotherapy, Remedial Massage, Health Biohacking and Lifestyle Coaching Service is a Singleton, New South Wales-based holistic health and wellness centre.
We offer hands-on therapy, fitness and performance coaching, health screening, and education and guidance to help you achieve and maintain good health and a better quality of life.
We provide high-quality, competent and customised solutions, and our past and current clients highly recommend us.
Meet Our Team
Active 4 Life Physiotherapy is owned and operated by registered physiotherapist and massage therapist Elizabeth Pralica. Her friendly disposition and determination to get your health back on track makes working with her truly delightful.
Liz leads an active and full life, having completed the Australian Ironman event 20 times and earning legend status in 2006. She finished her first Australian Ironman in 1997, finishing third in her age group and earning a World Championship Ironman spot in Hawaii.
At work, she enjoys giving professional advice and collaborating with you to keep you informed and inspired to perform at your best in your busy schedule.
John, our registered physiotherapist and certified lifestyle medicine practitioner, works alongside Liz. His special interests include using various lifestyle medicine strategies to optimise and restore health and performance. With over 30 years of experience in health care, he is well-versed in the challenges that industrial athletes and shift workers face.
Services Offered
Physiotherapy
We offer a variety of physiotherapy treatments, and we will work closely with you to determine which treatment will best benefit your recovery.
Hands-on therapy, active exercise for strengthening and adjustment, muscle stretching, joint mobilisation, dry needling and other modalities are available as needed to restore and improve the body's overall function.
Lifestyle Medicine
At Active4Life, we treat, prevent, manage and reverse lifestyle-related disease using a comprehensive, evidence-based, whole-systems approach. It also assists us in redefining health as a result of not only our own behaviour, but also that of our society and environment. Our strategy is founded on the axiom that a sick society breeds sick people.
Our comprehensive approach to people's health and wellbeing includes education and guidance in maintaining an optimal diet, hydration, restful sleep, regular movement, recovery and relaxation.
SphygmoCor Xcel Pulse Wave Analysis
This device measures your blood pressure, arterial stiffness and arterial age precisely. The older and stiffer your blood vessels are, the greater your risk of heart disease and related diseases. Changes in lifestyle can reverse arterial stiffness and ageing.
The SphygmoCor XCel device is a screening tool that measures blood pressure accurately, including systolic (the high number) and diastolic (the low number), to determine your risk of cardiovascular disease, hypertension and total mortality.
Fitness Coaching
We specialise in physical injury prevention as well as physical injury treatment and recovery. Our physiotherapists' fitness coaching programmes are designed to provide you with preventative knowledge before you begin exercising. Expect pointers, health screenings and everything in between to ensure that you can participate in activities as safely as possible.
Remedial Massage
The term "massage therapy" is commonly used to describe a wide range of techniques that differ in the way touch, pressure and treatment intensity are applied.
Remedial massage therapy, which includes myotherapy, is the practice of stretching or manipulating a person's muscles and other soft tissues to improve their health and overall wellbeing. It is a type of manual therapy in which the muscles, tendons, ligaments and fascia are held, moved and corrected.
Contact us to schedule an appointment or enquire about any of our services.
Qualifications
Diploma In Remedial Massage Therapy
Bachelor of Science In Biochemistry
Master of Science In Public Health
Bachelor of Physiotherapy (Honours)
Bachelor of Science In Mining Engineering
Certificate IV In Sport Coaching
Professional Membership
Australian Physiotherapy Association (APA)
Australasian Society of Lifestyle Medicine
---