Are you reasonably fit? Do you enjoy helping people feel better? If so, consider a career as a massage therapist. You can study at home or at a massage school and tailor your studies to your needs and preferences, so nothing stands between you and a rewarding new career.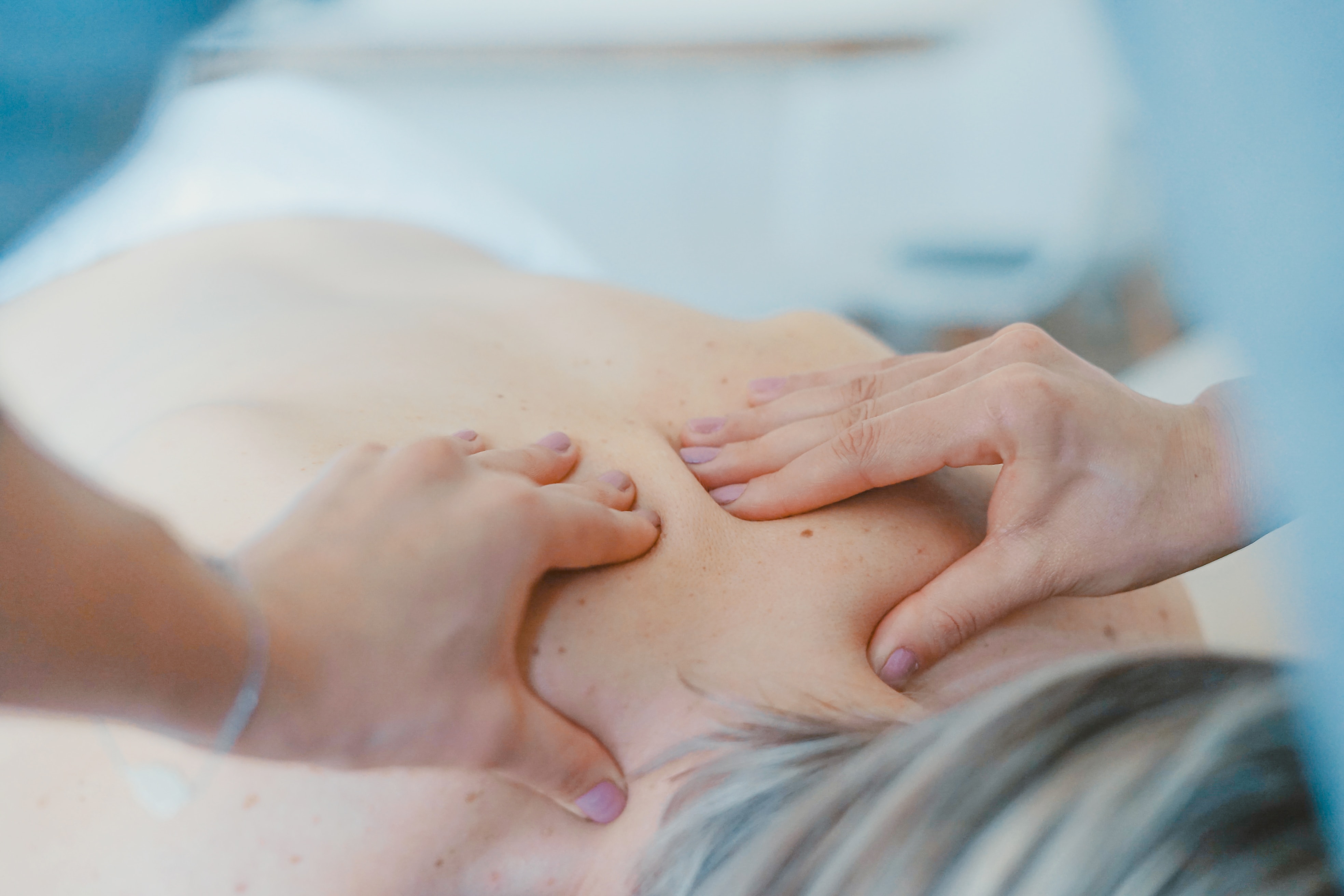 There are a wide range of styles to consider including:
Remedial Massage Courses
What is Remedial Massage?
Remedial massage refers to any massage technique that provides remedies for clients. Hence, a remedial massage course provider may offer courses in a wide variety of massage techniques, including:
Beginners' courses

Reflexology

Sports Massage

Shiatsu

Deep tissue massage

Pregnancy massage
These are just a few of the techniques offered by remedial massage course providers. Choose one or study a variety as part of your ongoing education.
Study at a Remedial Massage College or at Home
Most natural therapy schools offers courses in remedial massage. You can obtain a certificate of achievement in a specific modality or include remedial massage as part of an ongoing diploma course at an accredited institution. Study options include weekend courses, evening courses, part-time study, full-time study, distance study, online study and summer holiday courses.

A fun and effective way to learn remedial massage is to team up with a friend and take an online course from a remedial massage course provider together. Really, your study options are virtually unlimited.
How to Choose a Remedial Massage Course Provider
You've already made a great start by starting your search here at ntpages. Now all you have to do is check out some of the remedial massage schools via the above links and ask yourself a few questions:
What style of massage do I want to learn?
How much does the course cost?
Do I want to take a short course or do I want to attend an accredited remedial massage college?
Does the remedial massage school program fit in with my schedule?
Next, contact a few schools directly using the contact information provided. Then it's just a matter of attending the remedial massage school of your choice and fulfilling your dreams.
Chinese massage
Chinese massage is a general term that refers to any massage technique that is based on traditional Chinese medicine (TCM). In contrast to anatomy and physiology based Western medicine, TCM is based on the flow of energy (Qi,Ki or Chi) throughout the body. Chinese massage schools in Australia teach a variety of massage techniques based on this ancient form of medicine.
Chinese Massage Course Providers
Chinese massage course providers offer a variety of therapeutic techniques. Some of these include:
In addition, some Chinese massage schools give introductory courses in how to apply the principles of TCM to more general remedial massage techniques.
Choosing a Chinese Massage School
Do you want to learn the basics or do you want an in-depth knowledge of TCM or a specific modality? Your answer to that question will determine your choice of a Chinese massage school. These are some of your study options:
Attend a school that teaches a specific modality such as acupressure, reiki or trigger point therapy.
Attend a college that offers a diploma in TCM that is also a Chinese massage course provider.
Earn a diploma in a technique such as shiatsu.
Because Chinese massage covers such a broad range of modalities, you may want to use the links above to learn more about the various techniques before you decide on a particular Chinese massage school. Then use the drop-down menu at the top of the page to find a Chinese massage course provider that matches your area of interest.

Keep these things in mind when choosing a Chinese massage school:
What are the course fees? Do they cover books and training materials?
Is the school accredited by a related professional association?
Does the course schedule fit in with yours? Can flexible arrangements be made?
Whether you choose in-depth study or general knowledge, a Chinese massage school can expand your knowledge of the healing arts and possibly be a stepping stone to an enriching career.
Connective Tissue Courses
Connective tissue massage is typically taught as a component of a more general eduction in massage techniques. Both relaxation and remedial massage practitioners focus on muscles and connective tissues in their practices. If you are looking for a comprehensive education in connective tissue massage , a massage therapy school may be the ideal solution.
About Connective Tissue Massage Schools
Both general and specialist massage schools teach connective tissue massage. Some of the course material may include:
Anatomy and physiology
Remedial massage
Deep tissue massage
Lymphatic drainage massage
Sports massage
Reflexology
Other modalities may be included as well and may be either required or elective, depending on the certificate or diploma program.
Choosing a Connective Tissue Massage School
Before choosing a connective tissue massage college or school, find out the answers to these questions:
Are the course fees all inclusive?
Do the fees include extras, such as a massage table?
Are flexible payment schedules available?
Is a distant study program available?
Can you qualify for VET FEE-Help at the connective tissue massage school?
Following completion of your studies, can you then proceed to university level studies if you so choose?
Very importantly, your connective tissue massage school should be accredited by the relevant Australian and international government and professional bodies. You will probably find that most connective tissue massage schools listed in our directory adhere to most if not all of the above criteria. If the school of your choice offers certificate level courses only, you may want to find out if your training can be accepted as Recognised Prior Learning at a later date, should you decide to go on to more advanced studies.

After choosing the connective tissue massage school of your choice contact the course provider directly, fill out an application form and you'll be on your way towards a rewarding career as a professional massage therapist.
Corporate / Workplace Massage Courses

One of the best ways to establish or boost your career as a massage therapist is to attend a corporate/workplace massage school. What does a corporate/workplace massage course provider teach? How can their courses enhance your career?
Hallmarks of Corporate/Workplace Massage Schools
If you want to become a professional massage therapist, it is important that you learn at a registered training organisation (RTO). Also, accreditation by a recognised Australian massage association such as the AAMT or AMT will ensure that the corporate/workplace massage course provider operates in a professional manner. Other advantages include greater assurance that:
New clients will trust your abilities.
Potential employers will view your qualifications favourably.
Insurers will be more likely to approve your business insurance application and may even offer discount insurance.
Many corporate/workplace massage schools offer career counselling services and some even include business training courses as part of their curriculum.
Career Opportunities
Specialised training from corporate/workplace massage schools can enhance your career opportunities. Some of these include:
Work as a sole proprietor.
Employment opportunities in spas, resorts and other related businesses.
Career opportunities in sports organisations.
Careers in hospitals, hospices and other institutions that offer massage as part of a holistic treatment program.
How to Choose a Corporate/Workplace Massage School
Scroll to the top of the page and start by getting some general knowledge about the schools in your area. Make sure they adhere to the standards outlined above and ask these questions:
Are textbooks, massage oils and other essential study and practice materials included in the price?
Are certificate and diploma level courses provided?
Must I attend in person to qualify for a diploma? This is often mandatory for accreditation.
Does the corporate/workplace massage college offer classes in physiology and anatomy? Employers look more favourably at CVs of candidates with a thorough grounding in these sciences.
Now you are ready to contact the corporate/workplace massage college of your choice and make arrangements to take the first steps towards a rewarding career as a massage therapist.
Pregnancy Massage
Massage is a perennially popular modality to study. It is a diverse discipline that incorporates a large range of specialised fields that include pregnancy massage.

Formal training and study not only allows qualified pregnancy massage practitioners to provide clients with support and relief, it gives them a valuable additional practitioner skill. Safety is paramount with therapists trained in techniques that cover positioning techniques, indications and contra-indications.
Massage Study Options
There are massage courses of varying levels to suit your desired level of proficiency. This includes introductory days, Certificate, Diploma, Advanced Diploma and Degree levels. You will also need to determine which study option suits your lifestyle, with part time and full time commitment possible. You also need to consider between:
Campus study: face to face contact with peers, tutors and lecturers is a stimulating environment in which to learn and grow.
Distance learning: for ultimate flexibility this option is increasingly popular. Thanks to technology distance learning now has dynamic access to online resources and interaction with staff.
Massage Study Checklist
Prior to enrolling in a massage school ensure you determine the following:
Accreditation: government accreditation of your massage course ensures that you will be able to practice massage at the very highest level. Additionally you can join professional associations and offer your clients access to health fund rebates.


Career options: massage therapists work in a variety of settings, including at clinics, beauty salons, spas and health retreats. Ensure the course you intend enrolling in matches your career aspirations.


Course content: Modules in pregnancy massage are not always part of all massage curriculum so ensure you clarify this prior to enrolling. The course should also give you the option of furthering your qualification if desired.


Fees: you may be eligible for student loan schemes such as VET FEE-HELP or Austudy. These provide convenient upfront cover for part or all of your tuition fees.
If you are ready to start your pregnancy massage journey, make an enquiry today with a school or college in your area via the links above.

Sports Massage Courses

If you're interested in sports and the healing arts or want to expand your career in massage, a sports massage course provider may be your ticket to the future. Unlike many massage techniques, sports massage is included in a range of study programs, so you can combine a general interest in natural therapies with your specific interest in sports massage in a variety of ways.
What is Taught at Sports Massage Schools?
"Sports massage" refers to any massage technique that can be applied to the therapeutic treatment of sports injuries or performance enhancement. Hence, the term includes a wide variety of sports massage course providers. Some of these include:
Schools that teach

remedial massage

.
Colleges that offer certificates and diplomas in

naturopathy

.
Specific modalities such as

deep tissue massage

.
Fitness and Bodywork colleges.
Study Options
Sports massage schools are aware of the time and budget restrictions faced by students and have created flexible arrangements to suit a variety of needs. Many massage techniques can effectively be taught at a distance via online course materials, DVDs and textbooks, so you don't necessarily have to attend a sports massage college in person. If there is a sports massage school in your area, you will have the added advantage of being able to acquire hands-on experience in a classroom environment. In most cases, a range of class schedules exist to suit students' needs. In addition, sports massage colleges offer a number of flexible payment options.
Choosing a Sports Massage Course Provider
The best way to begin your search is at the top of this page. Then scroll through the list of sports massage schools and see what a few have to offer. Some options include:
Day, evening and weekend classes are often available.
Pay-as-you-go schedules are available that allow you to spread your payments out over time.
Some accredited sports massage colleges can offer VET-HELP student loan assistance.
Now it's just a matter of contacting the sports massage school directly and arranging a class schedule that suits your needs and budget.
Stone Therapy Massage Courses
Stone therapy massage is a popular modality that is increasingly in demand in spas, wellness centres, fitness centres and other places where clients are looking for a high level of professional care. If you are an experienced massage practitioner or someone who wants to make therapeutic massage your career, a course of study at a stone therapy massage school may be a great career decision.
What is Stone Therapy Massage?
In essence, stone therapy is the use of heated or chilled stones to help relax muscles and draw impurities out of the soft tissue so they can be eliminated from the system. Stone therapy massage incorporates stones with a therapeutic massage technique to enhance the pleasure and therapeutic benefits of massage.
Who Can Learn Stone Therapy Massage?
Stone therapy massage is ideal for bodyworkers, massage therapists and others who want to broaden their knowledge and career. It is also ideal for those who want to experience stone therapy massage themselves and learn to use it on their family and friends.
Choosing a Stone Therapy Massage School
Stone therapy massage is incorporated into a variety of massage techniques. Stone therapy massage course providers may include one or more of these modalities in their training:

When choosing a stone therapy massage school, find out:
How much the course costs.
How long it takes to complete.
If the stone therapy massage school is accredited.
If you can receive a practitioners certificate upon completion.
If there are any course prerequisites.
Choose a stone therapy massage school from the directory links above whose course material appeals to you and learn a new and exciting therapeutic massage technique. Who knows? It may even be the beginning of a whole new lifestyle or career.
Swedish / Relaxation Massage Courses

Does the idea of working at a spa or wellness centre appeal to you? If so, get your career off to a great start by contacting a Swedish/relaxation massage school and learning the art of massage.
What are My Study Options?
Swedish/relaxation massage is an ideal course for beginners. No pre-requisite studies are required and the only qualification needed to begin your career is the ability to practise the techniques taught by the Swedish message or relaxation massage course provider. You can learn the technique at a weekend workshop, in the evening or even online, so it is easy to fit classes into your busy schedule.

If you wish to pursue further studies, even more study options are available to you:
Apply a certificate earned from a Swedish/relaxation massage college towards a diploma in

remedial massage

or other holistic therapy.
Learn other natural therapy techniques such as

aromatherapy

to enhance your career and provide greater service to your clients.
Round out your education by learning other popular massage techniques such as

Kahuna massage

.
In short, when you attend a Swedish/relaxation massage school, a world of exciting study and career opportunities awaits you.
Career Opportunities
These are just a few of the opportunities available to you after successful completion of studies from a Swedish/relaxation massage course provider:
Practise massage at a day spa.
Live and work at a resort in Australia or abroad.
Start your own business at home or in your own studio.
Join a team of natural therapy professionals at a wellness centre.
Swedish/relaxation massage therapy is the world's most popular style of massage, so your services are always in demand.
How do I get Started?
Use the links above to find local Swedish/relaxation massage schools and distant learning classes. These are some of the things to look for in a Swedish/relaxation massage course provider:
Are study materials included in the price?
Can classes be tailored to suit your time schedule?
Can your certificate be applied towards an advanced diploma?
Is the Swedish/relaxation massage course provider a recognised expert in the field?
Thai Massage Courses
Along with Chinese and other oriental massage techniques, Thai massage is rapidly growing in popularity with massage therapists now looking to add this exciting modality to their list of skills. What is Thai massage and what training is available in Australia?
What is Thai Massage?
Legend has it that Thai massage was founded by Gautama Buddha's personal physician over 2500 years ago. Other explanations for its origins suggest that it did reach Thailand by way of India, but is more likely to have its roots in Indian ayurveda and yoga and perhaps also includes Chinese and Taoist influences.

Unlike Western massage modalities that focus on human anatomy and physiology, Thai, ayurvedic, Chinese and other oriental massage techniques focus on the flow of vital energy through the body. In Thailand, this energy is called "lom" and is similar to Chinese "ki" or Indian "prana." As in both Indian and Chinese traditions, this energy passes through the body in a complex network of energy pathways.

The practice of Thai massage involves several techniques blended together in a unique way. These include:
Thai Massage Schools in Australia
Thai massage is just beginning to catch on in Australia and a number of massage practitioners are beginning to specialise in the technique and offer limited enrollment classes to students. In addition to traditional Thai massage, many natural therapy colleges in Australia that teach oriental and Western massage techniques include Thai massage in their curriculum.

Thai massage is a complex system that cannot be taught in a day. Thai massage course providers usually recommend that experienced massage therapists and students who are willing and able to attend intensive workshops lasting a week or more take their courses.

If you're interested in learning oriental massage but do not yet wish to focus on Thai massage, contact one of the massage schools listed under the heading "Massage - Thai schools" above. These are accredited institutions that can give you a firm foundation in massage therapy from which you can launch your career.


---
Find Massage Courses in: Sydney , Melbourne , Brisbane , Adelaide , Perth , Canberra , Darwin , Hobart