What is Thai Massage?
Thai massage is a traditional form of healing system that involves interactive manipulation of the body by using gentle pressure and passive stretching. These techniques help in adjusting the skeletal structure, in increasing flexibility, in relieving muscular and joint tension, in stimulating internal organs, and in balancing the energy system of the body. Additionally, it combines other natural therapies like shiatsu, yoga and acupressure.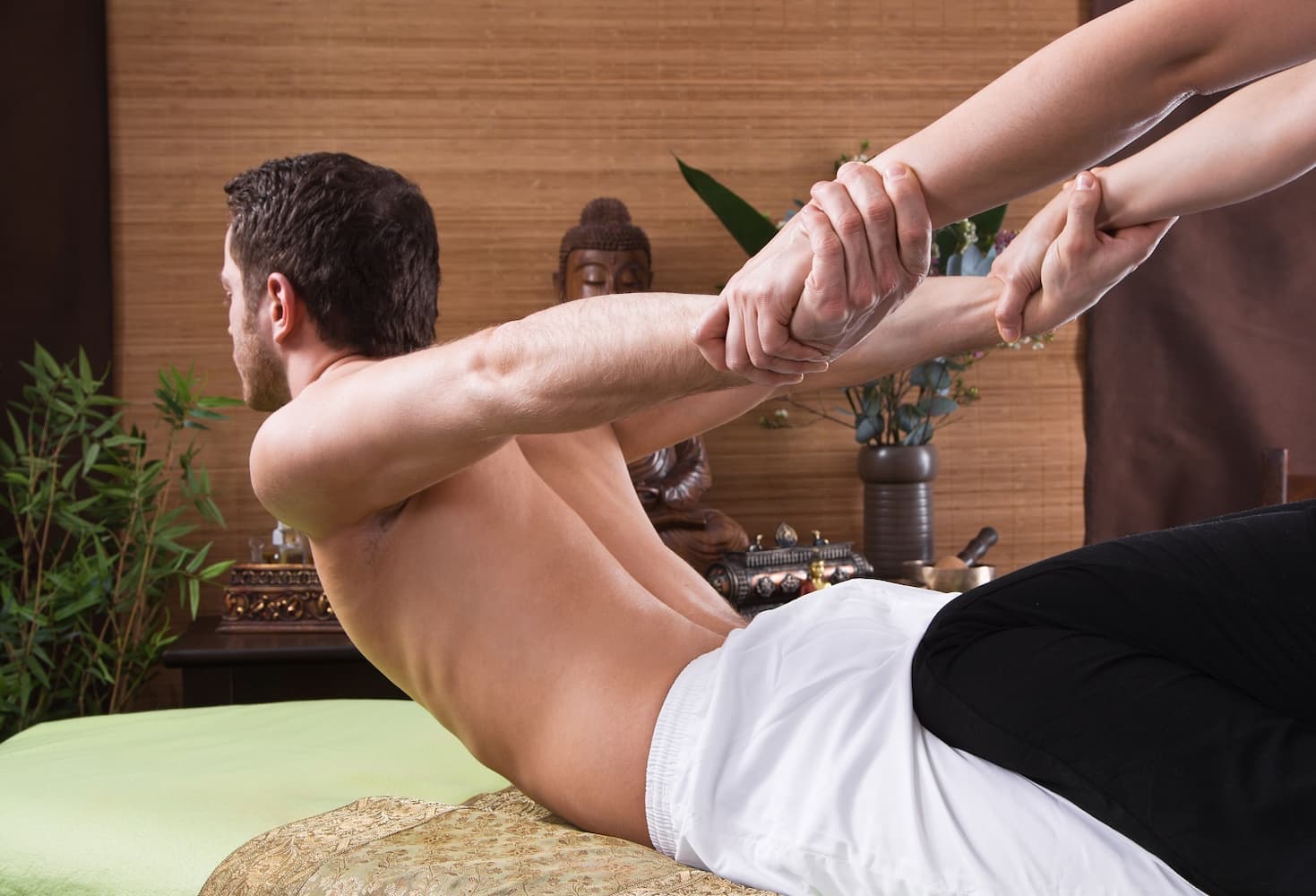 How Does Thai Massage Work?
Thai massage is typically performed in a quiet and meditative atmosphere, allowing the client to let go of their physical and emotional restrictions. It encourages a sense of unity, balance and wholeness. In addition, a dynamic physical experience is created that integrates the mind, body, emotions and spirit.
Also dubbed as "the lazy man's yoga" as it involves a lot of stretching and rocking techniques to relieve tension and increase flexibility, Thai massage employs massage strokes that are not typically used in other forms of massage. Some of these are as follows:
Palm presses
Palm walking
Elbow press
Forearm rolls
Loose fist knock
Chopping
In addition to their hands, the therapist also uses their knees, legs and feet when applying muscle compression and joint mobilisation to the client's body.
What are the Benefits of Thai Massage?
People from all walks of life can benefit loads from a Thai massage session. As well as calming the nervous system, it increases the body's energy levels and stimulates blood and lymph circulation, which aid in the treatment and management of various health problems, specifically the following:
Headaches and migraines
Neck, shoulder and back pain
Muscle pain and spasticity
Joint stiffness
Stress
Carpal tunnel syndrome
Stroke
Digestive problems
Poor posture
Insomnia
What Can You Expect From Thai Massage?
A session of Thai massage usually lasts an hour or two and is performed on a padded mat instead of a treatment table. The reason it's done on the floor is that the massage therapist uses their body weight to apply pressure to the client's body. This type of massage does not use oils or lotions, nor are clients required to disrobe. Instead, they are encouraged to wear loose, comfortable clothing for ease of movement.
Before the massage proper begins, the therapist will ask the client about their health history as this form of massage is a contraindication for some medical conditions. It's important not to eat a heavy meal before the session, but do drink plenty of water to prevent dehydration and support the elimination of metabolic waste following treatment.
After receiving a Thai massage, you will feel relaxed but a bit sore. Don't let it worry you because the soreness is your body's natural response to the detoxification process, which is an important part of the treatment. Getting a Thai massage at least once a week for one month will improve your overall health.