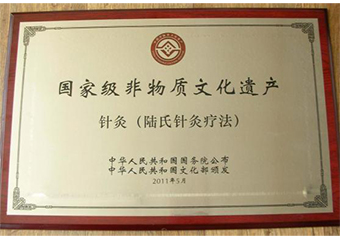 Clicking on the Send Me Details Now button opens an enquiry form where you can message Lu's Acupuncture 陆 directly
Send Me Details Now
Lu's Acupuncture and Chinese herb medicine Acupuncture & Chinese herb medicine and Chinese theraputic massage treatments are provided by four practitioners Li fang Lu& Shao guo jin, both had over 35 years Chinese hospital experience and 13 years Australia local clinic experience.Our unique Acupuncture technique were hand down from three generations, the Lu's Acupuncture and Moxibustion therapy had gain Chinese national intangible cultural heritage in 2011 and listed in United Nations Educational, Scientific and Cultural Organization as World Intangible Cultural Heritage.
ACUCARE Lu's Acupuncture 陆氏针灸
Focus areas
Obesity
Anxiety
Sciatica
Stress management
Hormones
Indigestion
---

"陆氏针灸"--世界非物质文化遗产,LI FANG LU, SHAO GUO JIN, YI JIN,TAI JIN 陆氏针灸嫡系传承人均系澳洲全国注册的中医师,针灸师。

ACUPUNCTURE
CHINESE HERB MEDICINE
CHINESE THERAPUTIC MASSAGE
REFLEXOLOGY
CUPPING


OPEN 6 DAYS
9:30am-5:30pm
MONDAY CLOSED

By Appointment Only
0425 248 207
SPECIALIZING


Stress & Anxiety
IVF help--Boost your fertility
Child autistic problem
Obesity
Indigestion
Asthma
Menopausal Syndromes
Arthritis
sciatica
Abstention of Smoking
Impotence
Dysmenorrhea
Chronic Fatigue`
Headache & Migraine
Periarthritis of Shoulder
Sprains & Sport Injuries



ELIMINATE STRESS
Stress is one of the main reason to cause illness
and unhealthy.Researchers discovered that the
acupuncture blocks the chronic, stress-induced
elevations of the HPA axis hormones and the
sympathetic NPY pathway. Acupuncture treatment
for stress/depression will focus on circulating the Qi
and balancing the flow of energy to relieve specific
symptoms. acupuncture can help balance both the
mental and physical manifestations of this condition
returning you to an easy-going life.

A Nature Way to Boost Your Fertility
Acupuncture treatment stimulates and restore
the flow of Qi (energy), gives you a calming,
restorative effect that increases a sense of
well- being and ultimately helps the body to
accept the creation of life,
Acupuncture increases production of
endorphins, the body's natural "feel good"
brain chemical that also plays a role in
regulating the menstrual cycle.
The Resarch Shows Acupuncture is
changing the blood supply to the ovaries,
possibly dilating the arteries and increasing
blood flow, so that ultimately, the ovaries are
receiving greater amounts of hormonal
stimulation. By increasing blood flow to
this area, the lining may be better able to
absorb the nutrients and hormones necessary
to help it grow strong enough to hold onto
an implanted embryo.
Please note:
if there are structural defect exists -- such as
a blocked fallopian tube or a fibroid tumor
-- acupuncture won't help you get pregnant.
---