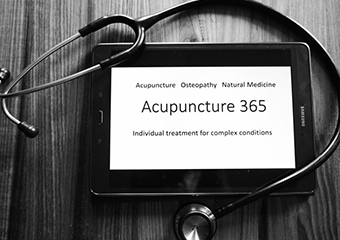 Acupuncture 365
Want to find out my availability, pricing or opening hours? Click on Send Me Details Now to get started.
Send Me Details Now
Clicking on the Send Me Details Now button opens an enquiry form where you can message Acupuncture 365 directly
Dr Ryan has over 45 years clinical practice experience covering a wide range of conditions. He is particularly interested in neurological conditions, a range of disabilities in adults and children, migraine and pain management.    Consultation Strictly by Appointment 0439 303 000   Dr Kevin Ryan is currently seeing new patients at Acupuncture 365   Prospective patients do not require a medical referral
Acupuncture 365
Focus areas
Stroke recovery
Facial paralysis
Paralysis
Facial
Nurturing
Natural medicine
---
---
About Dr Ryan
He is registered to practice Acupuncture under the Chinese Medicine Board of Australia: http://www.chinesemedicineboard.gov.au/
And to practice Osteopathy under the Osteopathy Registration Board of Australia: http://www.osteopathyboard.gov.au/
He is a member of Osteopathy Australia, a professional association representing osteopaths in Australia. http://www.osteopathy.org.au/ He is also a member of the Chiropractic and Osteopathic College of Australia, COCA, an association focused on both research and continuing education for muscular skeletal practitioners. https://www.coca.com.au/
Dr Ryan is a qualified Naturopath focusing on the use of medicines to help with a wide variety of health concerns. He is a member of the Australian Natural Therapists Association (ANTA) an association that looks after the interests of practitioners using acupuncture, homoeopathy and natural medicine among other modalities. http://www.australiannaturaltherapistsassociation.com.au/'
Dr Ryan uses Chinese Pulse Diagnosis as an integral part of his assessment of acupuncture patients. It is used before, during and at the end of a treatment session to determine both the treatment to be used and its effectiveness.
He uses several acupuncture styles, chosen to suit the individual's condition and diagnosis.
These include: * 5 Element Constitutional Acupuncture * Channel Acupuncture and Channel Palpation * Traditional Chinese Medicine Acupuncture * Chinese Scalp Acupuncture (CSA) * Auricular (Ear) Acupuncture * Abdominal Acupuncture
One of the features of the acupuncture provided at Dr Ryan's clinics is the combining of styles and the use of Chinese pulse diagnosis results in a treatment regime that allows for minimum needle retention times.
The use of Chinese pulse diagnosis allows for the needles to be removed as soon as they have triggered a change in the pulse reading. There will be an accompanying change in the symptoms. CSA can be effective in treating pain and numbness and poor movement function of the limbs. It is commonly used around the world to treat patients suffering from the effects of stroke and illnesses such as Parkinson's disease and Multiple Sclerosis, It has many applications in practice.
It can be very effective in the treatment of range of motion restrictions and/or pain in joints such as the shoulder, elbow, neck, knee and hip. It has a role to play in helping restore shoulder function following breast surgery. It is also used to treat paralysis, tremor, balance, speech and vision disorders and organ function.
Dr Ryan is experienced in treating the muscular-skeletal issues that may accompany:



Babies with infant colic and reflux,



Birth trauma conditions, colic, reflux and poor sucking



Some food intolerance and food allergy conditions in children



Post birth examination and treatment,



Young children with multiple food allergies,



Children with learning and or speech difficulties,



Children with jaw issues that may affect teeth alignment and bite syndromes
He has a particular interest in the application of osteopathic principles in the treatment of the muscular-skeletal component of a wide range of childhood (pediatric) and adult disability conditions including:



Global developmental delay



Walking and mobility problems
Dr Ryan is experienced in the application of acupuncture in the management of conditions including:



Trigeminal, facial, neck, shoulder and intercostal neuralgia



Post-traumatic stress disorder (PTSD)



Cerebral and vegetative disturbances



Hemiplegia and post-stroke syndromes and paresthesia



Peripheral neuropathies following chemo or radiotherapy,



Pain associated with cancer



Chemo and radiotherapy side effects



Pre and post-operative care



Scar resolution or reduction



Loss of shoulder or arm movement after breast surgery



Trauma including closed head injuries



Facial paralysis including Bell's Palsy



Parkinson's syndrome, MS and MND



Migraine and Headache syndromes



Morning sickness, pregnancy support and care, post-natal depression



Fatigue and immune system disorders
He uses either or both osteopathy and acupuncture to assist cases involving:



Ongoing consequences of whiplash.



Chronic muscular skeletal disorders



Postural issues, e.g scoliosis, Forward Head Position (FHP), kyphosis
He uses homeopathy and other natural medicines to assist cases involving:



Skin conditions such as eczema, psoriasis and poor wound healing



Conditions accompanying pregnancy



Fertility and menstrual cycle issues



Digestive complaints including colitis



Respiratory and immune system disorders
---
For all enquiries contact us today!
Qualifications
Bachelor of Science With Honours
Doctor of Osteopathic Medicine (D.O.)
Diploma In Acupuncture
Naturopathic Doctor (ND)
Professional Membership
AACMA - Australian Acupuncture and Chinese Medicine Association
ANTA - Australian Natural Therapists Association
Osteopathy Australia (AOA)
Chinese Medicine Board of Australia
Osteopathy Board of Australia
---