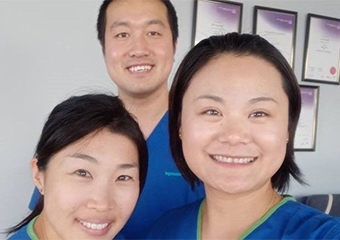 Clicking on the Send Me Details Now button opens an enquiry form where you can message Guanya Niu directly
Send Me Details Now
We care, We listen, We understand, We are Professionals. AllCare Massage have you "AllCared" for.
AllCare Massage
Focus areas
Pressure points
Pregnancy support
Anxiety
Stroke
Sciatica
Stress management
---
---
Who we are
AllCare Massage was formed by fully qualified massage therapists who have been professionally trained in a publically recognized educational institute. Each of the massage therapists has an individual provider number for health fund benefit claims! We aim to bring our customers the most effective, proficient and relaxing massage service in the most affordable way. In AllCare Massage, we will have you "AllCared" for!
Why are we good
We are not only technically trained in many massage techniques, we are also trained in treating many different health conditions. It is for this reason, that we require our massage therapists to be a good communicator. we keen to listen and after an assessment, we will create the most suitable treatment plan for your plan. We believe that every client deserves a good quality and successful massage outcomes from the treatment we provide.
Services
Remedial Massage
If you have any particular muscle tension or chronic pain, a remedial massage may assist in relieving your discomfort. We will assess where you need treatment and what may be causing your pain. We will then perform some tests to see exactly which muscles are giving you trouble and will tailor a treatment plan to suit. The treatment itself may involve deep tissue work for short periods of time, but the results are definitely worth it! Conditions such as sciatica, carpal tunnel, stiff necks, headaches, sports injuries and many more complaints can be eased with a remedial treatment.
Preganancy Massage
Pregnancy or prenatal massage helps to reduce anxiety, decrease symptoms of depression, relieve muscle aches and joint pains, and improve labor outcomes and newborn health.
Always talk to your doctor before you have a pregnancy massage, especially if:
you are in the first trimester


you have nausea, vomiting, or morning sickness


you are at high risk of miscarriage


you have a high-risk pregnancy (such as due to preeclampsia or high blood pressure)


you have a blood clot, for example deep vein thrombosis


you have abdominal pain or bleeding.


Sports Massage
Sports massage is specifically tailored to different types of sports and sporting injuries. It is not a relaxing form of massage and can often be quite strenuous. It works by stretching tight muscles, stimulating inactive muscles and improving the condition of the soft tissue.
The aim of sports massage is to reduce the stress and tension that can build up in the soft tissues of the body during exercise. This form of massage is used to:
increase endurance


improve performance


reduce the chance of injury


reduce recovery time after an injury.


Massage for special needs
Except for normal massages, we do offer special services to people who needs more care, such as : elderly massage, cancer massage etc, call us to ask for more info.
Relaxation & Hot Stone Massage
Helps de-stress and loosen up your body and is great for those who have had a hard-working week or feel like treating themselves! The treatment consists of flowing strokes, kneading etc. It is a pain-free way to relax both your muscles and your mind.
Reflexology
Helps to ease the stress and tension on soles of the feet. It is believed that internal organs are stimulated through reflexes via pressure points in the feet and stimulate circulation.
---