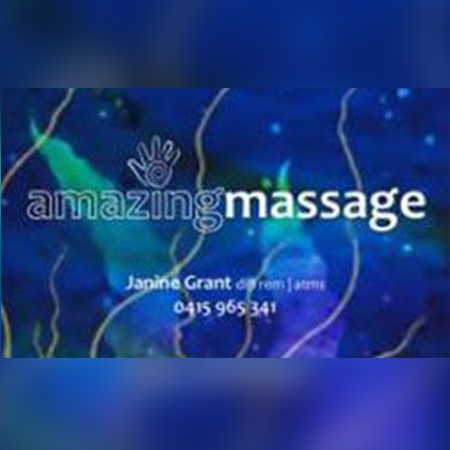 AMAZING MASSAGE
Clicking on the Send Me Details Now button opens an enquiry form where you can message Janine Grant directly
Send Me Details Now
NB: Why Choose AMAZING MASSAGE?Janine has over 16 years experience in massage therapy and energy healing. She knows how to give an AMAZING MASSAGE! and can utilise hot stones (said to be 5 x more effective than regular massage), myofascial release, reflexology, reiki or intuitive healing to enhance your experience and get results. As Janine has extensive experience in a variety of modalities, she is able to tailor the right treatment for you.
AMAZING MASSAGE
Servicing area
Willoughby, Middle Cove, Chatswood
---
Focus areas
Relaxation
Cellulite
Sciatica
Well-being
Sinus
Love
---

My massage sessions are individually designed to your needs from an array of certified modalities including: Swedish, Remedial, Myofascial Release, Reflexology, Deep Tissue and Hot Stone Therapy.


Intuitive Healing sessions may include: Reiki, Vibrational Sound, Sacred Stone Therapy, Australian Bushflower Essence consultations with cards and crystal dowsing.


Spa Body Treatments My signature Salt Glow Body Scrub will leave you feeling sublime in your skin whilst addressing the deeper issues such as detoxing, cellulite or skin irritation through an uplifting ritual experience.


Health Fund Rebates: Instant health fund rebates are offered where relevant, through HICAPS / EFTPOS.

TO MAKE AN APPOINTMENT please phone 0415 965 341


Mention this site when booking to receive $10 off your first consultation.


Some Benefits Of Regular Therapeutic Massage Therapy are:
Relaxes tight and sore muscles
Stimulates circulation and sensory nerves rejuvenating energy levels
Improves quality of sleep
Eases pain and discomfort from:


Headaches, neck and scalp tension






PMT - balancing the endocrine system



The health benefits of regular Massage can be extensive -- uplifting your overall sense of wellbeing and improving the quality and appreciation of your life!
Give the Gift Of Health

Therapeutic Gift Vouchers are a wonderful and well received gift of health for any occasion! Birthdays, weddings, thank you, loss of a loved one, get well, reward/incentive . . . .
Single vouchers are available or value packs; buy 5 get 5% off; buy 10 get 10% off



---
About Janine

Janine has worked professionally in the field of massage therapy and holistic healing for over 20 years.

She is a certified practitioner in Remedial Massage, Myofascial Release, Corrective Exercise Therapy, Psycho-physical healing, Reflexology and Reiki lll, creating her own unique style of holistic experience.

Janine has studied in Australia, UK, Israel, and Egypt and developed a wealth of knowledge from studying and has over 20 years experience working in various fields of the natural health industry.

As a healer her focus is on getting results by tailoring the treatment to fit the individuals requirements.


TESTAMONIALS

"The best massage I've ever had!"
Kate, 34, Hairdresser

"I can't believe the difference in pain level reduction to my elbow after only one session of reiki on it."
Jo, 45

I have experienced a most magical sense of wellbeing from my massages, also a lot of repair to my over worked and tired body. Janine is very soothing and very aware of my whole body and she works miracles. I feel a sense of total calm and trust when Im in her hands.
C.H.
Very Happy Client

I have been to quite a few massage therapists and Janine is by far the best. My shoulder and heel injuries have definitely improved since I started coming to her. Keep up the wonderful work.
E.S.
Police Officer

3hrs free onsite parking.

HOURS OF AVAILABILITY
Tuesday. 1pm-8pm
Wednesday 9am-7pm
Thursday. 8:30am-1pm
Friday. 1pm-7pm
Saturday 8:30am-1pm
Professional Membership
ATMS - Australian Traditional Medicine Society
---