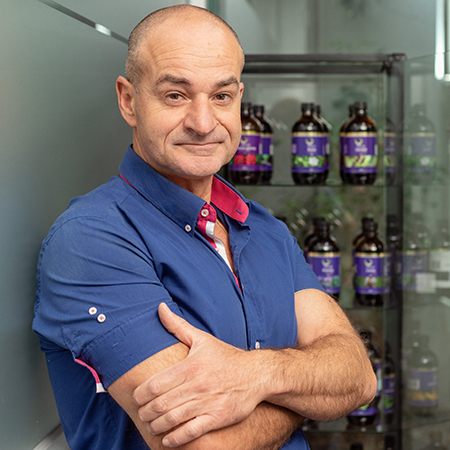 Clicking on the Send Me Details Now button opens an enquiry form where you can message Anthos Natural Therapies directly
Send Me Details Now
Nature's herbal health remedies can boost your mind, body, and spirit for maximum strength and vitality. Learn how to care for your and your family's health to prevent illnesses in the future and boost the body's capacity to heal. For a complimentary 15-minute consultation, contact Nick.
Naturopath for Physical and Mental Health
Servicing area
Mornington Peninsula & Southeast Suburbs
---
Focus areas
Telehealth
Mental health
Complementary
Well-being
Stress management
Lifestyle
---
---
Nick is a qualified naturopath who has lived on the Greek island of Crete, which is well known for its low coronary heart disease rate and longevity rates of its residents.
With this motivation, he became a Naturopath and gained an in-depth understanding of the Mediterranean diet, lifestyle, and herbal remedies that have been used on the Greek island for countless generations.
Using a simple and holistic approach, he treats conditions and improves overall health and well-being.
Nick specialises in:
Men's Health And Wellbeing
Stress and Mental Health
Weight Loss
Gut Health
Lifestyle, The Key To Longevity
The Blue Zone Plan
Mediterranean Diet and Lifestyle
Services Offered
Naturopathy
Natural medicine takes a holistic approach to wellness and encourages patients to live healthy lifestyles.
A range of therapies is used to support you, which may include:
Diet and Lifestyle Advice
Herbal Medicine
Nutritional Medicine
Homoeopathy
Massage and Acupressure
Cooking Advice and Techniques
Mediterranean Diet and Lifestyle
The Mediterranean diet with traditional foods and beverages, social and family support and stress management, with a positive outlook on life, are factors that correlate with healthy and happy ageing and with longevity.
You can learn how to incorporate these factors into your life to feel better, live longer, and be happier by working with Nick!
Health and Wellbeing
Taking a holistic approach to wellness and wellbeing, naturopathy teaches a person how to look after their own health and their loved ones.
Natural remedies reduce the symptoms of illness, support the body's healing ability, and allow it to keep a more balanced state to avoid future illness.
Stress and Mental Health
In our lives, we will all experience stress, depression, and anxiety, which can be incredibly debilitating.
The body and mind may not be in alignment.
Properly nourishing the body is equally important to have a healthy mind, beliefs, self-esteem, and behaviour. So we care for the complete individual to overcome their mental barriers.
Gut Health
Bloating, painful or smelly gas, reflux, heartburn, constipation, diarrhea, and indigestion are all symptoms of an imbalance in your digestive system and specific herbs can fix this imbalance.
Weight Loss
By putting together a diet plan for you, developing a personalised exercise routine, and prescribing herbal supplements, Nick can help you reach your weight loss goals.
Pricing
Initial consultation - $115
Follow up consultation - $90 + supplements
You can request a consultation in English or in Greek as a Second Language.
Opening Hours
Monday: 5:00 pm to 7:30 pm
Tuesday: Closed
Wednesday: 5:00 pm to 7:30 pm
Thursday: Closed
Friday: 5:00 pm to 7:30 pm
Saturday: 9:00 am to 3:00 pm
Sunday: Closed
Please contact Nick to arrange a complimentary 15-minute health consultation.
Qualifications
Advanced Diploma In Naturopathy
---