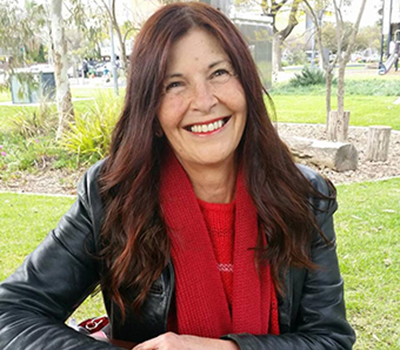 Bernice Vergou
Want to find out my availability, pricing or opening hours? Click on Send Me Details Now to get started.
Send Me Details Now
Clicking on the Send Me Details Now button opens an enquiry form where you can message Bernice Vergou directly
Do you suffer from headaches, migraines, back pain, accident or sporting injuries?Do you have high anxiety or stress levels?Would you like to up-grade your life?Some of the gentle remedial therapies I use may provide a solution to your problems - why not contact me now?
Bernice Vergou
Servicing area
South of Adelaide, can do home/hospital visits
---
Focus areas
Coping skills
Full body massage
Alternative medicine
Self-help
Stress management
Pain relief
---
---
MY NEXT EMOTIONAL FREEDOM TECHNIQUES® PRESENTATION AT THE WEA (223 ANGUS STREET, ADELAIDE) WILL BE ON WEDNESDAY, NOVEMBER 17th, 2021 FROM 6-9.00 p.m. AND AN INTRODUCTION TO ACCESS BARS WILL BE ON MONDAY, NOVEMBER 1st, 2021 FROM 6-9.00 p.m.
BOOK DIRECT WITH THE WEA BY 'PHONING 8223 1979 OR REGISTER ONLINE AT WWW.WEA-SA.COM.AU - LOOKING FORWARD TO SEEING YOU IN CLASS!

'NEW' QUICK & EASY EFT® BOOKLET AVAILABLE NOW AS HARD COPY OR eBOOK - EMAIL ME TODAY TO ORGANISE YOUR COPY, IT'S A BARGAIN AT ONLY $10.00!

---
About Bernice

Welcome! My name is Bernice Vergou, and I am a Remedial Therapist/Registered Craniosacral Therapist (RCST®), accredited in Australia and the USA, holder of Diploma in Health Science – Remedial Therapies.

I work from my own clinic at O'Halloran Hill, south of Adelaide, using gentle Remedial and Craniosacral techniques with clients of all ages. My main modailities are Access Consciousness Bars, Access Energetic Facelift and Emotional Freedom Techniques. I have experience working with infants as well as clients with serious health conditions and I can do hospital/house calls, where required.


Please telephone for your appointment - 0413 844 841


Accredited member of the ATMS
(Australian Traditional Medicine Society, Member No. 10997)
Health Fund Rebates apply

I see clients for private remedial sessions, teach workshops at my clinic and lecture at the WEA (Workers Education Association, 223 Angas Street, Adelaide) on the topics of EFT® (Emotional Freedom Techniques®) ~ an easy-to-learn self-help pain and symptom management tapping technique based on acupressure and psychology as well as Access Consciousness™ ~ a life-changing set of simple tools and techniques, aimed at reducing stress by raising awareness.
Access Consciousness™ includes a hands-on process called The Bars™ (very similar to craniosacral therapy), various body processes and... IF YOU ARE INTERESTED IN TURNING BACK TIME, WITHOUT BOTOX, LOTIONS OR NEEDLES.... the Access Energetic Facelift™. Choose either a session or learn the process yourself, as Access Bars™ and the Access Energetic Facelift™ are both taught as one-day classes.
FOR MORE INFORMATION ON MY WEA CLASSES, WHY DON'T YOU CHECK THEIR COURSE GUIDE FOR MY CURRENT LISTINGS? Book online at www.wea-sa.com.au or 'phone 8223 1979

I have been in practice since 1995. In 2003 I travelled to Southern Germany and worked for 3 months in a Private Clinic in the Black Forest Area with cancer patients, introducing, using and training staff in complimentary therapies such as Craniosacral Therapy, EFT® and Bach Flower Remedies. While overseas I also attended an Alternative Medicine Conference in London, where I had the opportunity to speak to 500 health professionals on the value of EFT® in Cancer Treatment. Since returning to Australia, I regularly volunteer at a Palliative Care Centre in Adelaide, as my overseas work experience impressed upon me how supportive the therapies I use are in the treatment of serious disease.

Qualifications
Accredited Member of the ATMS No. 10997 www.atms.com.au
Diploma of Health Science – Remedial Therapies – including remedial massage, lymphatic drainage massage, infant massage, sports massage, swedish/relaxation massage, myofascial release, craniosacral therapy, myo-acupressure, ear reflexology, ear candling
Access Consciousness™ Certified Bars™ and Energetic Facelift Facilitator
Diplomas in Craniosacral Therapy and Myofascial Release
Registered Biodynamic Craniosacral Therapist (RCST®), accredited in Australia and the USA, holder of Diploma in Biodynamic Craniosacral Therapy
Dorn Spinal Therapy Practitioner www.backcaresolutions.net
Bach Flower Remedies - Bach Foundation Registered Practitioner AUP -2002-0716E
AAMET Trainer (Association for the Advancement of Meridian Energy Techniques Member No. 1008051)
EFT® (Emotional Freedom Techniques®) Advanced Practitioner
FasterEFT and Matrix Re-imprinting Practitioner (variations of EFT®)
I am committed to ongoing self-education within the Health field, so have also attended extra training seminars in Access™, ENAR Therapy System, Theta Healing, Dorn Spinal Therapy, BodyTalk, Life Line Technique, advanced forms of EFT® such as FasterEFT, amongst others.

I use an ENAR (Electro-Neuro-Adaptive-Regulator) device in my clinic for pain relief as an adjunct to hands-on techniques and have attended several ENAR training courses.

In August 2011, I co-ordinated the first FasterEFT Seminar in Adelaide on behalf of Robert G.Smith, Founder of FasterEFT. FasterEFT IS fast, fun and easy!



---
How could you benefit from booking a session with me?
Health Fund Rebates apply if you have Extras Cover
I offer a variety of remedial therapies, all solution-oriented and aimed at helping you to:


Recover quickly from accidents or surgery




Relieve your pain as well as give you pain management tips





Build strategies and coping skills




Get you back on track, back to doing what you enjoy - fast!
All ages welcome - I am comfortable treating clients of all ages, ranging from newborn to 90's
Wholistic approach, take-home instructions and handouts included
Allow me to help YOU discover quick and easy ways to change any area of your life that isn't working for you, into something that does
---
Contact me

Bernice Vergou
E: bernicevergou@hotmail.com
W: accessconsciousness.com/bernicevergou
Address: 6 Illman Court, O'Halloran Hill. S.A. 5158
Mail: 6 Illman Court, O'Halloran Hill. S.A. 5158
---
EFT®

What is EFT®?

EFT® (Emotional Freedom Techniques) is an empowering, easy-to-learn, self-help pain, stress and symptom management tool. Based on acupressure and psychology, it is a synergistic marriage of Eastern and Western Medicine. It is a proven Universal Healing Aid, and often works when nothing else will.

How is it done?
Identify how the problem causes you to feel or act
Tap lightly with your fingertips on key acupressure points
This balances your feelings and re-sets your energy system
What can EFT® do for me?

Set you free from fears and phobias - fast!
Help you to deal with drinking, STOP smoking, craving chocolates, craving carbs, nibbling nails, thumb-sucking, bed-wetting
Manage pain and physical symptoms
Build healthy self-esteem
Give you a choice... and much more...

Did you know that FasterEFT® sessions are even faster?

FasterEFT® operates from the belief that there is absolutely nothing wrong with you. FasterEFT® is the New EFT® (Emotionally Focused Transformations) on the fast track according to Robert G. Smith. FasterEFT® addresses the entire mind/body system which includes what you think and how you process your thoughts, along with the body's response. It is a self-empowering system that gives you control over your past, present and your future. It will show you how to design and transform your life right now. FasterEFT® helps you to:
Understand how your mind works
Make friends with your subconscious
Make peace with your past
MORE FasterEFT® INFORMATION?

PLEASE GO TO www.FasterEFT.com AND SIGN UP FOR ROBERT'S NEWSLETTER HERE AND YOU WILL RECEIVE A 7-DAY FREE FasterEFT® QUICKSTART COURSE.



---
ACCESS CONSCIOUSNESS™

What is ACCESS™?
ACCESS CONSCIOUSNESS™ is a simple set of tools, techniques and philosophies, designed around living in the question aimed at raising awareness and facilitating consciousness. ACCESS™ incorporates a hands-on process called THE BARS™ which is very similar to cranio-sacral therapy.

What can ACCESS™ do for me?

ACCESS™ can facilitate life change with ease. ACCESS™ tools can be applied to ANY area of your life – including body, health, money, relationships, parenting, sex and so much more... with the promise of opening you up to unlimited possibilities. The target of ACCESS™ is "Empowering People to Know that they Know!"

What can I expect during an ACCESS™ session?

Clients remain fully clothed and specific points located on the head are activated by lightly touching them. This allows brain waves to slow down and begin to dissipate excess stored electrical energy, which in turn can shift aches, pains and chronic illness patterns as well as facilitate quicker recovery time from injuries and surgery.

Work performance and mental clarity increases, and it has been noted that when THE BARS™ are run on children before exams, this can have a dramatic effect on their grades.

General depression as well as anxiety will often vanish, after only one or two sessions, leading to a much happier state-of-mind and a noticeable reduction in stress levels.

At the least, having your BARS™ run can feel deeply relaxing – as if you have experienced a full body massage – at the best, it can change your life.

INTERESTED? CURIOUS? WHY NOT CHOOSE FOR YOU?
Find out more at www.accessconsciousness.com/bernicevergou


FOR MORE ACCESS™ INFORMATION, VIEW THE WEBSITE
www.accessconsciousness.com

WHAT ARE PEOPLE SAYING ABOUT BERNICE? GO TO WHITECOAT.COM.AU AND SEE
www.whitecoat.com.au



---
Call Bernice on 0413 844 841, or 'Make an Enquiry' below, to book your personalised session today
Professional Membership
ATMS - Australian Traditional Medicine Society
---