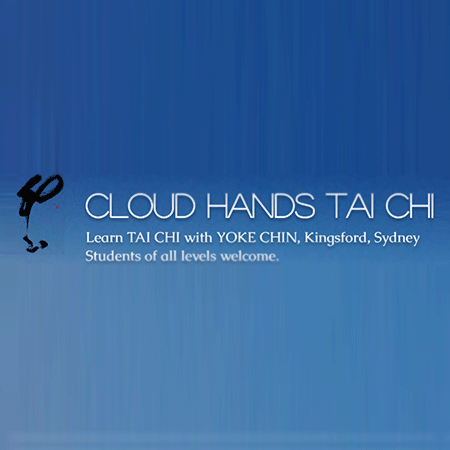 CLOUD HANDS TAI CHI & BOWEN
Want to find out my availability, pricing or opening hours? Click on Send Me Details Now to get started.
Send Me Details Now
Clicking on the Send Me Details Now button opens an enquiry form where you can message Yoke Chin directly
Tai Chi, Qi Gong, and Bowen therapy from a practitioner with over 40 years experience in Eastern Sydney
CLOUD HANDS TAI CHI
Servicing area
38 Middle Street Kingsford New South Wales 2031
---
Focus areas
Stress management
Health issues
Joy
Headaches
Health goals
Lifestyle
---
---
40 years experience Tai Chi and Bowen Therapy is 16 years & Wu Taichi Form workshop beginners 9 sept Sunday 10am-4pm. Not to be miss!
---
Upcoming Workshops
Powerful Dragon and Tiger Medical Qigong 1,500 years old from China. The movements are simple to learn and a joy to perform. They are created to accommodate limited movement capacity. Benefits chronic illnesses, balances health and well-being and clears the ethereal body.
Click here for more details
Introduction to Qigong Workshop
Qigong is the skill/ cultivation in the restoration and maintainence of vital life force or Qi (chi) energy. The movements are gentle and repetitive benefiting the young and the old - those suffering from physical pain, misalignments, arthritis to serious ailments, cancer, autoimmune etc.
It improves cardiovascular, respiratory, circulatory, lymphatic and digestive functions.
Basic qigong is the foundation to more subtle and advanced forms of qigong like Taichi, Ba qua and Hsing-I.
Introduction to Circling Hands Qigong
Cultivating Qi in the integration of body, mind, and spirit.
Through a series of coordinating simple circular upper body movements in different planes with the lower body hips, legs and feet, you learn to balance, integrate, and align the entire body. This corrects inner patterns of holding tension, freeing up blocked breathing and stimulates internal organs.
---
About Yoke
I am passionate about health and enjoy working with people on a journey to restore natural balance, let go of life's constant pressures and enjoy the ease and comfort of a relaxed mind & body.
I established my business in 1989 with the aim of researching and developing the art of tai chi chuan and promoting the teachings of Master Huang Sheng Shyan. I love working with my students and seeing the change in their lifestyle and health.
I found that the hands on approach of Bowen Therapy could give people the health kick they need to embrace Tai Chi & Qi Gong and introduced this service in 2002. After the Bowen Therapy clients would have more control of their health and the option to pursue the permanent practice of Tai Chi & Qi Gong.
"Tai Chi is one of the few disciplines where young and old can practice together, where, as you get older you can continue to improve your skill in all aspects and levels, whether as a martial art, or for health."
Weekend Workshops
For committed students developing body awareness for a deeper understanding of internal strength and mind/body alignment
Intensive Retreats
A serious practitioner's opportunity to truly develop mind/body resourcefulness.
Teacher Training
For advanced practitioners leading to a professional teaching role. Requires certain prerequisites and assessments.
Individual Consultations
Focusing on a student's individual needs.
International Workshops
These workshops are conducted in Germany, Holland and Switzerland in February each year.
---
Upcoming Courses
Courses are open to all — old or young, whether healthy or working with injuries or other health issues. Teaching can be tailored to your physical needs and limits, without stress, using the 30-70% rule for workouts. You will almost certainly find your problems lessening as your practice progresses.
Students who have previously learned other Tai Chi or Qigong styles, martial arts or other physical disciplines, are also welcome.
KINGSFORD
Beginners Tai Chi / Qigong course
10 lessons , Saturdays 9.30- 10.30 am.
28th of March to 13th of June, 2020. Except 11th and 25th of April.
10 lessons, over 10 weeks OR 20 lessons, over 10 weeks
April 28th - June 29th, except June 8th, from 7.00 - 8.00 pm, every Mondays.
Optional 20 lessons for Mondays and Saturdays.
Beginners Push hand/ Taichi Short Form
Inquire for information, Saturday, 10.30 am to 11.30 am.
Ongoing intermediate/ advanced classes
10 weeks duration, 20 lessons, 2 x a week, check for times: Wednesdays 7.00-8.00 pm & Saturdays 8.30-9.30 am
Bookings necessary. Places are limited.
​PRIVATE TUITION and CORPORATE LESSONS available on request
---
​​WORKSHOPS AND RETREATS 2020
TAICHI SHORT FORM PRACTICE
Bookings and enquiries necessary. Places limited. Email: yokechi@gmail.com.
---
MEDICAL DRAGON and TIGER QIGONG WORKSHOP
Learn about this workshop.
Saturday, August 22nd & Sunday, August 23rd - Part I
Cost: $400, at 10 am-4 pm.
Early birds: $350. Friday 14th of August, 2020. $100 Non-refundable deposit.
Repeats: $200
Reviews - total cost $120,00 :
Saturdays, August 29th & September 5th, 2020 from 11.00 am to 12pm
Sundays, August 30th & September 6th, 2020 from 2.00 - 3.00 pm
Saturday, September 12th & Sunday, September 13th - Part 2
Cost: $400, at 10 am-4 pm.
Early birds: $350. Friday 4th of September, 2020. $100 Non-refundable deposit.
Repeats: $200
Reviews - total cost $120,00 :
Saturdays, September 19th & September 26th, 2020 from 11.00 am to 12pm
Sundays, September 20th & September 27th, 2020 from 2.00 - 3.00 pm
Inquiries and booking: Yoke Chin 0415 174 957 or yokechi@gmail.com
Places are limited. Bookings necessary.
---
STANDING QIGONG - THE FUNDAMENTALS OF TAI CHI
Vajrayana Institute, address: 9 Victoria Square, Ashfield NSW.
Sunday June 2nd, 2019 from 10 am to 4pm.
Visit Vajrayana Institute for further details and registration.
---
INTRODUCTION TO QIGONG WORKSHOP 2020 AT MIDDLE STREET, KINGSFORD, NSW:
Qigong Circling Hands
Saturday, April 4th, 2.30 pm - 4.30 pm
Sunday, April 5th, 3.00 pm - 5.00 pm
Qigong Circling Hands Review:
Saturday, May 9th, 2.30 pm - 4.30 pm
Sunday, May 10th, 3.00 pm - 5.00 pm
5 Loosening Exercises
Saturday, April 18th, 2.30 pm - 4.30 pm
Sunday, April 19th, 3.00 pm - 5.00 pm
​5 Loosening Exercises Review:
Saturday, May 16th, 2.30 pm - 4.30 pm
Sunday, May 17th, 3.00 pm - 5.00 pm
Standing Qigong
Saturday, May 2nd, 2.30 pm - 4.30 pm
Sunday, May 3rd, 3.00 pm - 5.00 pm
Standing Qigong Review
Saturday, May 23rd, 2.30 pm - 4.30 pm
Sunday, May 24th, 3.00 pm - 5.00 pm
---
Bowen Therapy
I use Bowen to tap into your body's ability to self-heal. Bowen gently stimulates the nervous system, to bring about balance to the muscular structure of the body. This feeling of balance helps you to deal with the stress of daily living.
This therapy can be used in isolation or in conjunction with Tai Chi & Qi Gong.
---
Emmett Technique
Emmett Technique can give dramatic results for first time clients. The sequence of muscle activation points can unlock muscle memory. This activation gives the brain the opportunity to set up a new state of homeostasis and provides an opportunity for re-alignment of the body.
By finding the initial activator that created the neuro-muscular problem, light pressure sequences are then used to release these problem areas and the result can be an almost instantaneous result.
---
Dorn Spinal Therapy
Dorn Spinal Therapy is a German specialised back care treatment based on balancing and aligning the entire spine for the well being of chronic ailments.It is a gentle alternative to chiropractic treatment, it corrects leg lengths, hips rotations, back, neck, jaw,shoulder joints , visual and digestive problems, addresses headaches, sciatica, infertility, PMS, ear aches,tinnitus, vertigo, asthma, high blood pressure.
The treatment works within the dynamics and the cooperation of the client and thus in a natural human flow of movement. The patient swings either arm, leg or turns the head to soften mobility of the vertebrae or joints as the therapist works. Because there is no sudden impact, energy lines and body fluids are not being compressed, thus the body experiences no shock. The treatment is safe as no blood clots can be released due to too sudden overstretching of tissue structure.
The patient will feel a strengthening overtime of of their skeletal structure as old emotional and physical blocks fall away. A soothing theraputic massage is also available to complement the Dorn treatment.
Yoke's power of healing is complemented with the chi /energy work . Through her long years of tai chi training, she has naturally developed intuitive skills of sensitivity and awareness which promotes the healing process.
These therapies are non invasive, gentle and relaxing can be offered alone or as an adjunct to the tai chi training.
---
Testimonials
I recently completed medicine Tiger and Dragon Qi Gong workshop with Yoke. It was an eye-opening experience to work with the energy of the body and the natural energies in this way. Yoke is clearly an expert in this area. She was attentive and exacting. It has altered the way I relate with my body, influencing how I stand and move and my general sense of well-being physically and mentally. She is a sensitive and supportive teacher, and the energy work has helped with my healing process after an injury
Angela B.
I am a piano teacher and this means it is important for me to be able to hear properly and have full usage of my arms. When I first saw Yoke I had been suffering from severe blockages of my nasal passages which stopped me from hearing. I also suffered from muscular pain along my right arm. After only a couple of Bowen Treatment sessions with Yoke, my nasal passages are completely cleared. During the next couple of Bowen Treatment sessions,Yoke focused on the muscular pain in my right arm, which has now virtually disappeared. With playing piano for the last 45 years, I have various other problems with my back and posture in general, but I am sure that with Yoke's help and Bowen Therapy treatments I will be able to continue to play piano and teach for another 45 years.
Laura Hofstee
I had a broken wrist and was having hand physio for many weeks to help the stiffness and swelling in my hand.
I had two Bowen sessions with Yoke and she focussed on my arm, shoulder and hand and after that I have been able to stop going for physio as her treatment really catapulted the healing. It has been truly amazing. I would recommend Yoke to anyone who has this case.
Sonia M
I have been a tai chi student of Yoke's for the past five years. This training has been invaluable in a number of ways. It has deepened my already established meditation practice, especially in relation to working with my body. Tai chi has improved my physical flexibility as well as strength and balance.
Yoke's extensive knowledge of tai chi and her ability to impart this knowledge has been of key importance for me. Above all, her deep level of commitment to her students is both inspiring and very moving.
Jim Pescud
Yoke has been my tai chi/chi gong teacher for more than five years. She offers the rigour of traditional training, combined with an approach that is individualised for each student. When I arrived at her class I was in pain from years of doing a desk job, combined with little body awareness. By degrees she is enabling me to bring my body into alignment. I feel stronger and more lively, my balance is better, and the headaches that were so much a part of my life have gone. I love doing the standing and the Chen Man-Ch'ing form, and for me the classes are meditation practice.
Gillian Hewitt

"I have had two Bowen /Emmett Treatments with Yoke Chin. I recommend her Bowen/Emmett Treatments without reservation. I found the treatments very effective, relaxing and very gentle. I had a pain in my right hip when I lifted my leg, I have had it for about 3 days and it was getting to the point where I couldn't lift my leg. As soon as I got off the massage table after Yoke's treatment it was 70% better and within two days it was completely gone. As well as that improvement I found I could turn my neck to the right further than I have been able to for years.
Also I experienced a release of very long held tension in my right hip which i had been struggling for a long time.
I am very grateful to Yoke and encourage anyone who has not experienced the benefit of her treatment to try it. I am sure you will be very satisfied as I am.
Your's Sincerely,
Tod Thompson Spinologist
"I have been taking lessons with Yoke for the past 9 weeks. In that time I have noticed positive changes in myself and my body. Tai-chi very gently and with great subtlety encourages an improvement in posture and a stillness in mind. My work as a therapist and kinesiologist has benefited by my greater awareness and presence. Yoke's patience, presence and enthusiasm for the art is an inspiration.
Sincerely,"
Marilyn Swidler
"I came to Sydney from Canada 18 years ago with a MFA in Fine arts at the Tasmanian School of Art. 5 -6 years ago I was diagnosed with Parkinson's disease and almost from the very beginning I have been getting Bowen/Emmett treatments from Yoke, which I believe has saved my life in so many ways. My doctor (Specialist) has remarked how wonderful my state of health has been over such a long time. A lot of Parkinson's sufferers descend into a deep illness fairly quickly I have, I believe by Yoke's care and good practices of the bowen method, maintained a balance and positive state of mind and a functioning body. I am still able to paint and work to my satisfaction."
Paul Miller
"Being in an office job and working in front of a computer all day, my neck and upper back regularly became stiff and sore It often left me feeling tired and tense by the end of the day. So, I really looked forward to attending Yoke's Tai Chi classes as I always walk out feeling re-energized with a real sense of well being .I also find the neck and upper back became more mobile after the class. The resullts had encouraged me to try Yoke's Bowen/Emmett treatments which complemented the Tai Chi. In the past, I have tried other traditional treatments such as chiropractic, physiotherapy, deep tissue massage and yoga. But I have found Yoke's Tai Chi and Bowen/Emmett treatment the most effective in releasing the tension from my body. It has really improved my quality of life, because I can now do more with less effort. Thanks, Yoke! "
Winnie Lam
---
Call me to find out how I can help you achieve your health goals - 0415 174 957
---
---