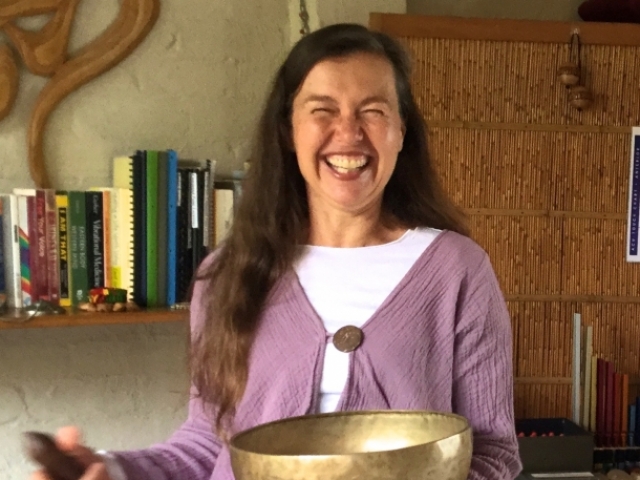 Creative Kinesiology
This account is currently inactive on Natural Therapy Pages, but you can browse from hundreds of other practitioners in your local area.
Search for practitioners in Elwood
Alert Practitioner
By clicking on the Alert Practitioner button, we send the practitioner a message on your behalf that you would like to get intouch with them.
Caring for pets and pet owners. Helping resolve emotional imbalances, behavioural issues, health concerns, past trauma and anxiety.
Pet Kinesiology
Focus areas
Paralysis
Stress management
Nervous system
Digestive disorders
Mantra
Love
---
My kinesiology practice also offers gentle effective natural healing for cats and dogs. Stress affects us all to varying degrees - animals and humans alike. I know your pet is an important member of your family and it is my aim to help you all enjoy household harmony and a happy life through health, balance and understanding.


Kinesiology can help your pet return to a state of physical and emotional balance. It can be beneficial to:


Develop trust and confidence to take your dog out walking
Help traumatised or abandoned animals return to a relaxed, balanced state
Curb aggressive/protective behaviours in your pet
Aid recovery from surgery and illness and restore vitality
Resolve depression, anxiety and stress naturally
Reduce pain and allergic responses
Managing a range of health conditions
Overcome a variety of behavioural issues
Identify stressors that are difficult to identify through other methods (ie emotional, nutritional, energetic)
Understand your part in your pet's health & wellbeing and how best to support them


Emotional Imbalances

Animals are sensitive beings and often take on the energy of those around them. It can be frustrating when you can find no physical explanation for your pet's change in mood. One of the advantages of kinesiology is it's ability to access what is happening on emotional levels as well as physical and is a wonderful way to bridge the communication gap between you and your pet.

Emotional imbalances may present as prolonged grief, sadness or depression, loss of appetite or conversely insatiable appetite, loss of interest in life, other animals or people, irritability or simply appearing out of sorts with no apparent reason.

"I took my Dog Sonny to Marianne because he would get really bad car sickness and he also wasn't getting along with one of my dogs which was making him really timid and fearful. Marianne balanced Sonny and helped him release a lot of unexpressed emotion and now he doesn't get sick in the car- he actually looks forward to it and although he still doesn't get along with my other dog he is a more confident and relaxed dog. Marianne also did a balance on my cat Sam. Sam was a really nervous cat that would constantly groom himself to try and become relaxed. This behaviour became worse after I gave birth to my now 3 year old son with all the changes it brought. He would constantly groom himself bald. After his balance Sam is now more confident and doesn't over groom anymore- all his fur has grown back and he isn't intimidated by our other younger cat that used to boss him around. He now stands up for himself. Thanks Marianne"

Kellie Farley, Mildura


Behavioural issues

Our pets suffer similar stresses to us such as city life and the loss of connection to nature, changes of home, diet or routine, separation anxiety for young animals and their mothers, exposure to toxins, boredom, lack of exercise and relationship issues with both animals and people.

Behavioural issues may include many forms of obsessive behaviours, jealousy & overprotectiveness, aggressiveness, bullying, excessive shyness & submissive behaviours, learning difficulties, destructive behaviours, attention seeking, nipping, excessive barking/yapping, inappropriate urinating, rebelliousness, the list goes on….

Kinesiology aims to identify the root cause of these issues and release the underlying stress from the physical body.


Even after seeing a dog whisperer, there seemed to be a place where we were stuck, where we couldn't move past and the result was that I couldn't trust Grace to walk past another strange dog on the footpath or let her run freely off a leash in the park. She was just too reactive to certain dogs, eg bull terriers and little snappy dogs (plenty of them out there). It didn't help that she was big and black and overly defensive.

So when we saw Marianne, I knew it was just as important for me to gain trust of Grace as it was for her to overcome this fear complex she had. Bingo…Marianne was spot on with recalling past trauma scenarios when Grace was attacked as a puppy, (once by a bull terrier!) in the first 2 years.

The second visit Grace just loved being there, sitting close to Marianne, tail thumping intermittently all through the hour. She seemed to know that whatever was happening was good.

In just 2 sessions, Grace's reactivity has gone almost completely…I feel I can trust her more and don't feel anxious at all taking her out. I've even felt comfortable enough to let her off the lead when I would never be able to do that before.

We've booked one more session, but that's in 6 weeks and will be interesting to see how far we'll have come by then.

I would recommend kinesiology to anyone who feels that their pet needs help in their psyche, when nothing else seems to change behaviour patterns that aren't healthy for the pet or owner. It's like magic and it works..

Angela, St.Kilda


Trauma & Anxiety

Often animals that are adopted from rescue shelters and homes have suffered some form of trauma which can lead to various emotional, behavioural or physical conditions if left untreated. In severe cases some animals are living in survival mode with nervous systems on high alert at all times. The use of acupressure can help release deep fear, shock and rage from the body, allowing your pet to feel safe and live a more relaxed life.

Trauma may be a result of abandonment, physical abuse, road accidents, fights with other animals, post-operative shock or sometimes fears and phobias can present with no apparent cause.


Claude is our beloved Japanese Spitz (dog). We are led to believe Claude had a traumatic start to life, possibly abused and abandoned at an early age. We adopted Claude from an animal shelter 6 years ago and since then he has had many health and behavioural issues.

In his time with us Claude has presented with debilitating physical immune deficiencies and has suffered from, often acute, anxiety issues. His anxiety issues can present as hyper sensitivity resulting in defensive and aggressive behavior., Common physical symptoms can be demodectic mange around his eyes and skin conditions.

In our company Claude is a very affectionate and playful dog. He is timid dog, focused on his owners and looks to us for safety at all times. His sensitivity and anxiety means he has an active radar for picking up the energetic vibe around him. This can show up in him being highly strung, defensive and territorial.

This year, Claude was bitten by a paralysis tick and suffered lung damage, developed a throat condition and began having recurring epileptic fits. After being told that that there was no cure for the fits, we took Claude to Marianne Inchley for Kinesiology treatments.

He has had 4 Kinesiology treatments and Marianne has prescribed Australian Bush Flower remedies. In sessions with Claude, Marianne continues to identify and unhook early life trauma experiences that recur in Claude. The changes in Claude are remarkable. On a physical level and at the time of writing this, he has not had another fit and his throat and lung condition has healed. Behaviorally, he is considerably more grounded and relaxed. He presents as less jumpy or vigilant amongst people and is more sociable with other dogs.

I can recommend Marianne's work as a tremendously effective, healing and loving modality by which to treat animals.


Health concerns

Kinesiology works with the same principles as Chinese medicine. The idea being that when blockages are removed from the body's energy system, the body is then able to heal itself.

Kinesiology is able to help in the management of a broad range of conditions such as allergies, skin disorders, respiratory conditions, kidney and bladder problems, digestive disorders, thyroid problems, hormonal imbalances, brain function such as balance and learning, muscular problems and much more.

Kinesiology is not a replacement for veterinary diagnosis and treatment, however it can enhance such treatments by reducing stress, releasing any trauma involved, quickening the healing process and restoring vitality. It does not interfere with prescribed medications.

I have a 5 year old Staffy Heeler cross named Anzac, and also his sister Bonnie. At 5 months old Anzac had his first epileptic fit, due to his mother also having epilepsy.

Naturally, he was taken to the vet and put on Phenobarb which was monitored and adjusted over time. At first this kept the seizures at bay but at around 2 and a half years old they started to become more regular. I tried him with acupuncture and Chinese herbs with minimal results, but stuck with them for around 12 months.

By now his seizures were averaging between 2 and 3 weeks, usually in clusters of up to four.

Towards the end of November last year, Anzac had a cluster of fits that seemed more spread out than usual, one or two every couple of days instead of the cluster being over within 2 days. In the early hours of the Sunday morning until around 12.00 pm that day, he had 8 seizures, though fairly mild, it was far too many.

Concerned about his Phenobarb dosage being increased, plus the thought of him being put on even stronger medication, which I did not want, I was at a loss as to what to do next.

That same week I was reading a copy of that's life magazine when I came across the article about Marianne and her kinesiology work with animals. Having experienced kinesiology myself years before with excellent results, I knew I'd found what I'd been looking for.

The following week Anzac had his first consultation with Marianne and we haven't looked back!

He has had a couple of visits since and will continue to do so for as long as he needs to.

Bonnie has also been for a consultation, even though she does not have epilepsy, she is very highly strung and the treatment has helped her with this.

At the time of writing this testimonial, it has been 6 months since Anzac's last seizure. I cannot recommend Marianne highly enough. We now enjoy life with Anzac instead of being constantly worried about him!

Cathy and Sean, Healesville Vic


How does it work?
________________________________________________________

Similar to how a holistic kinesiology treatment works with people, I simply use muscle testing on your body as a surrogate for your pet. Once the areas of stress are identified they are then released using gentle techniques such as acupressure and vibrational medicine. Corrective techniques are performed on your pet as much as possible, depending on their temperament.


Kinesiology for your pet
________________________________________________________

Initial consultation 60 minutes
Standard consultation 30 - 60 minutes


Combined kinesiology consultation for you and your pet
________________________________________________________

As your pet has a strong bond with you, it is possible that your stress levels can adversely affect your pet. In such cases I encourage you to have kinesiology treatments yourself to manage your stress and help you through any challenges you are facing. I highly recommend a combined treatment plan where I spend 30 mins with your pet and 30 mins with you.

Initial consultation 90 minutes
Standard consultation 60 minutes


How many consultations are required?
________________________________________________________

Generally speaking, you should be able to notice a change in your pet in just 1-3 sessions. If for example a behavioural issues has developed over a long period of time, it may also require a longer period of time to change this behaviour. Severely traumatized animals after initial sessions may need ongoing treatments every few months to ensure balance is maintained.


Additional services for pet owners
________________________________________________________

Grieving the loss of your pet
Finding peace with decisions around euthanasia
General health & wellbeing

Kinesiology can help you move through these difficult times and support you in your grieving, decision-making or healing processes. For more information about how kinesiology can help you please the Creative Kinesiology page


I wanted to make an appointment to take my 15 year old dog, Jasmine to see Marianne for some kinesiology. Unfortunately she passed away before we could make it. Jasmine was a very important member of my family. I wanted her to see Marianne to ensure we were offering her the best care possible. As communication between humans and animals is limited, I believe kinesiology is a great option to help with this and wanted to find out what else Jasmine needed.

A few weeks after Jasmine passed away, I made an appointment to see Marianne myself. Marianne helped me to deal with my grief as well as to ensure that I was ready to take on a new dog.

I had some issues around not wanting to put expectations on the new dog and being able to open my heart to love a new dog, without feelings of guilt. Marianne worked with flower remedies and sound. She gave me some homework in the form of reading. I felt so much lighter and focused on what I needed to do to help myself.

I have since got a new dog. Her name is Yve and she is a beautiful little sheltie. I absolutely love her and am planning on taking her in to see Marianne, so that she can get the most out of her life.

- Sonia Rowe
The greatness of a nation and its moral progress can be judged by the way its animals are treated ~ Mahatma Gandhi
---