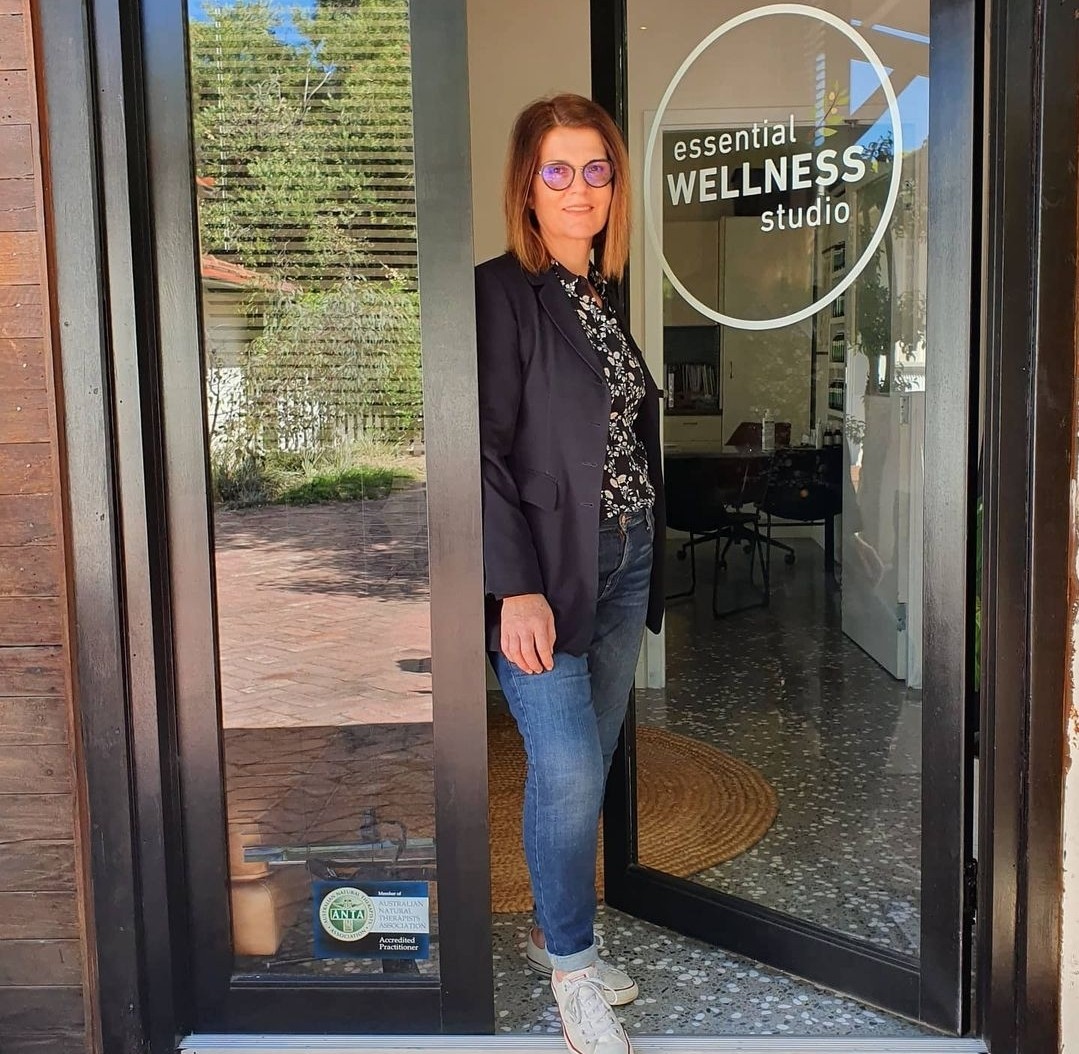 Essential Wellness Studio
Want to find out my availability, pricing or opening hours? Click on Send Me Details Now to get started.
Send Me Details Now
Clicking on the Send Me Details Now button opens an enquiry form where you can message Angelina Boccardo directly
We offer a wide range of services to suit your individual needs. Our holistic treatment plans are put together with care and an appreciation of your personal wellness goals. Essential Wellness Studio is a holistic health clinic based in Rivervale, Perth that specialises in naturopathy, Contemporary Pilates, personal training and remedial massage. Angelina is a qualified naturopath, personal trainer and remedial massage therapist. She is a member of Fitness Australia and the Australian Natural Therapists Association (ANTA).
About Me
Focus areas
Stress management
Arthritis
Posture
Wellness
Fitness
Health outcomes
---
---
Information about my business
Essential Wellness Studio is a holistic health clinic based in Rivervale, Perth that offers clients a wide variety of services under the one roof, from naturopathy to Contemporary Pilates to personal training and remedial massage. Our core philosophy is that the treatment of health problems involves more than just treating the problem itself – it is about identifying and treating all of the underlying factors that contributed to the problem in the first place. Our aim is to not only improve the health outcomes for all of our clients, but to help them better appreciate why their bodies function the way they do so that they are better equipped to face health challenges as they arise.
---
About me
Hi guys,
My name's Angelina and since I can remember I've been dedicated to helping people improve their overall health and wellbeing.
I have been practising naturopathy for many years and I'm passionate about encouraging people overcome their daily stresses, tackle their anxieties and reach their full potential.
I also offer a range of holistic therapies to suit most clients whether that be assisting you in relieving day to day aches and pains, improving physical mobility or treating hormonal imbalances.
My aim is to not only improve your physical outcomes but to also help you appreciate why and how your body functions so that you are better equipped to face health challenges as they arise.
For a consultation please do not hesitate to contact me.
Angelina X
---
Services/products offered:
Naturopathy
Naturopathic medicine is a holistic approach to wellness. This approach involves identifying the underlying causes or dysfunctions in a client and tailoring the treatment plan to address their individual needs. As a result, each treatment plan is different from one client to the next. With the use of nutrition, supplementation and herbal medicine, we can improve the body's natural healing response and restore the body healthy function into balance or what Naturopaths call 'homeostasis'.
My aim as a Naturopath is to help you achieve your personal goals, whatever they may be. Whether it is minimising the symptoms of illness, reducing stress, boosting energy, eliminating inflammation or managing weight issues, I am here to support your body's capacity to heal so that you can lead a more productive, fulfilling life.
Some of the areas where naturopathy may help include:
Metabolic syndrome and diabetes
Hormonal issues (women and men)
Skin conditions including acne, eczema, psoriasis
Digestive issues including constipation, bloating, diarrhoea
Sleep issues and chronic fatigue
Autoimmune and inflammatory conditions such as rheumatoid arthritis
Infant and children's health
Contemporary Pilates
Contemporary Pilates is a dynamic stabilisation exercise providing multidimensional movement freedom.
What does that mean?
It means pilates could be the fitness method for you if you're looking for a whole-body training program for all round fitness.
Looking to improve your posture or daily physical ability?
Contemporary Pilates aims to improve and maintain postural ease and efficiency allowing us to stand or sit or move with minimal effort.
Our focus here at Essential Wellness Studio is specialising on core stabilisation, this provides the foundation for adaptability of the body.
Using the basic concept of the original Pilates founded by Joseph Pilates In contemporary Pilates, we move in all dimensional planes with freedom and provide a training program specific to your unique wants and needs. Contemporary Pilates is a modern fitness method, continually evolving and is based on the research of many proven and well-renowned modalities of modern science.
If you think Contemporary Pilates could be what you've been looking for, please call us and we will provide a full health assessment to get you started in a tailored program.
Personal Training
Personal Training sessions ranging from 30 min to 1 hour and are customised programs to suit each individual and your requirements (but are never repetitive). These personal training classes will help you achieve your best and achieve your goals. An emphasis is placed on how you feel, rather than solely physical appearance and get back to the fundamentals of fitness and wellbeing.
---