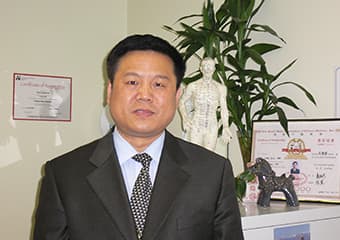 Acupuncture & Chinese Herbal Medicine Hair Loss Clinic & Remedial Massage
Clicking on the Send Me Details Now button opens an enquiry form where you can message Chris Ma directly
Send Me Details Now
Hair problems like thinning and hair loss can indicate underlying health conditions like nutritional deficiencies or hormonal imbalances. Hair loss, thinning, or greying can be a sign of a decreased supply of kidney energy in Chinese medicine. Schedule an appointment with Chris to learn more!
Acupuncturist & Remedial Massage Therapist
Servicing area
Surry Hills, NSW 2010
---
Focus areas
Paralysis
Dermatitis
Hair loss
Psoriasis
Vitiligo
Heart failure
---
---
A qualified and experienced Traditional Chinese Medicine practitioner, Chris specializes in Chinese Herbal Medicine, remedial massage and hair loss treatment using natural methods.
Services Offered
Acupuncture
Several studies supported the recommendation of acupuncture for the treatment of pain by the World Health Organisation.
Using acupuncture can reduce the frequency and severity of migraine headaches and help ease tension headaches.
Recent scientific studies have also shown that acupuncture relieves nausea associated with chemotherapy, period pains, and pregnancy.
It can also treat a wide range of disorders, including:
Allergy, sinus, hay fever
Arthritis, carpal tunnel syndrome
Benign prostatic hyperplasia
Cancers under chemotherapy
Chronic fatigue syndrome, hepatitis, virus infection
Cold, flu, bronchitis, asthma
Dyslipidaemia, diabetes, hypertension, heart failure
Eczema, psoriasis, vitiligo, dermatitis, acne
Infertility, menopause syndrome
Irritable bowel syndrome, gastritis, colon disease
Major depression, stress, phobia, insomnia
Neck, shoulder and lower back pain, tennis elbow
Sciatica, frozen shoulders, migraine, muscular pain
Sports injury and soft tissue injury, fibromyalgia
Stroke paralysis, Bell's palsy, tendonitis
Smoking and drugs secessions, weight loss management
Urine tract infection
And more
Chinese Herbal Medicine
As a practitioner of Chinese Herbal Medicine, Chris specialises in treating hair loss or thinning hair.
Herbal shampoos, capsules, and tonics are available for both men and women with thinning hair or baldness, including Androgenetic Alopecia, Alopecia Areata, and others.
Patented herbal medicines have won many international golden awards for their efficacy.
These products improve scalp circulation, nourish hair bulbs, kidneys, and blood, remove the results of DHT, and make hair healthier by stopping excess hairs from falling out and easing itchy, oily scalps.
Opening Hours
Monday: 10:00 am to 6:00 pm
Tuesday: 10:00 am to 6:00 pm
Wednesday: 10:00 am to 6:00 pm
Thursday: 10:00 am to 6:00 pm
Friday: 10:00 am to 6:00 pm
Saturday: 10:00 am to 3:00 pm
Sunday: Closed
Pricing
Standard Consultation, 20 minutes - $30
Long Consultation, 30 minutes - $50
Acupuncture, 30 minutes - $40
Acupuncture with Massage, 50 minutes - $60
Remedial Massage


20 minutes - $30
30 minutes - $40
45 minutes - $60
60 minutes - $80

Cupping, 25 minutes - $40
Cupping with Massage, 50 minutes - $60
All Health Fund rebates are available. Workers Compensation are welcome.
Testimonials from Chris' Previous Clients
"Best acupuncture I've ever had. Fixed my back in one visit, when physio/chiro didn't work. Don't come expecting white glove service. This is not a day spa." - Pu Koh
"Helped me with skin conditions. I used to be really ugly but since coming here my skin condition is better than its ever ever ever been." - NR
"Great acupuncture sesion. I had a really bad neck pain and Dr. Chris Ma really helped me. Very professional and friendly." - Manu N
Call now to schedule your appointment!
Qualifications
Bachelor of Health Science In Chinese Medicine
Bachelor of Health Science In Western Herbal Medicine
Master's Degree In Medicine
Professional Membership
FCMA - Federation of Chinese Medicine & Acupuncture Societies of Australia
---