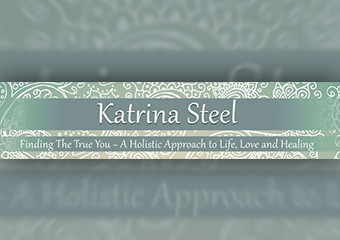 Katrina Steel Counselling
Want to find out my availability, pricing or opening hours? Click on Send Me Details Now to get started.
Send Me Details Now
Clicking on the Send Me Details Now button opens an enquiry form where you can message Katrina Steel directly
Working to bring healing and health mentally, emotionally, physically & spiritually. A holistic approach to life for the pursuers of inner peace.
Katrina Steel Counselling
Focus areas
Love
Growth
Negative emotions
Emotions
Fear
Energetic release
---
---
ABOUT
The outcome of this new approach sees people discovering their own innate wisdom, beginning to love themselves and find a new way to experience life. These products and programs work to develop skills, challenge limitations, build esteem, and establish an authentic connection with the true you.
I have been working in the field of mental and emotional health as a Holistic Counsellor for over 10 years, combining a psychological and intuitive approach. The key foundations of my practice are based in my innate awareness of people's unconscious issues and the fear that separates them from their truth and consequently their inner peace. I use wisdom, honesty, purity, intelligence and soul to raise awareness and connect people to their true selves resulting in them living and experiencing life at a deeper level.
I have noticed through my years of practice that there are fundamental core issues that sit within the hearts and souls of people. These core issues impact and influence mental and emotional states preventing experiences of happiness and feelings connectedness in life.
I have developed a new approach which encourages people to explore, expand and evolve mentally, emotionally, and spiritually. My holistic approach is reflected within my products and programs: Counseling for Life Practice, Wheels of Life – Vibrational Water Products, Foundations of Life Guides and Bush Flower Essences for Life. These products and programs work to develop skills, challenge limitations, build esteem, and establish an authentic connection with the true you. The outcome of this new approach sees people discovering their own innate wisdom and beginning to love themselves.
---
SERVICES
Counselling
Life is difficult at times. Once we accept this truth we can surrender to the moment and begin to work with it, allowing the challenges to be simply a part of life and an opportunity for growth, healing and change.
I have come to find that resistance and avoidance is at the core of our suffering. Suffering hurts. Humans try to minimize pain and suffering. We avoid our negative feelings hoping they will simply go away. However by avoiding the emotions of suffering we miss the secrets held within. Without experiencing our suffering we stay trapped in the suffering. By exploring this suffering we tap into our inner wisdom and find the truth that will set us free.
The key to this new approach is to work with the suffering and struggles to make the change and find a new way of relating and being in the world. I work to explore these issues and bring to the surface the aspects of you which require healing and growth.
Wheels of Life ~ Vibrational Water Products
What are they?
The Wheels of Life Vibrational Water Products are tools to assist you in creating change in your life by manifesting, vibrating and living in the frequency you desire.
The words that have been chosen vibrate at their own unique frequency. The frequency of each word is symbolised by its own unique wheel of life. Each word resonates to rebalance the vibration within your body, within your heart and within your soul.
What do they do?
The Wheels of Life Vibrational Water Products work to bring change into your life and shift negative emotions by increasing your vibration to a positive frequency.
The Wheels of Life Vibrational Water Products work with spiritual blockages and physical disease.
How do they work?
Water is affected by the information it receives. 70% of your body is water and water has the ability to absorb intention. You therefore have to power to increase your vibration via the water you drink. Not only do they shift the vibrational quality of water, they also work as a manifestation tool to call forth your heart's desire. Every time you see the word you are also changing your thinking, influencing your vibration and calling forth your desire.
The Wheels of Life Vibrational Water Products infuse your water and your body with your desired intention. By simply seeing the words and absorbing the water, your body will begin to respond to and vibrate at the frequency which you have affirmed.
Foundations of Life Guides
What are they?
The Foundation of Life Guides are a series of books aimed to walk you through the steps to establishing mental, emotional and spiritual growth.
These books hold the knowledge and tools needed to change your life.
By reading these books and implementing the skills you will learn and you will develop the foundations to living a happy and healthy life.
What do they do?
These books work to develop a foundational skill which will help you navigate your life with productivity and balance.
The books expand your knowledge and develop your foundation of life skills through a layered approach.
Each book is created to educate and develop the skills you need. The simple activities help you to explore yourself to bring self-awareness for betterment. As you develop these skills you will see your relationships, your self–esteem, your work and social interactions improve. The books are fun and easy. These Foundations of Life Guides work to expose you through self-exploration and skill application to help you grow, evolve and live a fulfilled and functioning life.
How do they work?
Strong and healthy foundations in life give us the ability to navigate adversity. The guides work to teach you these foundations by filling the gaps in your development and skills you may have not been taught in childhood. When we do not learn the basic skills for life this create gaps within your developmental stages. These gaps cause skill deficiency and an inability to mature with balance, resulting in dysfunctional relationships and poor life management. Without evolving through your developmental stages you become trapped in the perpetual cycle dysfunction. If the related growth that is required at this stage is not developed you become stuck. This stuckness further bleeds into the next developmental stage. It is a domino affect.
Our success and happiness in life stems from the skills we have developed, that enable us to navigate life challenges.
Australian Bush Flower Essences
What are Australian Bush Flower Essences?
Australian Bush Flower Essences are a system of healing that are used to heal, restore and shift blockages. They work to unlock your full potential, resolve negative beliefs and create emotional health and well being.
What do they do?
Australian Bush Flower essences provide energetic release of stored issues that may be blocking you from achieving emotional and physical balance. The body's natural state is balance, however due to life challenges our frequency often becomes unstable causing disturbances that prevent us from maintaining this balance.
How do they work?
Each flower holds its own frequency which works to balance your vibrational energy and restore harmony.
The different Australian Bush Flower Essences can be used alone or in combinations to restore health and harmony in our organs and body systems . They also work very effectively to release negative emotions.
---
For all enquiries contact us today!
---