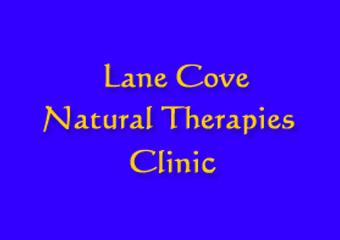 Lane Cove Natural Therapies Clinic
Clicking on the Send Me Details Now button opens an enquiry form where you can message Graham Wilson directly
Send Me Details Now
A balanced body is essential for optimum function. Naturopaths strive to identify imbalances and improve your health by taking a holistic approach. By creating a personalised Health Maintenance Program, you can maintain greater health and wellbeing, and reduce the risk of future health-related issues. Make an appointment now!
Naturopath, Nutritionist & Massage Therapist
Servicing area
Lane Cove, New South Wales
---
Focus areas
Weight management
Naturopathic nutrition
Personalised nutrition
Nutritional supplements
Herbal prescriptions
Bach flower remedy
---
---
Established in July 1997, Lane Cove Natural Therapies Clinic previously operated as Lane Cove Traditional Medicine Clinic.
With a team of highly trained health care professionals covering a range of services, the clinic can address nearly all your health care needs, including but not limited to:
Allergies and sinusitis
Arthritis and rheumatism
Asthma and bronchitis
Back and muscle pain
Childhood illnesses
Chronic fatigue syndrome
Colds and flu
Digestive disorders
Headaches and migraines
High and low blood pressure
Insomnia
Irritable bowel syndrome
Kidney and bladder problems
Phobias and anxieties
Stress-related disorders
Sports injuries
Skin diseases
Stop smoking
Tinnitus
Weight loss
Naturopathic doctors can create a personalised Health Maintenance Program tailored to your needs if you're looking for better control over your health care and overall wellbeing.
The clinic aims to provide a comprehensive and cost-effective service by assessing your particular problem and recommending the most suitable course of treatment.
Services Offered
Bowen Therapy
Bowen is a gentle but powerful technique that relaxes soft tissues to decrease muscle tension and stress.
Its ability to relax the soft tissues deeply allows the body to realign itself without pressure or force, as is common with other physical therapies.
Crystal Bed Healing
A Crystal Bed Healing treatment combines the power of Colour Therapy with Crystal Healing Therapy.
With this treatment, you lie fully clothed on a massage table, also known as the Crystal Bed. A white cloth mask is placed over your eyes once you're comfortable. As soft music plays and the lights dim, you can relax or fall asleep.
There are seven separate Quartz Crystals on the Crystal Bed, each with an extendable arm.
The seven coloured filters correspond to the seven major chakras of our body, and each one has a unique colour.
The light globes inside the seven cylinders are connected to electrical devices that turn them on and off in specific sequences.
As the lights are turned on and off, it creates a pulse-like effect. In this way, subtle energies bring the body into balance and stimulate the natural healing mechanism, which then creates health within the body.
Crystal Bed Healing produces different effects in each individual, each specific to their own condition, needs, and level of awareness.
Massage Therapy
Depending on your needs, a range of physical therapies is available, including:
General Relaxation Massage
Remedial Massage
Therapeutic Massage
Naturopathy
In naturopathy, a naturopath aims to determine which areas of the body, organ systems or aspects of lifestyle are out of balance.
After this is determined, your naturopath can create the most suitable strategy using natural therapies, which may include one or more of these:
Herbal Medicine
Diet and Nutrition
Exercise Therapy
Vitamin and Mineral Therapy
Flower Essences
Homoeopathy
Physical Therapies
Reflexology
Reflexology can restore and maintain the body's natural balance. Pressure is applied to a specific area of the foot to stimulate the corresponding organ or area of the body.
It has been shown that reflexology is helpful for many stress-related conditions.
Nutritional Medicine
During your nutritional consultation, you will receive a comprehensive health assessment and discuss nutritional strategies to address nutritional issues, pathologies, and dysfunctions.
As part of a treatment plan, diets and therapeutic foods may be used to treat deficiencies and disorders or to enhance health and well-being.
Opening Hours
Bowen, Crystal Bed Healing, Massage, Naturopathy
Monday to Thursday: 10:00 am to 6:00 pm
Saturday: 10:00 am to 4:00 pm
Lymphatic Drainage & Bandaging, Polarity Balancing, Reflexology
Monday, Tuesday, Thursday: 10:00 am to 6:00 pm
Saturday: 10:00 am to 4:00 pm
Book your appointment now!
Qualifications
Diploma In Remedial Massage Therapy
Reiki 1 & 2
Certificate IV In Reflexology
Diploma In Naturopathy
Advanced Diploma In Nutritional Medicine
Certified Bowen Therapist
---