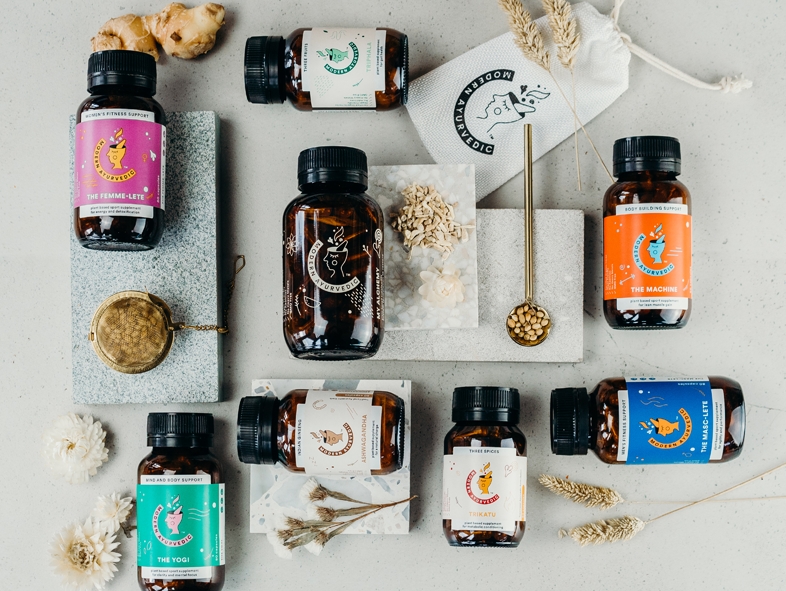 Complement your fitness program with all-natural, plant-based Ayurvedic supplements.
Ayurvedic Herbal Supplements
Servicing area
Clarence Park & Adelaide SA
---
Focus areas
Muscle recovery
Joy
Wellness
Headaches
Libido
Hormones
---
---
Natural Ayurvedic Supplements
In addition to undergoing health consultations, cell rejuvenating programs, and holistic lifestyle changes, our clients are also provided with necessary herbal supplements to help fortify their health.
Modern Ayurvedic offers a wide range of plant-based capsules formulated with the highest quality, certified organic herbs.
These are all manufactured in small batches in Adelaide so you can be certain that you're getting a fresh, consistent, high quality product.
The Yogi
This promotes mind and body support. It contains 80 gluten-free capsules that help balance the V-P-K.
Benefits
Balances active minds
Supports learning and memory
Promotes consciousness
Provides digestive comfort
Improves quality of sleep
Price: $39.95
The Masc-Lete
For agility and performance, this product contains 80 gluten-free capsules and helps aid the V-P-K.
Benefits
Muscle recovery and maintenance
Hormone balance (Masculine, Sun, Mars, Shiva)
Adrenal support
Hair health
Liver support
Price: $39.95
The Machine
This plant-based sport supplement aids in body building as it helps develop lean muscles.
Benefits
Helps you gain natural lean muscle
Increases libido
Improves adrenal health and water balance
Speeds up muscle recovery
Nourishes the tissues
Price: $39.95
The Femme-Lete
For women's fitness support, this product increases energy and aids in detoxification.
Benefits
Speeds up muscle recovery
Balances hormones (Feminine, Moon, Venus, Shakti)
Improves the metabolism
Cleanses the blood promotes skin health
Rejuvenates the tissue
Price: $39.95
Triphala
If you have gut health issues, this three-fruit combo is the perfect solution. It contains 60 gluten-free capsules and balances the V-P-K.
Benefits
Detoxifies and cleanses all tissues
Normalises bowels
Boosts muscle recovery
Balances intestinal microbes
Restores gut health
Price: $24.95
Ashwagandha
Made of Indian ginseng, this product is a natural energy booster. It contains 60 gluten-free capsules that help balance the V-P-K.
Benefits
Offers powerful adaptogens
Increases muscle mass + strength
Offers tonic, nervine, anti-inflammatory properties
Normalises sex hormones
Improves sleep quality
Price: $24.95
Trikatu
This Ayurvedic supplement blends three spices aimed at metabolic conditioning.
Benefits
Contans thermogenic properties for weight loss
Restores cellular metabolism
Detoxifies deep tissues
Reconditions body composition
Price: $24.95
Dynamic Duo
This 100% plant-based product offers twice the benefits of your fitness supplement and Triphala as it combines the potent properties of both products.
Price: $50.00
Sleep
100% plant based, this is a combination of The Yogi and Ashwagandha and a potent solution for restoring regular sleep patterns through the circadian system.
It also supports hormonal rhythms and homeostasis.
Price: $50.00
Place your orders now and enjoy free shipping when your total spend exceeds $49!
Qualifications
Advanced Diploma Of Ayurveda
---