Learn how your food, exercise, sleep & stress affects your health based on your glucose biomarkers.
Now available for non-diabetics.
Join the Vively waitlist now to get a 30% discount.
Join the waitlist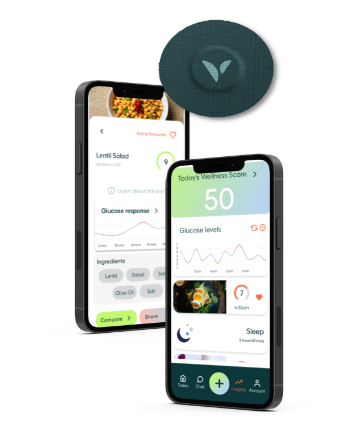 Clicking on the Send Me Details Now button opens an enquiry form where you can message Nicola Lee directly
Send Me Details Now
Peninsula Physical Health and Nutrition
Peninsula Physical Health & Nutririon
Focus areas
Hydration
Energy
Weight management
Healthy ageing
Intolerance
Joy
---
---
Nicola Lee
Dietitian, Sports Dietitian and Exercise Physiologist
Accredited Practising Dietitian (Dietitians Association of Australia), Accredited Sports Dietitian (Sports Dietitians Australia) and Accredited Exercise Physiologist (Exercise and Sports Science Australia) Nicola Lee has a double degree in Nutrition/Dietetics and Exercise/Sports Science from the University of Sydney. She is currently completing the International Olympic committee diploma in Sports Nutrition.
Her key areas of interest in nutrition are weight loss, team sports nutrition, treatment of chronic diseases including diabetes and heart disease, bariatric surgery, oncology, pre- and post-natal nutrition and adolescent nutrition.
Nicola's aim as an exercise physiologist is to enable anyone and everyone to be physically active and achieve their exercise, sport and activity goals.
She has spent the past three years working in regional New South Wales and has recently joined the PPN team. She loves playing sport, exploring the outdoors and experimenting with new and healthy recipes in the kitchen.
---
Kristen Adams
Dietitian
Kristen Adams is an Accredited Practising Dietitian and Accredited Nutritionist, who graduated with a Bachelor of Nutrition and Dietetics from Monash University, in 2013. She is a member of the Dietitians Association of Australia (DAA), which involves undertaking yearly professional development, to further enhance her nutrition knowledge and skills.
Kristen is a firm believer of the motto 'practice what you preach' and endeavours to inspire her clients to achieve their personal health and nutritional goals, while providing them with the necessary support throughout their journey.
Having previously worked at the Austin Hospital, Kristen has a strong interest in clinical nutrition, working within the hospital setting at Peninsula Private and Beleura Private Hospital. She is also based at numerous private practice clinics across the peninsula, working in conjunction with PACE Health Management and Melbourne Bariatrics.
Her specialist areas include weight management (both general and bariatric), working alongside bariatric surgeon Mr Geoffrey Draper, where she provides dietary advice for clients pre- and post-weight loss surgery (gastric sleeve, gastric bypass and lap-banding). As well as diabetes management (including insulin dependent), heart disease and gastrointestinal disorders (including food intolerance and irritable bowel disease).
She has a personal interest in body sculpting, assisting athletes with their nutrition and meal plans in the lead up to competitions, as well as endurance sports, in particular triathlons.
---
Prue Mynard
Dietitian
Prue Mynard is an Accredited Practising Dietitian and a member of the Dietitians Association of Australia and Sports Dietitians Australia. She has Master of Health Science and Master of Dietetics degrees from Deakin University, and a Bachelor of Science from The University of Melbourne. Other training includes a carbohydrate counting workshop for individuals on insulin pumps and allergy training for infants.
Prue enjoys all aspects of dietetics and especially loves assisting people to achieve their goals through providing education and sharing her knowledge with others. She has been working as a Dietitian since 2012 and her interests include weight management, navigating food intolerances and allergies, diabetes and carbohydrate counting, children's nutrition, especially infants, bariatric surgery and sports nutrition.
Prue is passionate about health and nutrition. She has a lifelong passion for food and loves spending time in the kitchen, creating new recipes. Prue is also a qualified running coach and has coached runners from beginners through to marathon runners, as well as completing three marathons herself.
---
Kate Save
PPN Director
Dietitian, Exercise Physiologist, Diabetes Educator and Personal Trainer
Kate Save is an Accredited Practicing Dietitian and Accredited Exercise Physiologist. She has completed a double degree in Nutrition/Dietetics and Exercise Science as well as an Advanced Diploma in Diabetes Education. Kate is also currently completing her Masters in Clinical Exercise Physiology (she loves learning and keeping up to date with the most recent evidence-based science).
Kate lectures in the fields of Nutrition and Exercise Science for various educational institutions – her key areas of focus are weight loss, diabetes, heart disease, bariatric surgery nutrition, Coeliac disease, eating disorders, food intolerance and irritable bowel conditions. Kate also has been involved in assisting in the development of nutritional science subjects and assessment for Deakin University, Melbourne.
Kate has years of media experience and enjoys presenting nutrition and health-related segments whenever she gets the opportunity. Her main objective is to assist individuals achieve optimal health and well being through balanced nutrition and appropriate exercise prescription.
---
Diabetes Education
Nutrition for the management of Pre-Diabetes, Type 1 & Type 2 and Gestational Diabetes
Weight Loss
Nutrition Support for Body Fat Reduction as well as Weight Loss Maintenance and Weight Loss Surgery (Bariatric Nutrition)
Bariatric Surgery
Nutrition for all stages and types of Weight Loss Surgery including Bands, Sleeves and Bypasses
Bariatric Surgery
Nutrition for all stages and types of Weight Loss Surgery including Bands, Sleeves and Bypasses
Pregnancy
Increasing Fertility and Optimising Nutrition for Pregnancy plus preventing excess weight gain
Renal Nutrition
Nutrition support for Kidney Disease and Dialysis
Liver (Hepatic) Nutrition
Nutrition Support for all Liver Diseases including the management of Fatty Liver
Oncology (Cancer)
Nutrition Support for all stages of Cancer treatment
Inflammatory Bowel
Nutrition for Chron's Disease and Ulcerative Collitis
Irritable Bowel
Nutrition to reduce bloating and to assist with the diagnosis and management of food intolerances
Food intolerances
Nutrition Support for Lactose, Fructose and other food intolerances such as Food Chemicals and Coeliac Disease management
Paediatric Nutrition
Nutrition advice for failure to thrive, fussy eating, food allergies and intolerances and other Nutrition concerns in Childhood
Eating Disorders
Professional Nutrition advice and support networks for those suffering from Anorexia Nervosa, Bulimia Nervosa and Binge Eating Disorders
Healthy Ageing
Using Nutrition to improve your health for longevity and enjoy the ageing process with more energy and vitality
Coeliac Disease
Nutrition Support for achieving a strict Gluten Free Diet and support for monitoring symptoms and improving overall health with Coeliac Disease
Sports Nutrition
Performance Nutrition, Sports Supplements, Hydration and Reducing Body Fat
Heart Disease
The main cause of heart disease is atherosclerosis, which is the build up of fat and other substances, which cause plaque formation inside the arteries.
Cholesterol and Triglycerides
Triglycerides are a type of fat found in your blood. The body uses triglycerides for energy. High triglyceride levels can raise the risk of heart disease.
---