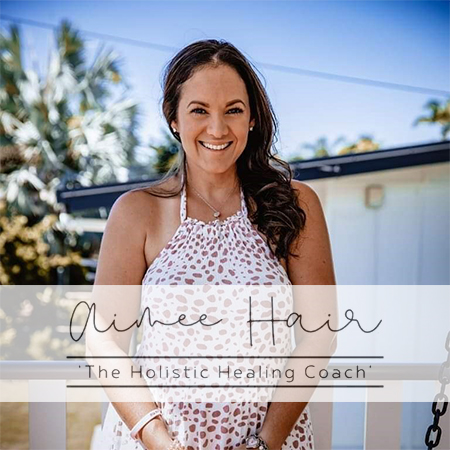 Clicking on the Send Me Details Now button opens an enquiry form where you can message Aimee Hair directly
Send Me Details Now
Are you ready to make a positive change in your life?
Psychic Medium, Reiki Practitioner, Coach, Speaker, Writer & Retreat Facilitator
Servicing area
Townsville and Online
---
Focus areas
Happiness
Relationship issues
Feeling stuck
Intuitive coaching
Crystal facial
Medium reading
---
---
About Aimee Hair
Change is always a good thing as it makes you better than you were yesterday. Aimee Hair - 'The Holistic Healing Coach' is a proponent of change, who inspires men and women in Mundingburra QLD to constantly improve themselves.
Aimee plays several roles and does her best to deliver each one wholeheartedly as this would equate to the success of others. Aside from being a loving wife to a firefighter and a mother to three charming boys, she is a psychic, Reiki practitioner, holistic coach, speaker, writer and retreat facilitator.
Her ultimate goal in life is to quell everyone's pain and suffering by taking them on a journey of self-discovery. She shares her personal encounter with trauma, misfortune and difficulties in group or one-on-one workshops and symposiums.
If she has managed to overcome the turbulent stages in her life and turn out stronger, Aimee believes that anyone else can do the same if only they would hold themselves accountable for their own thoughts, feelings and behaviours.
Her experience with toxic relationships, sexual assault, failed business ventures, and having had two chronically ill children put her life in shambles. But she managed to climb out of the pit of despair thanks to the power of a positive mind.
As a psychic, Reiki healer and life coach, Aimee teaches others how to move past their traumas and develop a positive mindset, which is key to achieving the life they've always dreamt of.
The Power of Holistic Healing
Aimee's holistic healing method brings all aspects of a person's life into perfect harmony. She believes that when the separate parts of your life work in sync, you can live with much joy and contentment.
Her philosophy in life is hinged on the 6 principles of a whole life, which she learnt from her extensive training in Reiki, life coaching, EFT and the universe.
Her approach to healing is like no other as she takes a person and their perplexing situation holistically. This, she says, never fails to produce positive outcomes.
Aimee specialises in handling relationship issues as she firmly believes that a person's life is grounded in the quality of their relationships. She helps every one of her clients strengthen their relationship with themselves, their partners, children, family, friends and colleagues.
---
Book an appointment to experience Aimee's healing techniques.
---