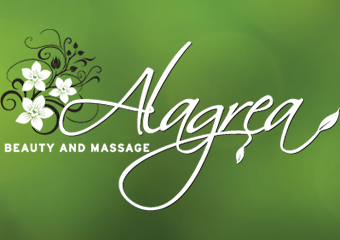 Alagrea Beauty & Massage
Welcome to Alagrea Beauty & Massage
Alagrea Beauty & Massage
Focus areas
Feet
Tension
Facials
Relaxation
Skin care
Facial
---
Take sanctuary in a world of complete sensory heaven, where time is left at the door and a new journey is born. Alagrea Beauty & Massage treatment range offers an escape to be nurtured with exceptional body and beauty care, by blending principles of modern knowledge and ancient wisdom, paving the way to balanced living.
The Alagrea Difference
We prioritise the person. We use the best quality, natural products, oils and waxes to provide superior Cairns day spa treatments and packages, designed to indulge, unwind and beautify. The Alagrea difference is our core philosophy that everyone is beautiful and beauty comes from within. We aren't here to change you. We're here to work with you, your features and what you want to achieve. We listen, advise and apply our Cairns day spa treatments with one objective, to leave you feeling fabulous and refreshed.
For more information on the Alagrea Beauty & Massage difference, or on any of our treatments, including facials, massage, waxing and tinting, lash extensions, pedicures and manicures, contact us today on 0418 304 987. Bookings by appointment only.
---
Facials
Facial treatments which cleanse, brighten and nourish the skin. Visibly rejuvenating, definitely relaxing and deeply moisturizing. Perfect for a special day, or every day, because you're worth it. Premium, natural products.
Massage
Massage has intense healing powers. It relaxes the muscles and unwinds the mind. We use aromatic, botanic oils to create unique massage blends, for the ultimate in relaxation. Hot stone massage and remedial massage also available.
Waxing & Tinting
Be your beautiful best with our customized waxing and tinting services. Our beauty stylist will assess, shape, wax and tint to enhance your natural features. Brows and lashes, facial and body waxing, we do it all at a great price.
Skin Care
We use natural, botanical skin care products, which provide age-defying benefits and long lasting results, for all our facial treatments. You will notice results straight away. We also have these products available for sale.
Pedicures
Make your feet and toes picture perfect for strappy sandals and high heels with one of our signature Cairns pedicure treatments. Everything from a simple file and paint, to an indulgent 90-minute Eastern Pedicure treatment.
Manicures
Enhance the beauty of your hands with a professional Cairns manicure treatment, applied by an experienced beautician. You'll feel beautifully presented, ready to face the world, that interview, date or wedding photos.
Packages
Our beauty and massage packages combine some of our most popular services into one great treatment 'bundle', delivered to you at a great price. Save money and feel beautiful and refreshed at the same time. Perfect.
Gift Certificates
Each of our fabulous day spa services and prestige treatments can be purchased as a gift voucher and come with personalized certificates. Choose from our menu, or customize something to suit your special friend or loved one.
---