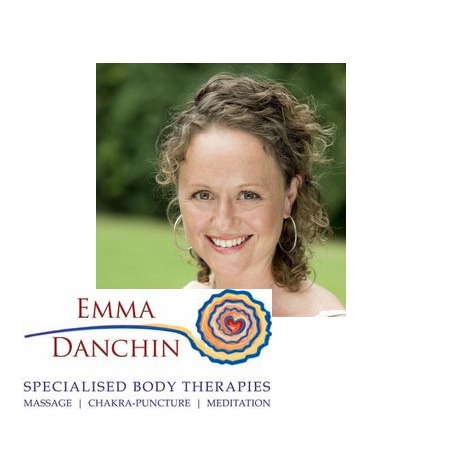 Alstonville Remedial Massage
Clicking on the Send Me Details Now button opens an enquiry form where you can message Emma Danchin directly
Send Me Details Now
Remedial Massage & Healing Bodywork ⎜Chakra-puncture ⎜Pregnancy massage ⎜Fitness, Nutrition & energy management
Alstonville Remedial Massage
Servicing area
Alstonville, Ballina, Lennox Head, Byron Bay, Lismore & Goonellabah NSW
---
Focus areas
Arthritis
Feeding
Infertility
Depression
Parenting
Rehabilitation
---
---
About Emman
Emma Danchin is a remedial massage, healing and chakra-puncture practitioner who brings both professionalism and realness, with warmth and a depth of care in her work with massage therapy, energy healing and life mentoring. She is known for her steadiness, stillness and grace and is able to bring clarity and simplicity to access a depth of wisdom in navigating life's challenges and discovering the presenting opportunities.
Emma has been in private practice for 19 years, dedicated to supporting her clients healing through bodywork. Exploring the many and varied styles, her practice has evolved to offer techniques that offer a deep and lasting foundation for healing beyond the clinic room. With an emphasis not simply on temporary relief but on supporting men, women & children through the healing process to make ongoing self-loving choices, the sessions naturally integrate into every day living.
With a foundation in the science of the body through remedial massage, years of experience and now the power of Esoteric Massage, Sacred Esoteric Healing, Esoteric Connective Tissue Therapy and Chakra-puncture, her sessions deliver healing in practice.
"Surrender deeply to the innate wisdom of your body"
Services
Through a tailored application of specialised technique, Emma offers a space to deeply connect to what life can naturally be like when we live from and honour our essence. Sessions are generally 1-1.5 hours duration and are available at Emma Danchin's Alstonville, Northern New South Wales Clinic or in Melbourne on a monthly basis at 1/15 Worthing Rd, Highett.
Emma has been studying and practicing natural medicine modalities and yoga since 2001. She founded and ran Ki viva Wellbeing Studio in Ripponlea for 11 years with allied modalities offering dedication to wellness. Now living on the North Coast with her family, she offers her range of supportive therapies from the stillness and beauty of the Byron Bay hinterland.
Emma sees:
Women planning a pregnancy and through the parenting years, supporting them with the demands of motherhood and family life
Assisting Men, Women and Children to connect to their bodies and facilitate healing from physical and emotional disharmony
Professional men and women in full time occupations that tend to neglect aspects of their self care and require support developing easy to implement strategies to continue operating at a high level in their work
Retired folk seeking to look after and understand their bodies, and learn to connect with and respect their bodies at a deeper level.
With a deep understanding of people and what it means to navigate challenge and change, I bring care and support through the healing techniques that I offer.
"To be a true support to another, I first choose to live in presence with and regard of myself, honouring the moments and movements of my day as a cycle of sacred rhythms and rituals; honouring and being responsible for how I feel moment to moment and for myself in each aspect of my life. Working as a healing practitioner requires a solid commitment to healthy and clean living as well as continually dealing with my own issues and problems, so that I can offer my presence in energetic clarity and without imposition on you. In other words, I walk my talk and do not attempt to assist another to deal with something I am not prepared to address within myself."
Client Testimonials
Emma Danchin is a wonderful practitioner who holds true and unwavering support for clients, allowing you to unfold and heal as you feel to. She holds a solid foundation, and combines modalities according to client needs. I whole-heartedly recommend her service. Thanks for doing what you do, and being you.
- IF, Goonellabah, Registered Nurse and mother of 5 – completed an Esoteric Connective Tissue Therapy program of 6 weeks with Emma.

I have had ongoing and regular sessions with Emma over a year now. She is professional and very caring. Emma has supported me to connect with my inner being. I have greater self-awareness and I'm learning to feel my feelings and stay present with myself. I feel more grounded and better able to cope with daily life. I highly recommend Emma and her work!
- LE, Goonellabah, Management & Markets, mother and grandmother – weekly/fortnightly sessions of Esoteric Healing, Massage, Connective Tissue Therapy and Chakra-puncture.

With my background in acupressure & martial arts teaching and practice, I was keen to find out about a different healing modality with the use of needling named Chakra-puncture. I found the tailored individual program outlined by Emma to gradually enable the body's responses to heal itself. Each time of receiving treatment by body responded, and always afterwards I had a deep sleep and also noticed a lessened tension in my muscles and physicality. Emma was very professional and experienced in the art of needling and her ability to find the exact delivery point was noticeable; this is how I knew that Emma would make a difference in my body's ability to progressively self heal. In the 12 sessions, I had 2 deep healing transformations.
- Richard, Alstonville, Retired Health Food Store owner Sydney – series of Chakra-puncture sessions.

My sessions with Emma over the last two years have helped me to connect more to myself and my body through Esoteric Connective Tissue Therapy, Massage and Esoteric Healing. In that time I found Emma steadfastly consistent in her focus during my sessions. I felt her readings of what I presented in sessions took me to a much deeper level of awareness of what was really going on for me. During the sessions I experience how still my body can feel when it is moved in a most delicate and tender manner. I feel my attention to the detail of how I move expands. As I go about my day, I adjust my movements no matter how small, to feel my stillness even when I am physically moving. Emma's stillness, gentleness and grace in movement no matter what was happening or whether we were in session or not have been and will continue to be an inspiration. I have greatly appreciated her warmth and support.
- Irene, retired Teacher – regular sessions of Esoteric Healing, Massage & Connective Tissue Therapy over 4 years

Emma is very dedicated to looking after her own health and nutrition, she loves people, loves life, and lives with true vitality. Sometimes I get tangled up inside, stressed and unable to cope. Emma helps me to re connect to my body, I feel the love and truth that was always there. I feel clearer and Emma helps me get to the truth of how I got tangled up in the first place. I recommend Emma to anyone who wants to get to the truth and harmony.
- Bernard Cincotta, Project Manager & Teacher, Fitter & Machinist – occasional bodywork sessions over 4 years.

Sometimes we forget our own essence as life's pressures take hold of us...it's within the cocoon of Emma's room and healing presence that we center ourselves and just be. Her sessions are very personalized and not only does she help me reconnect to my body but my soul as well. I first began to see Emma one day back in 2009 when I was feeling stressed, fragile and frayed at the edges and I called Emma who made time to see me asap.

Thank you Emma for your genuine efforts, insights, care and so much more… not to forget your healing hands!.... and those precious moments gained of a lightness of being, wisdom and joy to take away and to face another day....
- HR, Elwood, TESL Teacher – regular sessions of Esoteric Healing, Massage & Connective Tissue Therapy and previously remedial massage and shiatsu, client for 8 years.

Emma is in a league of her own - this is the best massage/healing treatment I've ever had.

You're in the best hands, literally.
- Laura, Hampton – a series of 3 sessions in 2010.

I have been seeing Emma for 11 years and she also sees my wife. I experience a lot of stress & emotional tension and work full-time at a desk job; I find I can develop tightness and soreness in my body. My sessions with Emma allow my body to reset and my mind to reconnect with my physical self. Emma works in a very professional manner and guides you in reconnecting with your body. I always leave feeling relaxed, deeply supported and lighter after each session and better able to cope with professional and family life. I wouldn't trust any other bodywork practitioner in the same way as I do Emma.
- M.S, Structural Engineer, father of 2 – regular sessions of Esoteric Healing, Massage & Connective Tissue Therapy and previously remedial massage and shiatsu, client for 8 years.

I have enjoyed every visit to Ki Viva over the last 4 months with Emma and Paul. I am confident that both Emma and Paul's treatments contributed to the intervention free, quick and joyful birth of my second child and a speedy recovery, which was very different to my first child's birth. Their holistic approach has helped me on many levels - an unexpected, but welcome surprise. I feel more relaxed, centered and aware of others - sometimes we need help to slow down and extract ourselves from self-centered living!
- CW, Manager & Mum, Elsternwick – regular remedial & pregnancy massage over a period of 18 months.
Book in your free 15min Phone Consult at www.emmadanchin.com and Emma will recommend the best treatment plan for you.
---
Professional Membership
ATMS - Australian Traditional Medicine Society