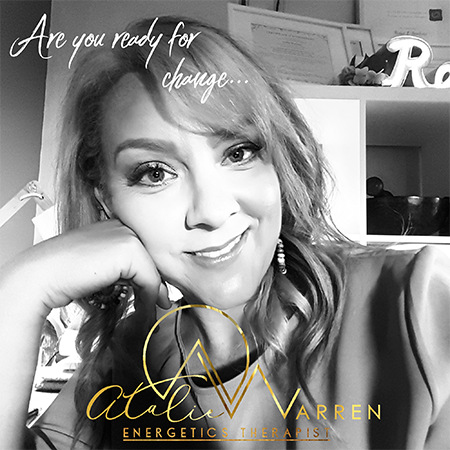 Clicking on the Send Me Details Now button opens an enquiry form where you can message Atalie Energetics Therapist directly
Send Me Details Now
Every human wish for the luxury of great health, joyful living, and inner peace. To heal, you have to break through the pain. Atalie will teach you the techniques and tools you need to eliminate pain and suffering so you can transform your life. Book your appointment online.
Access Bars Practitioner & Reiki Master
Focus areas
Access energetic facelift
Telehealth
Psychic medium
Intuitive massage
Reiki teacher
---
---
Atalie is an empowerment coach with over 20 years of experience specialising in a wide range of natural therapies to rejuvenate your mind, body and spirit.
With her support, you will become aware of what lies behind the belief systems you have set up for life. She paves the way for you to explore your subconscious in a safe and comfortable environment.
She offers individual face-to-face sessions and video sessions in which she tunes into your energy, discusses what's going on in your life, and helps you identify your goals.
Services Offered
Energetics Therapy
Access Consciousness Bars
In this session, Atalie will lightly touch and activate 32 points on your head to ease, relax and create consciousness on a cellular level.
Access Consciousness Life and Living Coaching
Discover practical tools to help you navigate your life and live more comfortably. Exploring all aspects of your being, you access your body and mind's awareness.
Full Sensory Perception
This form of healing allows Atalie to access the multi-dimensional energies within energetic bodies to remove physical, mental, and emotional trauma that may have been accumulated in this lifetime or from previous lifetimes.
Reiki Master 3 Teacher
A hands-on energy healing modality that channels universal healing energy into the body.
Crystals
You will discover a fine collection of crystals at Atalie Energetics that will help you maintain the high vibration you gained during your session.
In addition to the tools and skills you'll learn during the session, beautiful Earthstars (crystals) will be available for purchase.
Other Services Offered
Home Cleansing
Workshops
Reiki and Access Bars Courses
Appointment Hours
Monday: 5:00 pm to 9:00 pm
Tuesday: 10:00 am to 9:00 pm
Wednesday: 10:00 am to 9:00 pm
Thursday: 10:00 am to 2:00 pm
Friday: Closed
Saturday: Closed
Sunday: Closed
Sessions by appointment only in Cohuna. Online sessions are also available.
Testimonials from Atalie's previous clients:
"Had an amazing experience with Atalie for my first energetics session, in such a warm and welcoming environment. Atalie is incredible at what she does and I left feeling so much better after my session! 🙌🏼" - Meg McGlone
"I had lovely relaxing, intuative sessions with a great bunch of people, none of whom I new, with different stories but on the same page & we are all now heading in the right direction. Thanks Atalie" - Annette Taylor Hollingworth
"Atalie is such a lovely and gifted person who is amazing at what she does. Each session a walk away feeling lighter, brighter and with so much guidance. I always feel safe and comfortable with expressing myself and look forward to each session. You need Atalie in your life, she is amazing!" - Alison Forde
"I have been lucky enough to see Atalie a few times now, I can't explain the energy work that she does but I do know I feel SO much better for it. She is amazing" - Kate Manning
Get rid of limiting beliefs, negative thoughts, emotions, and ideas in this lifetime and past lives.
During your appointment with Atalie, you will experience a nurturing, relaxing, trauma-releasing and emotional healing process that will remove limitations from your life while allowing your body to heal and grow.
Schedule your appointment online today!
Qualifications
Reiki Master
Pleiadian Lightwork Facilitator
Access Energetic Facelift Facilitator
Access Bars Teacher
Medium and Channel To Beings & Light Beings
---