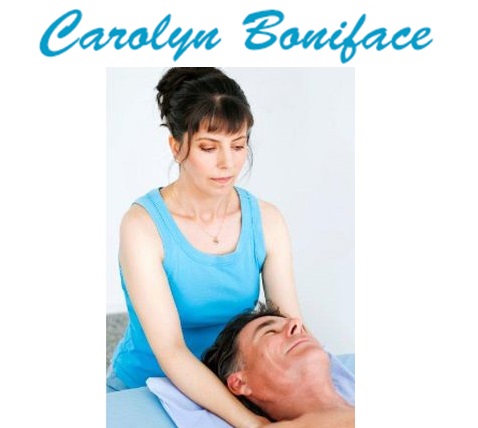 Carolyn Boniface
Clicking on the Send Me Details Now button opens an enquiry form where you can message Carolyn Boniface directly
Send Me Details Now
I offer you deep peace, healed expansive boundaries, comfort in body and mind and alignment with joy... all hallmarks of true Health. Safe, fast results. In one session, feel the difference!
Carolyn Boniface - Biodynamic Craniosacral Therapy
Servicing area
Servicing Byron Bay, Murwillumbah, Tweed, Gold Coast (Qld), New South Wales
---
Focus areas
Relaxation
Wellbeing
Self awareness
Love
Headaches
Healing art
---
---
"...It was the deepest therapy session I have ever known. I have been so tranquil, so present and so happy since returning home. I trust in life again and see so many new possibilities.... I am not afraid of being alone anymore... I don't know what you did but it has been a miracle..."
Melissa Collins, Brisbane, Qld.
---
If you have suffered serious shock or trauma....
If you hold memories of abuse or boundary violations....
If you live with chronic pain, anxiety, PTSD, panic attacks or eating disorders....
If depression runs your life....
12 reasons to act now:
Discover true rest
Reclaim your healthy boundaries and sense of wholeness
Diminish or eliminate pain
Resolve chronic issues
Recover fluidity from all forms of stagnation
Increase your joy of life
Inhabit postural and psychological alignment
Feel expansive wellbeing
Increase your vital energy
Enjoy enduring improvements
Receive fast results
Remember your True HOME
---
What Is Biodynamic Craniosacral Therapy?
Biodynamic CST is a receptive, non-invasive and utterly respectful approach that supports the fundamental integrity of the individual's inherent wisdom, resourcefulness and self-healing capacity. It has its origins in cranial osteopathy.

The Biodynamic approach supports a deep relaxation of the entire nervous system, providing tremendous stress relief, release of old patterns of held trauma and a return to the authentic Self, the foundation of our true freedom, creativity and Health.
How Does It Work?
Biodynamics means one is working with the dynamics of life. Through stillness, deep listening and skillful touch, the practitioner communicates profoundly with the natural life healing forces and fluid fields innate to the human organism. The tide like forces unfold the human embryo from conception throughout the individual's entire life, giving it form, function, power, health and healing when injured or sick. These forces of growth and development are present and palpable at all stages of an individual's lifespan and are the forces of regeneration.

Biodynamic motion is the movement of creation. The forever flowing life force, its power, amplitude and the fluid tide like rythms it expresses are regarded as a manifestation of health carrying an essential ordering principle that maintains balance in our form and function. Our state of health is determined by the fullness and balance of these unimpeded fluid expressions and the free flow of ever moving life force.

Physical and emotional stresses cause the body's fluid field and tissues to contract and when trauma is severe these contractions can become locked in the soma as sites of inertia. This inertia can restrict function and vitality and give rise to pain, various disorders, depression or anxiety. Inertia and stagnation are the foundation of all disease. The practitioner supports the transition from inertia to healthy motion, expansion and freedom. There is a communication in the interconnectedness of the Whole, from the outside to the inside as one living, moving continuum. Fluid freedom cleanses, purifies and heals. We are designed that way.
Benefits of Biodynamic Craniosacral Therapy
Restrictions in the body effect the way craniosacral motion is expressed, allowing practitioners to identify problem areas. Through skillful synchronization with the fluid and tidal dynamics, in deep stillness and with "listening hands", the practitioner supports the systems capacity to disengage and transmutate following its own priorities with uncanny precision for self healing, harmony and optimal organization. Change is often permanent because it has come from within, from the organism's inner knowing, the Greater Intelligence and in the order that is its own.

Common outcomes are greater serenity, clarity, peace of mind, reduction or elimination of pain, complete shifts in chronic conditions, an observable sense of expansion, decompression, balance and centeredness as the individual returns to Wholeness and his or her Midline, a spatially organized, optimally functional oneness with the ever changing continuum of the present moment. Fragmentation returns to unity. Distraction returns to presence. Activation returns to peace.

Biodynamic craniosacral work is a genuine support to any spiritual or psychological work an individual may be engaged in and can speed up the process of connecting to and resolving core issues.
Conditions That Can Be Treated
Biodynamic craniosacral treatments will have a profound effect on balancing the central nervous system which plays a critical role in health and disease. It can offer life changing improvements for trauma, anxiety, grief, depression, stress, eating disorders and boundary violations.

Biodynamic CST is effective for most conditions, physical and psychological and is an outstanding support in overall health maintenance, enhancing vitality, happiness and general wellbeing. It is suitable for all ages including infants, the elderly and people with delicate, degenerative or painful conditions. In most cases, a series of sessions is advised but even a single session can be remarkably effective.

To read testimonials click here
---
My guarantee to you is to offer a space of safety, care, support and deep respect ... as you unfold ... at your tempo ... as this is your unique healing journey. For all of your professional Craniosacral Therapy treatments in the greater Byron Bay, Murwillumbah and Tweed areas, please call me.
---
Services
Biodynamic Craniosacral Therapy and Rolf Method of Structural Integration
1hr 30min
Women's Health
Men's Health
Animal Therapy
Craniosacral Therapy
Energy Healing
Reiki
Touch for Health
Meditation
Spiritual Healing
Pranic Healing
Mindfulness
Sports Injury Therapy
Reconnective Healing
Rolfing
Experience deep peace, healed expansive boundaries, comfort in body and mind and alignment with joy. After one treatment feel the difference.
Qualifications
Craniosacral Therapist
Advanced Certified In Rolfing Structural Integration
Advanced Biodynamic Craniosacral Therapist
Professional Membership
IICT - International Institute For Complementary Therapists
---