Clinical Tai Chi for Wellness
Wilfred Kwok
This practitioner is currently unavailable.
Wilfred Kwok is a Master Trainer with the Chronic Disease Self Management Program, Stanford University, USA and of Dr Paul Lam's Tai Chi for Health programs. Wilfred works as a physiotherapist/ergonomist in Hong Kong and Melbourne Australia. As a experience physiotherapist and master trainer, he will offers individual tution to further enhance the specific wellness effective for YOU.
Clinical Tai Chi for Wellness
---
Physiotherapy is the art and science of rehabilitation, preventing injuries and disabilities, restoring independence and promoting a maximal level of function to individuals with physical and psychological disorders.

Physiotherapists use physical techniques such as exercise, training, movement rehabilitation, mobilisation, manipulation, and the application of electrophysical agents.

Amongst all treatment and electrotherapy modalities we use, we encourage on exercise therapy in promoting overall health and well being and in preventing and managing the public health problems that are currently facing society. The keywords is to keep ACTIVE.

For more information please call 0434 468 139 or Click Here

Tai chi chuan is an ancient Chinese martial art, an exercise that requires control for gentle movements that are practiced in a relaxed and slow tempo, Some styles are more energetic and involve kicks and deep knee-bends.

Now tai chi (chuan) is practiced around the world as an effective exercise for health, and Dr Paul Lam, from Australia, has developed the Tai Chi for Arthritis program using the Sun Style, which has slight knee bends and more health benefits.

From the physiotherapy, anatomy and physiological perspective, tai chi exercise fits into all the basic rules for good exercise practice including:

Improving cardio-vascular function
During the practice of tai chi exercise, since it is of a moderate intensity, 4-6 METS, it will work up the heart and lung function in a safe and gradual manner; there shouldn't be any shortness of breath during the exercise.

Improving balance and stability
When the knees are in slight flexion (bent), it strengthens the quadriceps muscle, which is important for balance and walking. Thus with tai chi exercise practice, these thigh muscles are strengthened, which helps in falls prevention.

Improving leg, hip, waist, and back strength
During tai chi exercise, all the body muscles are activated at the same time, promoting coordination for arms and legs, also back movements. The left and right arms have to be coordinated, then the arm and leg movements and finally the back is involved in rotational movement, which again is in a slow and controlled manner.

Improving flexibility
In doing tai chi exercise, most movements are done within the "mid-range" of joint movement, which will help to prevent over-stretching of soft tissue in body joints. Thus in doing the exercise, it will increase joint stability and functionality of arms and legs mobility.

Improving posture
One of the essential principles of tai chi exercise is good body posture: good posture is always required to enhance arms and legs movements. It is also important for Qi energy to flow in the body. Thus is doing the exercise, it will help to improve body posture in back and limbs.

Enhancing relaxation
Due to the demand in all tai chi movements for coordination or control, such as of the left and right arms and legs; arms with legs; eyes with hands; good posture of the back, it required lots of concentration and leaves no room for thoughts or worries for that moment. Thus it helps to momentarily override anxiety and panic attacks, further enhancing a relaxation phase while practicing tai chi.

I believe tai chi exercise will become a fresh perspective on Movement for Life, which will also enhance self efficacy too. Just imagine that you have learnt and know how to practice the whole set of Tai Chi for Arthritis: it involves 12 movements, it is all in coordinated sequences, well designed movements, well controlled movement of arms, legs and with good back posture. You will be proud and happy of your own achievements. This will also boost your own self confidence.

Let's keep practicing this good Movement for Life and also share it with others.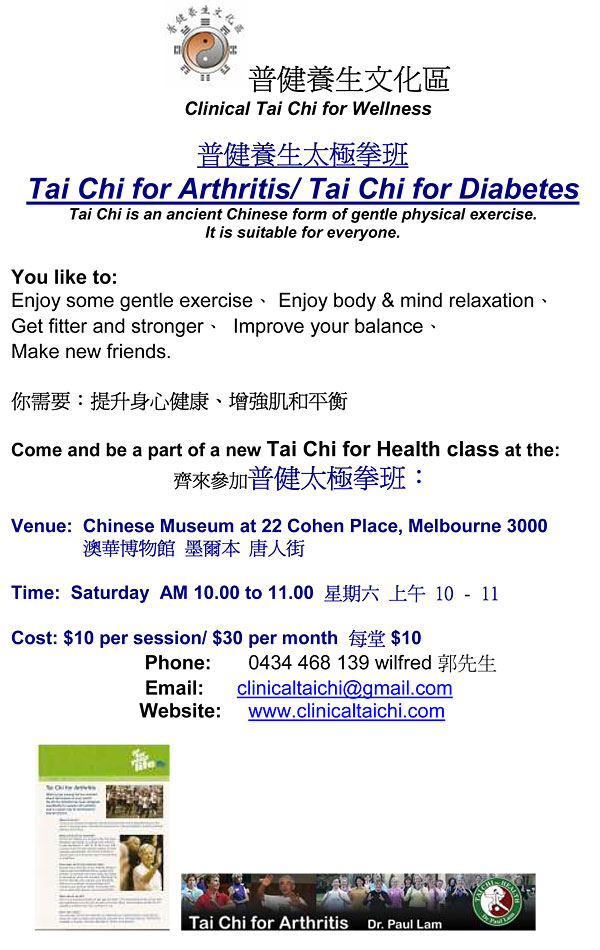 Qualification details

A registered physiotherapist Australia and Hong Kong,
An ergonomist/ OH&S consultant.
A health coach.
A master trainer. - the Chronic Disease Self Management Program, Stanford University
A master trainer. - the Tai Chi for Health Program, Dr. Paul Lam.
A trainer. - the Flinders Model of Self management of Chronic Condition. A clinical educator and guest lecturer for Physiotherapy courses Hong Kong and Melbourne, the University of Melbourne and the La Trobe University.
Also with special interests and clinical skills in Complementary Therapy and vestibular rehabilitation, complex regional pain syndrome rehabilitation, Buteyko breathing method, Feldrenkrais method and dry needling.
---
Service categories