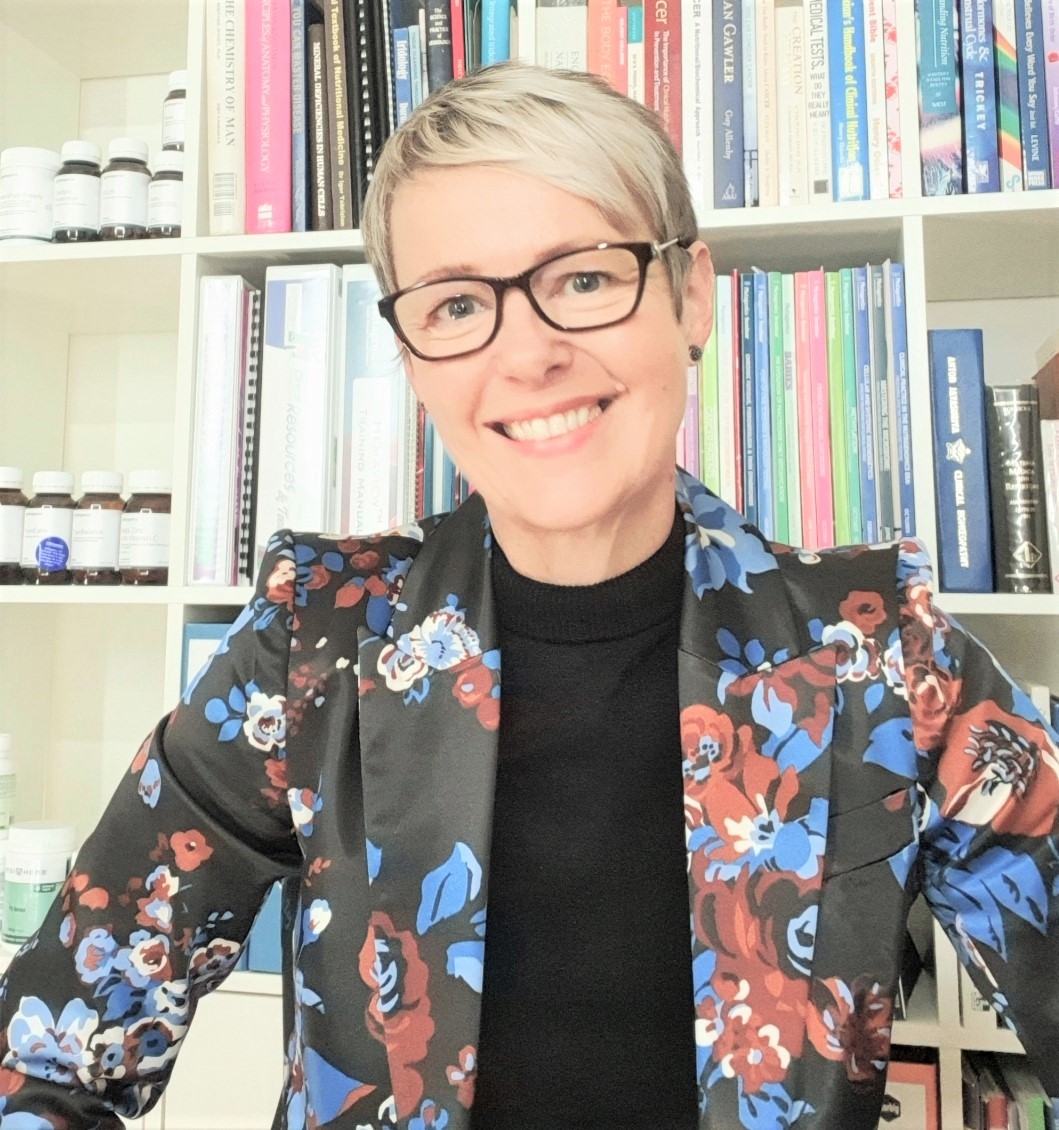 Denise James Naturopath
Clicking on the Send Me Details Now button opens an enquiry form where you can message Denise James directly
Send Me Details Now
  Welcome to Better Health
Denise James Naturopath, Wellness Coach, Mentor
Servicing area
Linden Park, South Australia
---
Focus areas
Wellness
Health goals
Lifestyle
Health outcomes
Microbiome testing
Natural medicine
---
Personalised and Evidence Based Natural Health Solutions for Wellbeing, Happiness and Longevity....
Naturopathy, Herbal and Nutritional Medicine, Live Blood Screening, Integrated Iridology, Diet and Lifestyle, Functional Pathology Testing, Gut Microbiome Testing, Hair Tissue Mineral Analysis, Energy Healing.
Excellence and Experience in Natural Health Care since 1996.
Zoom Online, In Person, and Phone Consultations Available
Denise is a dedicated and passionate Naturopath and has been the director of a successful Naturopathic Clinic for over 20 years.
She believes that an holistic approach is the only way to achieve true healing. All aspects of our health must be considered including diet, environment, lifestyle, excerise, stress and their impact on our physical, mental and spiritual wellbeing.
She is personally committed to and promotes a healthy lifestyle. She is devoted to yoga, meditation, cooking healthy food, growing vegies and regularly spending time in nature.
Denise also attends many Seminars and Webinars to stay up to date with the latest research in the areas of Epigenetics (the impact of environment on health), Nutrigenomics (the impact of diet on health), Functional Medicine Testing, Wellbeing, Healthy Ageing and Disease Prevention, and the Microbiome.
She is committed to assisting her clients to reach their highest health potential and wellbeing. She combines a variety of modalities to achieve excellent health outcomes for her clients.
It brings her great joy to see her clients overcome their health challenges and become empowered and motivated to stay well.
Denise connects well with people and enjoys the educational aspect of her role in teaching, encouraging and motivating her clients to reach their health goals.
If you're looking for someone to uplift and inspire you, call Denise today!
Call now on 0414 346689 to book an appointment
What people are saying......
Testimonials
"Denise is a kind, warm and compassionate professional who takes the time to listen and get to know you. I appreciate her patience in working with my children and explaining things to them in a way they can understand. Thank you for your deep knowledge and care in looking after the health needs of my family" Seva M.
"Going to see Denise was the best decision I have made for my health. She is so passionate about your individual goals and your success and her knowledge is phenomenal! I have never had this much energy and I never would have thought I would ever be able to not reach for that block of chocolate! I would highly recommend Denise to anyone who wants to understand their body and health! I can't thank Denise enough for the positive change I have seen in myself! Thank you Denise " Emily S.
"Denise was recommended to me by a friend. And I must say how grateful I am. I felt so at ease in the 1st consultation. I found Denise to be very nurturing, understanding, compassionate and very encouraging. She definitely knows her stuff and I know I'm in good hands. I highly recommend Denise to others". Ally L.
"Denise is an exceptional practitioner. I feel completely at ease when in her clinic. She is professional, realistic and understanding. I come away feeling enthusiastic and empowered knowing that my body is on track for self healing. I highly recommend Denise for anyone who wants to feel amazing from the inside out!" Jeanette S.
"Denise is an excellent practitioner! Her caring, insightful and practical approach reassures me that my family and I are in good hands" Domenica A.
" Denise is amazing! Her experience and knowledge is immense! After sitting down with her for an appointment, I always feel so much clearer about what is going on with my health. She helps bring clarity in a calm and uncomplicated way and I am yet to meet a more inspiring and wiser health professional. I find Denise very easy to talk and open up to. Without even having to say much, she always knows what's going on with my health, which I find astounding! I highly recommend you book an appointment with Denise as you will be on the road to better health and happiness. She is a modern day healer on a physical, emotional and spiritual level" Lucy T.
"Denise absolutely walks her talk!" Jen B.
"Denise has been such a fantastic help for myself and my children's health. Not just physically, but mentally too. She is such a caring woman offering such compassion and support in her appointments, She is a world of knowledge!" Libby C.

"I walked out of the clinic on an absolute high, I've been to many Naturopaths, but I have never experienced such a thorough approach to my health before. She knew so much about me just by looking into my eyes, and using a variety of tests. Amazing!!" Amanda S.
"I was introduced to Herbal Medicine and Natural Therapies 15 years ago. That's when I met Denise. Her skilled knowledge in Natural Medicine and Live Blood Analysis improved my health, where conventional medicine had created a worsening of my symptoms. Denise has a professional, dedicated and compassionate approach to every client. Her care and willingness to achieve a positive outcome is what drives her. I know this because she has helped not only myself but several members of my family and others I have recommended with total confidence" Sharon M.

"Understand the magnificent workings of your body with a holistic consult with a dedicated and passionate professional……a brilliant Naturopath who actually speaks my language" Cathy S.
"I've been one of Denise's clients for over 5 years. Denise is a truly caring professional who has an holistic approach to health and wellbeing. The Live Blood Screening has enabled Denise to identify underlying factors and deficiencies, which have been treated effectively with the appropriate supplements. I highly recommend Denise. She has supported and helped me to maintain a healthy life" Helen L.
" I count myself fortunate to have found Denise! She has guided me on how to become my best self with her caring and encouraging guidance on what steps to take. Denise is a prime example of glowing health herself" Anna M.
" I'm very happy I met Denise. She gave me great advice on diet and how to manage Anxiety. Thank you Denise!" Ruth S.
" Denise is fantastic and has been helping me for the last few years. She is very thorough and knowledgeable with her consults. She is a great listener and is able to ask the right questions to find the heart of the problem. Denise provides great advice and recommendations for improving lifestyle to help with health issues. When I moved to the country, she was able to still provide support with phone and Zoom consults and the posting of supplements. I highly recommend Denise to everyone!" Jess R
" Denise is warm, caring and understanding. She takes the time to really listen and help with my health needs. The Iridology and Live Blood Screening is amazing and reveals so much! I highly recommend Denise " Simone O.
" Denise is professional, extremely knowledgeable and has a very practical approach. You will always feel listened to. Highly recommended" Sharon T.
" Professional, friendly and highly experienced!" Marita A.
What is Naturopathy?

Naturopathic Medicine supports and allows the body to heal itself with the use of safe, gentle, non-toxic natural medicines and lifestyle modifications. The core principle of Naturopathy is to find and correct the underlying cause of illness wherever possible. Poor health is not always a spontaneous or random event, there is often a cause, and once that is identified and treated, then good health is possible for everyone. Denise will help you to discover the cause of your ill health, and then assist you on your path to wellness.
You'll leave with a greater understanding of what you need to do to be your absolute best, a completely doable treatment plan and a big healthy dose of Inspiration!!
What Testing Techniques are used to find out what's wrong?

In her clinic, Denise uses a variety of testing techniques to aquire as much information about your health as possible. She then recommends an easy to follow personalised treatment program including diet and lifestyle recommendations and natural medicines and supplements tailored to your specific needs.
Denise offers you continued support and guidance throughout your program.

Often, the cause of illness is not obvious, symptoms tell us that the body is out of balance.
Symptoms are often just "the tip of the iceberg", and the true cause of illness lays hidden and untreated.
Specialised clinical testing techniques can reveal the true cause of your symptoms or illness.
One of the great benefits of the Naturopathic approach, is that it can detect subtle imbalances in your health, BEFORE they become more serious and more difficult to treat.

Denise uses a variety of Naturopathic screening tools including:
Live Blood Screening,
Hair Tissue Mineral Analysis,
Gut Microbiome Testing,
Integrated Iridology and
All Functional Pathology Testing eg. Nutipath and Australian Clinical Labs to assist in the detection and treatment of the following conditions:
Allergy, Reactivity and Food Sensitivites
Hormone Imbalance / PMS / Fertility / Menopause
Vitamin B6,B12 and Folic Acid Deficiency, MTHFR Gene Testing
General Vitamin and Mineral deficiencies
Bacterial, Viral or Parasitic Infections
Mild, Moderate or Severe Inflammation
Insulin Resistance / Diabetes / Obesity
Emotional Stress / Anxiety / Mood Disorders and Fatigue
Gut Disorders / Inflammation / IBD / SIBO / IBS / MicroBiome Imbalance
Exposure to Toxic Chemicals / Detoxification
Immune Deficiency / Post Viral Illness
And most importantly, Treatment Program effectiveness can be monitored with every visit!
A Naturopathic consultation with Denise provides accurate and immediate information about your health, and it takes the "guess work" out of identifying the cause of your health issues.

You will be amazed and inspired at what Naturopathic medicine can do for your health, wellbeing and quality of life!

Integrated Iridology:

Iridology has been an important part of Denise's practice for over 20 years. Iridology is the study of health through the examination of the eye.

The Iris is one of the most complex structures in the human body, and each Iris has over 28,000 nerve endings. The Iris has a reflex connection to every organ and tissue in the body through the nervous system. Many iridologists believe that disruptions in these connections are recorded in the Iris, and indicate potential health issues in the specific reflex area.

The Iris (the coloured part of the eye) and the Sclera (the white part of the eye), reveal a wealth of information about your health, including your inherited strengths and areas that need to be nurtured and supported. Even personality traits can be seen in the Iris. Iridologists assess variations of colour and structure in the Iris to assess the constitutional strengths of the body. You will discover incredible and accurate information about your health potential.

Denise uses a specialised Canon EOS 1100D Iris camera, that takes highly detailed photos of your eyes. You get to see your own Iris with all its intricacies on the screen during your consultation. You will receive a detailed report and analysis explaining all of the signs in your Iris, what they mean and how they can impact your health.
Denise has studied with world famous Iridologists Toni Miller and Dorothy Hall.
Don't wait, make a positive change today. I look forward to meeting you and helping you to live a happier, healthier life….. Denise
---