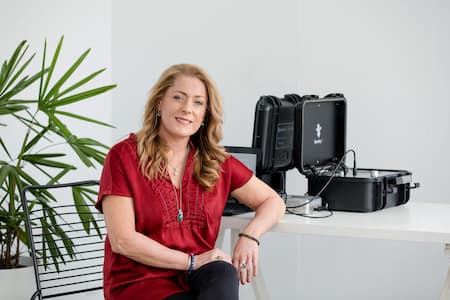 Rife Frequency Therapist, Medium, Healer
Clicking on the Send Me Details Now button opens an enquiry form where you can message Maree Lutzoff directly
Send Me Details Now
Scalar Wave and Rife Frequency Therapy provides a deep scan of your body down to the cellular level to provide information on pathogens, toxins and imbalances that make up the smaller and larger illness and disease in the body. Scalar & Rife frequency can then be applied to the specific need and frequency to target the problem that you are experiencing in your body system. This neutralizes the pathogens and toxins causing your health issues.
Rife Frequency Therapist
Servicing area
Pakenham and surrounding suburbs
---
Focus areas
Growth
Akashic records reading
Face to face appointments
Circulation
Relaxation
Intolerance
---
How It Works:
Vibration therapy works much like an opera singer singing the same frequency the champagne glass vibrates at, hence the glass shatters.
In a session I would conduct a non invasive body scan which provides me the details of the imbalances in your system down to the cellular level. The specific frequencies that are needed for each pathogen will be recorded with the scan.
By targeting those pathogens with the corresponding frequencies, the pathogens overload and dissolve so they no longer survive.
A healing program is then applied with frequencies needed to target the health issues you are experiencing. You body then has a chance to regulate, rebalance and heal.
In a session you can expect to lie on relax on a sound healing massage table while you body is scanned. Once the results are collected, Scalar and Rife frequency therapy is directed to certain areas of the body to assist your health issues.
Nikola Telsa and Dr Royal Raymond Rife pioneered this Technology in the late 1800 There are modalities from around the world incorporated in the Spooky2 software programme, including Hulda Clarke and Dr Rife.
Health Benefits:
Pain relief, reduces inflammation, assists with arthritis in the body. Assists with Injury healing and skin regeneration. Assists skin problems and eczema. Slows aging, boosts energy levels, regerates cells and regulates organ functions.
Balances blood pressure and improves circulation. Protects the body from cancers and normalises cancer cells. Balances blood sugar, assists with diabetes and weight gain/ loss. Stimulates the immune system to aid healthy functioning.
Immune system health, pain relief, digestive health, diabetes, weight problems, memory and cognitive functions, arthritis, bone problems, organ functions, heart health, blood problems, cancers, reproductive health, vaccine side effects and repair, skin issues, stress relief, and so many other body ailments
Destroys harmful bacteria and viruses. Assists allergies and food intolerances, Balances nervous system for depression, relaxation and stress relief. Enhances focus, memory and migraine relief. Chemical imbalances and toxins from metals, pesticides and vaccines. Assists with so many other health issues as well.
Often a change in diet is recommended and supplements to help cellular health, nutrition and detoxing are advised and available to purchase.
Sound healing massage bed is available at Pakenham to assist the body to relax. These sound vibrations from the massage bed assist the scalar frequencies to better absorbed into the body system.
Its also a really lovely experience for chakra balancing
Healing with Scalar Wave for animals and Remote distance healings for humans and animals is also available.
Cost for session $150 Session time 1.5 - 2 Hours.
Opening Hours: 10am to 5pm Mon to Fri. and 10am to 2pm Sat.
Having experienced poor health since I was a child, I have learnt so much about health on my journey. I have gained valuable information on many levels to help with personal and physical issues in the process.
Frequency healing literally saved my life, this is why I recommend it so highly.
I have a genuine care to see people well on all levels. More info on www.mareelutzoff.com.au
Healing Benefits Include,
Price per session: $150
Sessions time, allow 1.5- 2 hours.
Remote healings $50 for 7 days
Endorsing natural products from Grasses of Life for detoxing, vitamin and mineral suplliments and general wellbeing.
I use these products and have found them beneficial to my own health journey.
As an alternative to conventional medicine, this therapy cannot claim to cure diseases, but has been proven very effective in relieving and breaking down the foundations that cause illness.
Psychic readings provide guidance, empowerment and clarity for your journey. Spiritual insight combined with connection to your Souls timeline, tarot card and Oracle card readings for further insight
Connecting to the Spirit realm to bring closure, love, shared memories and evidence from your loved ones in Spirit
We're open 6 days.
| | | | |
| --- | --- | --- | --- |
| Monday | 10:00 am | To | 5:00 pm |
| Tuesday | 10:00 am | To | 5:00 pm |
| Wednesday | 10:00 am | To | 5:00 pm |
| Thursday | 10:00 am | To | 5:00 pm |
| Friday | 10:00 am | To | 6:00 pm |
| Saturday | 10:00 am | To | 2:00 pm |
Qualifications
Copeland School of Massage and Kinesiology, Aasr Reflexology, Dr Linet Intuitive Counselling, Arthur Findlay College Uk
Professional Membership
IICT - International Institute For Complementary Therapists
---