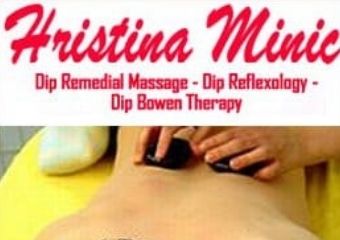 Hristina Minic
Alert Practitioner
By clicking on the Alert Practitioner button, we send the practitioner a message on your behalf that you would like to get intouch with them.
Hristina's multiple massage modalities will leave you feeling relaxed, refreshed and stress-free. She'll address your specific needs and relieve muscle pain. Call to book your treatment.
Reflexologist, Remedial & Bowen Therapist
Servicing area
South Hobart, Tasmania
---
Focus areas
Chronic pain
Acute pain
Fibromyalgia
Overuse injuries
Strains (soft tissue injuries)
---
---
Hristina is a fully qualified massage therapist skilled in providing full remedial and relaxation massages.
She provides a professional massage service, each tailored to suit the individual's specific needs.
Her specialisation includes:
Aches
Acute and chronic pain
Asthma
Chronic illness
Colic
Constipation
Fatigue
Fibromyalgia
Frozen shoulder
Headaches
Injuries
Jaw Problems
Muscular disorders
Overuse and sports injuries
Polarity
Strains
Stress
Tension
Whiplash
Women's Health
The benefits of massage therapy go far beyond relaxation and helping the body cope with everyday stresses. Massage therapy helps the body function normally and helps the muscles relax.
Services Offered
Remedial Massage
In a remedial massage, both deep and superficial tissues are treated.
The soft tissues are carefully manipulated with remedial massage techniques, which may include effleurage, deep strokes, compression, wringing, and skin rolling.
Depending on your condition or goals, remedial massage can help promote relaxation, reduce pain and increase tissue elasticity.
Relaxation Massage
Relaxation massages are smooth flowing techniques that help improve circulation, relieve muscle tension, and relieve general stress.
During your massage, your therapist aims to rejuvenate and relax you at a massage depth that is soothing.
Sports Massage
The purpose of sports massage is to provide athletes with relief before, during, and after training.
Anyone who exercises or is active can use it to increase flexibility, prevent injuries, or heal after sustaining a sports injury.
However, it isn't normally a relaxing form of massage and can be strenuous.
The nature of sports massages differs by sport and athletic injury, so this type of massage has no set technique.
Techniques used will depend on the type of exercise the person does and the condition they have. Techniques from other modalities, like osteopathy and physiotherapy, may be incorporated.
Bowen Therapy
In Bowtech or Bowenwork, soft tissues are stretched to relieve pain.
Its gentle and precise hand movements stimulate tissues and nerve pathways and trigger the body's healing response.
Following each series of Bowen movements, there is a 2-minute pause for the body to respond and start the process of repair.
The length of the breaks is different for every client and procedure, but on average, 2 minutes is the time between each set of moves.
Other Services Offered
Reflexology
Manual Lymphatic Drainage
Hot Stone Therapy
Opening Hours
Monday: 9:00 am to 7:00 pm
Tuesday: 9:00 am to 7:00 pm
Wednesday: 9:00 am to 7:00 pm
Thursday: 9:00 am to 7:00 pm
Friday: 9:00 am to 7:00 pm
Saturday: 9:00 am to 7:00 pm
Sunday: 9:00 am to 7:00 pm
Send an enquiry or call Hristina to discuss any ache or pain you may have and which treatment is best for you.
Qualifications
Diploma of Bowen Therapy
Diploma In Remedial Massage
Diploma In Reflexology
Professional Membership
AMT - Association of Massage Therapists
---