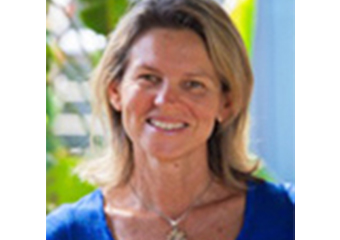 Ka Huna Bliss
The Rolls Royce of all massages
Ka Huna Bliss
Focus areas
Cramps
Relaxation
Holistic massage
Pressure points
Circulation
Far infrared
---
---
About
Hello my name is Karen and my passion is Ka Huna, a 'Temple Style' massage. What I love about this unique Hawaiian art form is that through it's flowing and deeply relaxing style, it leaves a person feeling very nurtured and re-energised. This exquisite, holistic massage is an opportunity for the receiver to let go into the body, creating a sacred pathway to healing.
Many years ago I attended a Health & Lifestyle Expo where I saw Ka Huna being performed by one of Australia's leading teachers, Mette Sorensen; later to be mine as well. I was intrigued, but only quickly glanced at the stand as I moved on, but that one glance really did capture something. I think I was immediately inspired by the movements and energy I saw.
After some years I realised my true path and had the opportunity to start training extensively in this sacred bodywork at Mette's Institute. This included:- soft and deep tissue, pregnancy massage, body awareness, healing and release therapy, Polynesian floor work, healing systems, Heartworks lomi lomi, Hawaiian hot stones and completed all advanced levels in Ka Huna bodywork.
Since then, I have spent many years working at a health retreat in Currumbin Valley, massaging a large range of people from all walks of life. Guests at the resort were amazed at the results that came from detoxing, exercise and their Ka Huna treatment. Some left totally transformed and some started on a new path of self discovery. Others said it was just a really great massage and some felt a new direction emerging from within. Their healing came from a place of wanting: to change and/or manifest something new in their lives.
Now I work solely from my own clinic in Currumbin Valley, it's in a special location and all my clients come to feel the touch of Aloha.
Massage Services
Ka Huna Massage
The massage is an individual expression of your needs, and may include: lomi lomi - loving hands massage, dynamic and/or slow stretches for joints and muscles, soft or deep tissue work, hot stones, kahi loa energy healing - a hawaiian form of reiki incorporating the elements of wind, fire, earth, water and nature as well as vibrational healing and much more.
Afterwards you may feel very energised or quite slow and inwardly focused. This is unique to you and depends on what has been happening for you in your life's journey.
The room is heated during winter or cooler days for optimum comfort.
1 hr | 1 hr 15 mins | 1.5 hrs
Therapeutic / Swedish Massage
The traditional massage, incorporating draping with towels and working on injured areas if required and muscle tension along with relaxation in a whole body massage. Soft and/or deep tissue.
1/2 hr neck, shoulders and back | 1 hr or 1.5 hrs whole body
Polynesian Floorwork Massage
A fully clothed bodywork that uses stretching to increase range of motion, compressions, pressure points and allows deep relaxation. This treatment is performed on a mat on the floor using the therapists feet, hands, thumbs, arms and forearms. A very traditional polynesian treatment and beneficial for all joints and muscles. Please wear loose, baggy pants.
1 hr
Pregnancy Massage, Ka Huna Style
Pregnancy Massage is beneficial for baby and mum. It helps with increased blood circulation, releases painful areas due to pressure, cramps, or heaviness. The table is specially made for pregnancy and has an inbuilt door that opens under the table for face down lying, which is comfortable even in the late stages of pregnancy.
1 hr to 1.5 hrs!
Kundalini Yoga, private sessions:
Kundalini Yoga is the yoga of awareness. It develops a healthy relationship with your inner spirit. It helps your health, relationships, focus, glandular and nervous systems. It is a very powerful form of yoga therapy and you will see results from your very first session.
The session will be tailored to your special needs. No previous yoga experience is required. Private instruction offers a unique opportunity to dive deeply and have a take home session designed especially for you.
For people who want to focus on a particular area of development.


People who would like to let go of an old pattern.


People who can't get to a regular class and prefer a one on one session or there isn't a class available.


People who want to practice in their home environment.


People looking to release negativity and empower themselves and their spiritual health.


People who would like to let go of their daily stress and be happier.


Sessions last aprox 1.20 hrs aprox.
This Includes:- A Chant, pranayma - (breathwork), a specially selected Kriya ( set of specific exercises) and a powerful meditation. A take home version of the package. The session can fit in with your daily schedule and be as quick and to the point as you need it to be. Or come and have a private class with me, you will experience a wonderful shift in your energy.
Far Infrared Sauna - By itself or add on to your treatment.
Far Infrared Sauna sessions use heat to deeply detoxify the body. Medical practitioners use this FIR heat to treat, sprains, strains, bursitis, peripheral vascular diseases, arthritis and muscle pain. FIR promotes good health through better blood circulation, burns calories, relaxes the nervous system, reduces toxic load and heavy metals, parasites, rebuilds injured tissue, strengthens the immune system among many other health benefits. See more information on the sauna at the bottom of this page.
Having a sauna before or after a massage helps prepare the body; it is very relaxing and can produce very psychological and physiological benefits. There is a usb output if you'd like to bring your own music or relax in peace and take in the tranquil environment; as the sauna overlooks a pond to help soothe the soul.
The sauna takes 25 minutes to heat up and can seat 4 persons. Sessions are 20 mins or less depending on the person and can work up to more as the body adjusts. Please bring one towel for the shower (fresh rainwater) between sessions; other towels supplied for your use.
It is similar to a normal sauna. Normally 2 sessions, in a row are enough and you need to work up to having a 3rd session after some time. More regular sessions help detoxify the body of the daily toxins and yeast, mould and fungus living on the skin and in the deeper layers. Showering in between sessions washes away the sweat and toxins so the body can eliminate more fully each time. It is recommended to exfoliate before coming for a sauna so the skin is more open to fully obtain the best benefits.
Add this on to your treatment for a total body tune up...
1 x 20 min session $20 P/P (person not used to heat)
2 x 20 min sessions $30 P/P (recommended) This is what most people start with.
3 x 20 min sessions $40 P/P (advanced)
Or contact me for a price on group sessions or outside hours appointments.
Not for pregnancy, children, cardiovascular problems, alcohol, pacemaker, defibulator, sunburn or open wounds. Those who have heart disease or are on medications or have diabetes need to consult their dr or health care professional before using.
Hot Stone Massage
A blend of massage and hot stones tailored to your needs. Hot stones help to melt tensions and bring the mind to a blissful state. Very beneficial for overworked muscles, fatigue and chronic fatigue. The stones I work with are from the Hawaiian Islands, chosen specifically for different parts of the body and blessed by a native Hawaiian. The basalt stones are rich in olivine and feldspa. Both of these minerals are natural conductors of heat. Deeply relaxing.
75 mins
Chakra Balancing
A balancing of chakras in a healing setting outdoors and facilitated by the therapist.
Talk to me about this self help session. Not available atm.
Mobile Massage
If you're here on the Coast for holidays looking for a massage for yourself and partner or would like a home massage, I'm available for couples who want a massage each but don't want to travel.
Local areas only. eg. Burleigh, Palm Beach, Currumbin, Tugun, Elanora, Tallebudgera and surrounding areas.
1 hr, 1.5 hr or 2 hr | Minimum 2 people
---