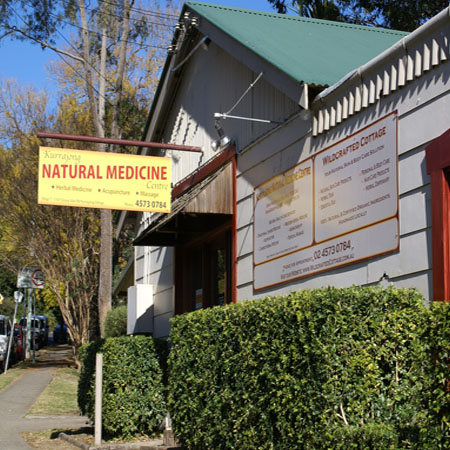 Kurrajong Natural Medicine Centre
Want to find out my availability, pricing or opening hours? Click on Send Me Details Now to get started.
Send Me Details Now
Clicking on the Send Me Details Now button opens an enquiry form where you can message Danny Siegenthaler directly
Danny and Susan combine their knowledge and experience to provide patients with a multidisciplinary approach to treatment. Combined with their 70 years of experience and their evidence-based approach, you will be able to access a very wide range of options. Schedule your appointment today!
About
Servicing area
Hawkesburry
---
Focus areas
Stress management
Musculoskeletal pain management
Pain management
Osteoarthritis
Arthritis
Women's Issues
---
---
The Kurrajong Natural Medicine Centre is a multidisciplinary clinic offering a range of services tailored to your needs.
Run by Danny and Susan Siegenthaler, The Kurrajong Natural Medicine Centre combines with Wildcrafted Cottage to provide a range of natural and organic herbal products under one roof.
A one-stop hub for all-natural health care needs of customers and patients.
Kurrajong Natural Medicine Centre also offers personalised exercise programs and yoga classes.
As a Medical Herbalist and Aromatherapist, Susan established Wildcrafted Herbal Products to create special natural formulations of skincare products.
By using herbal extracts, essential oils, hydrosols and other natural ingredients, she helped her patients gain control over several skin conditions.
Services Offered
Acupuncture
As a part of Traditional Chinese Medicine philosophy, acupuncture balances the body's electrical energy, known as Qi, which circulates through the body via the acupuncture points.
Diseases manifest when there is an imbalance in the normal flow of Qi through these channels.
Using acupuncture points, an acupuncturist will attempt to rebalance and restore Qi flow.
Researchers and clinical experience back up the efficacy of acupuncture for treating a variety of physical, neurological, mental, and emotional ailments, including:
Chronic and pain
Allergic rhinitis, acute sinusitis and the common cold
Tension headaches
Anxiety and depression
Menstrual and fertility issues
Pregnancy and labour
Nausea and vomiting
Weight loss
Insomnia
Stroke rehabilitation
Chinese Herbal Medicine
Chinese herbal medicine depends on its own unique way of diagnosing health conditions, similar to acupuncture.
There are many types of Chinese herbal medicines, including pills, capsules, powders, and teas. Most commonly in Australia, your doctor will probably prescribe pills, capsules, or powders since most patients don' like the taste of teas, nor will they take the time to brew them.
The prescription you receive will be tailored to your health problem in either case.
Herbal medicine prescribed by qualified Chinese medicine practitioners is a safe and effective treatment.
Western Herbal Medicine
Herbal medicines support the body's natural healing process and can be used for a wide range of health problems and for the prevention of disease.
However, Western herbal medicine only uses plant-based remedies, as opposed to the use of animals or minerals in Chinese herbal medicine.
Western herbalists prefer liquid plant extracts and teas, as they are easier for the body to absorb and utilise.
Despite this, they also frequently used tablets and capsules today, since herbs have a bitter taste.
Herbs can be used whole or in parts, such as roots, flowers, seeds, fruits and leaves, to make medicines.
Remedial Massage and Body Re-Alignment Therapy
In the past 20 years, Susan and Danny have developed a unique treatment regime that combines the use of structural analysis, remedial massage, and body re-alignment therapy to help many health problems associated with the musculoskeletal system.
Wildcrafted Herbal Products
It has taken almost 30 years for the Wildcrafted Herbal Products product range to develop.
At first, Susan, a Medical Herbalist and Aromatherapist, made products for her own use and for friends and family.
Over time, Susan realised that her products were highly effective, so she began prescribing them to her patients, and news of her Wildcrafted Herbal Products spread quickly.
Some of the products include:
Natural skin care products for men and women
Haircare products
Hand and body wash
Massage creams and oils
Aromatherapy oils
If you would like more information or to make a booking, please contact the clinic.
Acupuncture
Traditional Chinese Medicine (TCM)
Connective Tissue Massage
Herbal Medicine
Nutrition
Natural Fertility Management
Women's Health
Men's Health
Yoga (All)
Acupuncture
Yoga (All)
Traditional Chinese Medicine (TCM)
Connective Tissue Massage
Herbal Medicine
Nutrition
Natural Fertility Management
Women's Health
Men's Health
Acupuncture
Yoga (All)
Traditional Chinese Medicine (TCM)
Connective Tissue Massage
Herbal Medicine
Nutrition
Natural Fertility Management
Women's Health
Men's Health
Acupuncture has been part of traditional Chinese medicine (TCM) for thousands of years making it one of the oldest systems of medicine in the world. Acupuncture involves the use of very thin, solid, pre-sterilised, single use, stainless steel needles, wh
Chinese Herbal Medicine
1hr
Traditional Chinese Medicine (TCM)
Herbal Medicine
Natural Fertility Management
Women's Health
Men's Health
Traditional Chinese Medicine (TCM)
Herbal Medicine
Natural Fertility Management
Women's Health
Men's Health
Traditional Chinese Medicine (TCM)
Herbal Medicine
Natural Fertility Management
Women's Health
Men's Health
Chinese Herbal Medicine forms a major part of Traditional Chinese Medicine (TCM) and together with Acupuncture makes up 90% of the treatment options available to TCM. Herbal medicine is as old as man and evidence of its use can be traced back to graves of
Qualifications
Advanced Diploma In Aromatherapy
Registered Chinese Medicine Practitioner
Western Medical Herbalist
Registered Acupuncturist (The Chinese Medicine Board of Australia)
Bachelor of Science
Advanced Diploma of Herbal Medicine (Southern Cross Herbal School)
Master of Traditional Chinese Medicine
Diploma In Traditional Chinese Medicine
Diploma of Remedial Massage
Professional Membership
ATMS - Australian Traditional Medicine Society
Chinese Medicine Board of Australia
---