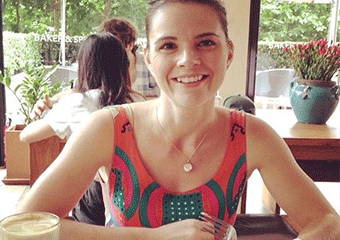 Want to find out my availability, pricing or opening hours? Click on Send Me Details Now to get started.
Send Me Details Now
Clicking on the Send Me Details Now button opens an enquiry form where you can message Yoga With Lauren directly
Welcome to Yoga Lauren
Yoga With Lauren
Focus areas
Pregnancy support
Fear
Pelvic floor
Postnatal support
Postnatal yoga
Values
---
---
ABOUT
WELCOME TO MY THOUGHT SPACE.
A space which shares all things that ignite my glow within,
that nurtures and guides me to be the 'happiness' in my life.
Sharing the ups and downs that I discover in my travels that empower and shape me
to live a life that uncovers my highest potential and that is lived from the source of my values.
It is here, that I share a space for community; a community of like minded people, to learn, grow and navigate with.
THIS LIFE IS A GIFT, AND A PRECIOUS ONE AT THAT.
Hello, I'm Lauren.
Before I hit the detail of sharing with you more about me, I firstly want to say thank you.
Thank you for taking the time to come on over. Life is busy. Having the time to glance on over here leaves me feeling grateful and hopeful that something resonated with you and that reaffirms that we are never alone.
Of late, I certainly call myself an explorer (sounds better than chaos keeper).
I don't quite have it altogether, but I am an enabler, a fighter, determined, loyal, hardworking and passionate. I have a tendency to jump in quick and have never been willing to settle for anything less than perfect.
Like many of us I have had many 'AHA' moments. I have spent countless hours on inspiring blogs, 2am conversations with my mind, pinning the 200th mantra on Pinterest and Instagram and following anything that diverts my attention away from looking within.
MY ONGOING JOURNEY HAS REVEALED THAT LIFE IS SHORT.
---
Class Descriptions
Lauren's classes share teachings and practices of yoga that enable and encourage her clients to cultivate acceptance of where they are at, a focus on well-be-ing and progression as appropriate each time one arrives on their mat for practice.
Modifications and variations are provided, Lauren works to the best of her abilities to make yoga accessible to any - BODY.
Classes are a reminder to connect and notice the 'happenings' in body and mind, explore and build one's inner and outer strength whilst learning to draw upon the yoga practice as a vehicle to move and navigate life.
You can expect classes with Lauren to be humble, safe with alignment cues as appropriate for ones body and balanced ease and effort.
Learn more about Lauren & her yoga credentials
TIMETABLE FOR YOUR VIEWING

PREGNANCY YOGA - 6 WEEK IMMERSIONS IN SURREY HILLS
Specialised classes suitable for women in their 1st, 2nd and 3rd trimesters.
I work to cultivate an environment that encourages relaxation, body and breathe awareness, connection to heart, mind and baby and harnessing of inner and outer strength.
The practice includes yoga postures, meditation, relaxation and breath practices, active birth education PLUS a small community of women on a similar journey.....
A FEW BENEFITS FOR MUM & BUB
A safe environment that supports women with pregnancy related contraindications, aches and pains


Enables women to centre and connect with the process of pregnancy and this transition of change


Assists women to prepare for birth, building their own birth 'toolkit,' preparing mothers physically, mentally and emotionally for birth


Creates a conscious awareness of the pregnant body and attends to the discomforts that can arise in pregnancy e.g. bachache, sciatica, insomnia, shortness in breath


Instils a path of mindful well-be-ing which can be carried through to parenting


A community of women where excitement and fears can be discussed, shared and supported



POST NATAL YOGA
Classes are suitable from 6 weeks post birth up to 3 years.
Specialised classes that are designed to support mum through the changes that delivering and raising a baby and/ or toddler brings.
With a focus on re-connecting with your body and mind, classes provide the space and time to strengthen, surrender and nurture.
Modifications are provided meeting you where ever it is that you are on your motherhood journey; mentally, physically and emotionally.
A FEW BENEFITS FOR MUM
A weekly commitment to creating space in your week to fill up your cup, with the support and cheerleading of a postnatal yoga specialist


Relaxation and restorative practices that you can transition in to your day to day


A focus on ease and effort to re-strengthen and relieve common body changes that postnatal women experience e.g. pelvic floor, back and upper body aches and soreness, posture, core and body strengthening and mindful awareness


Training of the mind through breath and meditation to instil peace and calm that you can draw upon at any time


Time with other mothers on a similar journey without judgement


GENTLE FLOW & EASE - 6 WEEK IMMERSIONS IN SURREY HILLS
Classes are suitable for clients seeking space to move their body in a connected and mindful way.
Beginners, post natal women or recovering from an illness or injury this class may just be what you are looking for.
Moving slowly and gently with the breath, sequences will be a variation of static poses and flowing sequences coupled with breathing, meditation and mindfulness practices.
Feel free to share in class what you would like to focus on to make this class best meet your needs.
PRIVATE / SEMI PRIVATE CLASSES
It can be really nice to work with someone 1:1 or in a semi private arrangement where you can focus on exploring, developing or supporting a practice that is suitable to your current needs, situation and is specifically planned to meet to your goals that are relevant and important to you. No goals - no worries, this is something we can loosely discuss and define together.
From one or two classes to a set term arrangement, the accountability to work with someone who is passionate and attentive to your yoga and mindfulness goals can be instrumental in taking small steps that progress through to new habits or desired acceptance and change.
Suitable for transitions in life, injury or illness, pregnancy, post natal, stress, corporate balance or fitness and wellbeing goals
Lauren's additional skill set is in the Human Resources profession, Lauren understands the demands of corporate settings and can assist you to identify goals that support in greater work life balance and practices to inspire you off the mat and in to your daily life.
---
CONTACT US TODAY
---