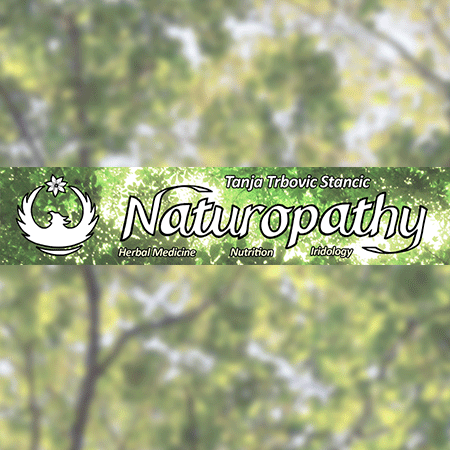 Tanja Trbovic-Stancic Naturopathy
Clicking on the Send Me Details Now button opens an enquiry form where you can message Tanja Trbovic-Stancic directly
Send Me Details Now
Treat what ails you the natural way, with the help of a professional Naturopathy Consultation or Iridology Examination with Tanja Trbovic-Stancic. Perfect to help treat a range of health conditions and ailments.
Tanja Trbovic-Stancic - Naturopathy & Iridology
Servicing area
BENTLEIGH, Victoria
---
Focus areas
Sinus
Detoxification
Pre-conception
Hay fever
Conception
Habits
---
---
Naturopathy
Naturopathic medicine is a combination of science and art. Expressions of health and disease are considered reflections of the dynamic interchange between the physical, mental, social, environmental and spiritual aspects of the individual.

As the processes in the body are highly connected, it is necessary to look at the body as a whole and address dysfunctions in each area, as they may influence a seemingly unrelated process that results in the signs and symptoms of a disease or disorder.
---
How Does Naturopathy Work?
By addressing the person as a whole, Naturopathy is able to determine the root cause of an individual's problems and through treatment, allows their body to recover from the root cause rather than only treating the symptoms, as is often the case in Western Medicine.
---
Why Give Naturopathy a Try?
Naturopathic consultations offer holistic health restoration using natural substances, dietary and life style advice to stimulate and maintain individuals innate healing process. Below are some of the most poplar treatments involved in Naturopathy:
Herbal Medicine
Nutrition
Iridology
Flower Essences
Call 03 9557 1348 to organise your next Naturopathy Consultation.
---
Conditions That Can Be Treated With Naturopathy
Colds and Flu
Skin disorders (eczema, acne, psoriasis)
Arthritis and gout
Bronchitis, Tonsillitis (chronic)
Candida
Irritable Bowel Syndrome
Sinusitis
Urinary symptoms
Insomnia
Allergies, Hay Fever
Hypertension
Headaches and Migraines
Chronic fatigue
High cholesterol
Autoimmune disorders
Menopause and natural HRT
Weight loss
Preconception and Pregnancy care
Stress, anxiety, depression
Detoxification
Children's aliments
To find out more about the conditions that Naturopathy can help treat, just give us a call, click on the 'Make an Enquiry' button or visit our Conditions Treated page.
---
Iridology Examinations
Iridology is the science of iris reading. The iris is the coloured part of the eye, its patterns and markings reflect the state of the body. As changes occur in the body, they are reflected the iris.
---
What Can You Learn From an Iridiology Examination?
Constitutional iridology provides information about genetic predispositions towards strengths and weaknesses in the body. Once identified, treatments can be customised for prevention against organ damage the body is predisposed to. The Iris can also provide information about personality traits and emotional state.
---
Want to know more about Tanja's Naturopathy or Iridology Treatments? Then just give us a call or click on the 'Make an Enquiry button today!
---
Naturopathy
Herbal Medicine
Naturopathy is group of natural treatments for many health imbalances. It uses Herbal medicine, Nutrition, Iridology, Homeopathy and many more modalities to treat different conditions.
PSYCH-K is unique method of balancing our minds. It can release stored trauma from our subconscious and replace our negative mind set with positive beliefs.
Qualifications
Naturopath
Nutritionist
Psych-K Facilitator
Medical Herbalist
Professional Membership
NHAA - Naturopaths & Herbalists Association of Australia
---