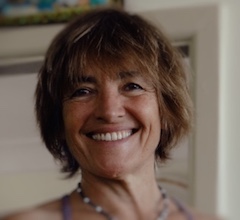 Narrabeen Yoga
Alert Practitioner
By clicking on the Alert Practitioner button, we send the practitioner a message on your behalf that you would like to get intouch with them.
Dominique loves that yoga gives everyone the opportunity to evolve as human beings. Using an alignment based style of yoga, she invites her students to simply enjoy being present in their body while breathing, holding poses, flowing and sit or lie still. Her approach is down to earth and she brings the wisdom of 30 years of practice.
Narrabeen Yoga
Servicing area
Northern Beaches
---
Focus areas
Posture
Boundaries
Joy
Love
---
Time table
No class on Saturday the 26th of January

Thursday evening: 5.30 to 7.00 pm

Saturday morning: 8.15 to 10.00 am


Prices
$220 for 10 classes [valid for 4 months from date of payment]

$110 for 5 classes [valid for 2 months from date of payment]

$25 for 1 class

All the props are provided, but you can bring your own if you wish.
It is advised to practice on an empty stomach, so preferably don't eat a big meal before you come.
About Dominique
Dominique has been studying and practicing yoga for 30 years, teaching for 20 years. She has explored many facets in the field of yoga, trained in Iyengar [certified], Dru, Anusara and more recently Smart Flow, "she is drawing from all her experiences to bring a style which is precise and comprehensive. She encourages people to move in a way which is safe, intelligent and meaningful. The principals of alignment which she uses will allow you to understand and experience within your own body how to support yourself with ease and strength as you go into each posture in a way that allows you to push your own boundaries at your own pace. This way of practicing brings you back to yourself, physically, emotionally and mentally and therefore creates a more integrated way to be in the world. It has taught her how to be in life in a way which is more real, has brought her an inner peace and an ability to be present easily, that she profoundly enjoys sharing with others. Her desire is to help people remember where their true power is, so that they can live a more integrated and meaningful life.

She offers you the support of her experience to let your individual grace express itself. Her style is casual, down to earth and has everybody feeling comfortable..



testimonials
Dominique's teaching shares a depth of practice that is profound and heartfelt. She is one of those rare beings that lives her practice and is a guide on the journey of life, as well as teaching the safest, strongest, most healing and heart opening yoga I have experienced in 25 years of practice. Her instruction is anatomically, energetically and emotionally of high integrity. My only hesitation in recommending her teaching is a purely selfish desire to keep her classes intimate and small! Jane


" I love working with Dominique she is an astute yoga teacher and practitioner. What makes it special is her contagious humour and respect for every individual in class to find their own pathway . The teaching is not autocratic, discipline and self mastery come about through being encouraged to challenge you're self through building knowledge of where you are in you're own practise. Dominique creates a welcoming atmosphere with a lovely class community and we are looking out over Narrabeen Lake as we practise! Its a joy point in my life rain ,hale or shine I love it." Christine

I have been going to Dominique's yoga classes for over a year - my golf swing has improved and I am much more flexible than I used to be. The classes are challenging but very enjoyable and blokes are welcomed and encouraged by the girls. It's good that it's not too serious and we have a few laughs. Jon


---