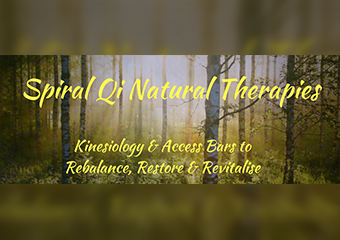 Clicking on the Send Me Details Now button opens an enquiry form where you can message Louise Chadwick directly
Send Me Details Now
Spiral Qi aims to restore, rebalance and revitalise you with natural therapies to reduce stress, enhance relaxation and increase wellbeing.
Spiral Qi
Focus areas
Anxiety
Complementary
Well-being
Stress management
Complementary therapies
Relaxation
---
---
ABOUT US
Spiral Qi provides natural therapy services, including Kinesiology and Access Bars, with a focus on stress relief and relaxation. These natural therapy services offer an antidote to the stresses and strains of daily life, some pampering "me" time, away from the demands of work and family, the perfect way to rebalance, restore and revitalise so you can take a break without having to go on vacation.
Kinesiology and Access Bars are complementary therapies which offer non-invasive, therapeutic techniques with many benefits including stress reduction and relaxation, without causing unwanted side-effects. Although kinesiology and other natural therapies are applicable to a wide variety of conditions and issues, Spiral Qi focuses primarily on relieving stress and enhancing relaxation. Over the course of a single session, varying from an hour to an hour and a half in length, these techniques provide a significant reduction in the level of stress and tension experienced and are often reported to be profoundly relaxing.
Frequently reported benefits include: increased levels of relaxation, focus and clarity of thought, improved quality of sleep, greater physical comfort and energy, positive mental attitude and emotional wellbeing.
---
Call today to experience it for yourself!
---
PRACTITIONER BIO
Louise is naturally intuitive and has been interested in natural health for 20 years. After decades working in a high-stress corporate legal environment, Louise first discovered kinesiology in 2009, when seeking relief from ongoing TMJ (jaw) issues. After trying conventional treatments with little success, she was amazed when a single RESET session from a kinesiologist left her feeling buoyant, simultaneously calm and energised, totally releasing the pain and tension in her jaw which had been an ongoing problem for over 15 years. It was like some kind of magic.
This experience led to a fascination with kinesiology and a strong desire to discover how it was possible to achieve such remarkable results in just a short period of time. Louise began studying kinesiology in 2010 and in addition to completing intensive training in three amazing kinesiology systems (Touch for Health, Kinergetics and Integrated Healing) she has subsequently become a practitioner of a range of other natural health modalities including Access Bars, The Liquid Crystals and Theta Healing.
Louise has a passion for sharing the many benefits and possibilities available to people through these completely natural, non-invasive complementary therapies.
---
MODALITIES:
Kinesiology uses muscle testing as a biofeedback mechanism to identify and release physical, mental or emotional stress which is being held in the body, in order to restore balance and promote wellbeing. Muscle testing is a way of communicating with the body to access information which is often not available to the conscious mind and is used in kinesiology sessions to facilitate the release of subconscious stressors which are negatively affecting your health and wellbeing.
Access Bars is a technique which involves gently holding a series of 32 points around a person's head. It has been shown to decrease inflammation in the body and change brain wave patterns, inducing a state of calm and relaxation by releasing stored stress and tension. Many people experience a far greater sense of freedom, possibility and ease in their life following a session. Recent research indicates that levels of anxiety and depression are significantly reduced by Access Bars.
RESET is a technique from Kinergetics (a kinesiology-based treatment modality) which consists of holding a series of 21 positions mainly located around the head and jaw to release stress and tension from the muscles, ligaments and bones which comprise (or are connected to) the temporo-mandibular joint (TMJ), in order to "reset" the TMJ. The TMJ influences the body as a whole, including the skeletal, muscular, nervous and meridian systems, so any imbalance in the TMJ has widespread repercussions for the level of health and wellbeing a person experiences.
---
For all enquiries contact us today!
---