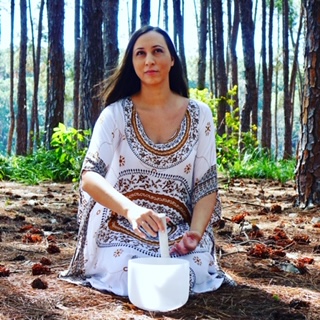 The Voice of Golden Light
Alert Practitioner
By clicking on the Alert Practitioner button, we send the practitioner a message on your behalf that you would like to get intouch with them.
Reiki and sound healing has a great impact in changing physical, mental, emotional and spiritual health so you can be at your best on the journey you take in this life, heal old and new wounds and become who you truly can be. Hold a greater connection to everything around you and work on the frequencies that allows expansion.
Reiki and sound healing
Servicing area
Servicing Gold Coast to Logan
---
Focus areas
Autism
Anxiety
Emotions
Bloating
Love
Wellness
---
REIKI AND SOUND HEALING WITH ANGELA
Hi my name is Angela, Welcome to The voice of goIden light. I love helping people through Reiki and sound healing/therapy. I have found through Reiki and sound healing there has been a great shift and benefit in my life and others. Reiki and Sound healing is for any age and great for achieving a state of calm, to make changes and move through blockages in the mind, body and spirit.
WHAT CAN REIKI AND SOUND HEALING DO FOR YOU?
I offer a unique way of healing by combining Reiki and Sound healing as it moves brainwave states and helps shift and synchronise the brain to a balanced frequency. We can reach all brainwave states and aliviate such conditions as High blood pressure, Diabetes, Obesity, Osteoporosis, Poor nutrition and eating patterns, Digestive complaints, Constipation, Crohns disease, Coeliac, disease and Bloating, Food intolerances or allergies, Depression, Anxiety, Parkinson's disease, Alzheimer's disease, Menopause, Heart disease, Hormonal irregularities, Low energy, High Cholesterol, sleep disorders, Pain in the body, Autism, Fertility
REIKI
Reiki is universal life force energy and can bring about great shifts in your whole energetic field. You can relax while I shift any blockages through Reiki that may interfere with your state of wellness through my hands attuned to universal life force energy allowing it to come through and align your chakras or energy centres that spin energetically in and outside of your body.
SOUND HEALING/THERAPY
Each part of our body is made up of different frequencies and notes this is what is used to create change in your body. Each crystal singing bowl I use for therapy is a different musical note and when played it correlates to that part of your body helping release blockages and promotes change. My voice is also used with overtones which has a great impact on letting go of emotions and aligning you to in a better state of wellness.
Feel free to message me if you have any questions or would like to book a session. Sessions go for an hour and can be one on one, or group session can be discussed, these can be in person or on zoom platform.
Services
Reiki and Sound Healing
1hr
Reiki and sound healing/therapy
Qualifications
Reiki Master
Sound Therapist
Singing - AMEB
Study of Mental Health
Vocal Coach
---