Find a Remedial Massage Therapist in your area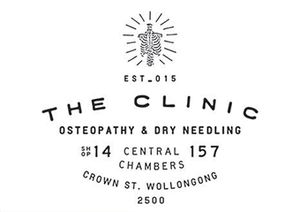 Member since 2018
The Clinic Osteopathy & Dry Needling
Pregnancy
Sciatica
Dry needling
...
This practitioner is currently unavailable.
Quick & effective pain treatment for a wide-range of musculoskeletal conditions and myofascial trigger points. Our therapists have worked with well-known sports teams and have established a great reputation and client base in the Illawarra region.
The Clinic Osteopathy & Dry Needling
---
We believe in a unique and customized treatment approach for each and every client.
Each client is unique.
One-size-fits-all approaches will never help you reach your full potential. We deliver custom treatment approaches, tailored to you -
---
ABOUT
Dr Marty McCullock (Osteopath)
(B.App.Sc(Osteo), M.Osteo)
Dr Alison Mattock (Osteopath)
(B.App.Sc(Osteo), M.Osteo)
Yaser Moosavian
Musculoskeletal Therapist (Dry Needling)
Dr Anthony Bakty (Osteopath)
​(B.Clin.Sci (Human Structure & Function), M.Ost.Med)
WHAT WE DO
We offer a range of treatment modalities, all designed to help you manage your musculoskeletal conditions. Osteopathic treatment may be able to provide relief for the pain associated with musculoskeletal dysfunction. This Includes symptoms associated with:



Back, neck and shoulder pain




Nerve problems such as sciatica and thoracic outlet syndrome




Headaches and migraines




Arthritis




Discomfort associated with grinding, clenching and dental procedures




Hip, knee and foot pain




Whiplash




Sports and workplace injuries




Post surgical recovery




Discomfort related to pregnancy and birth



WHERE TO FIND US
The Clinic Osteopathy and Dry Needling is located in the Heart of Wollongong CBD. You can find us in the historic Central Chambers building on Crown Street Mall.
---
SERVICES
OSTEOPATHY
Effective treatment for a wide range of musculoskeletal conditions.
DRY NEEDLING
Quick & effective relief from the pain of myofascial trigger points.
HEALTH FUND REBATES
We have full eftpos and Hicaps facilities, so you can claim on the spot..
ONLINE BOOKINGS
Bookings can be made online at your convenience.
---
For all enquiries contact us today!
---
Service categories