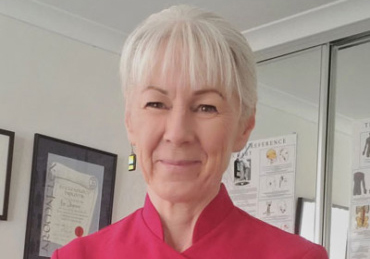 Ultimate Massage Therapy
Want to find out my availability, pricing or opening hours? Click on Send Me Details Now to get started.
Send Me Details Now
Clicking on the Send Me Details Now button opens an enquiry form where you can message Anne Jameson directly
We all experience some form of muscle pain and discomfort throughout our lives. Causes range from injury, disease, strenuous sports, to repetitive work. The therapeutic benefits of a massage give us an awareness of our ability to heal and relieve many stress-related problems. Book your massage treatment online today!
Clinical Neuromuscular Therapist
Focus areas
Movement
Headaches
Circulation
Chronic pain
Frozen shoulder
Jaw problems
---
---
Anne's 20-year experience in the health industry started as a personal trainer in Wellington, NZ.
Following a move to Nelson in the year 2000, Anne pursued a diploma in Aromatherapy in 2002 and a diploma in Reflexology in 2004.
Afterwards, she spent some time in London where she took intensive spa therapy training before working on cruise ships.
Later, she focused entirely on her passion for massage as she returned to Nelson to work as a massage therapist and personal trainer.
Her pursuit of continuous professional development has led to her obtaining a Post-Graduate Diploma in Clinical Neuromuscular Therapy.
As a former competitive bodybuilder for seven years, Anne has a great passion for understanding the human body.
She specialises in pain management and rehabilitation.
Services Offered
Clinical Neuromuscular Therapy
Clinic Neuromuscular Treatment Massage (CNTM) is a more sophisticated form of structural bodywork compared to conventional remedial massage.
This therapy treats chronic pain or restrictions that won't go away using advanced neuromuscular techniques.
The treatment aims to release dense, fibrous tissues locally, but it also investigates whether the symptom, pain, or restriction originates from a structural or postural reason.
This is not a relaxing massage. It involves the use of trigger points, myofascial therapy, and PNF stretching.
Sports Massage / Deep Tissue Massage
No matter what your sports or activities are, this treatment breaks down the build-up of toxins in the muscle tissue that cause knots and soreness.
A great addition for sportspeople seeking greater performance or before or after athletic events or training sessions.
Reflexology
The ancient science of reflexology is based on the concept that reflexes, or areas, in the feet correspond to internal organs and other structures in the body.
Through the use of pressure points on the feet, you can influence the balance within your body, giving you the sensation of walking on clouds.
Relaxing Massage
A relaxing massage will lead to a state of blissful relaxation. The long, even strokes of the massage will stimulate blood flow and soothe muscle tension.
Pregnancy Massage
A massage after the first trimester is beneficial to relieve an expectant mother's aching muscles.
You can choose to either receive a full body massage for total relaxation or to target specific areas of discomfort and pain.
Aromatherapy Massage
Aromatherapy uses pure therapeutic essential oils to provide a relaxing massage. Each essential oil is chosen based on the individual's mood, cognitive, psychological, and physical condition in order to bring about a state of balance.
Mobile Massage
Experience the benefits of a soothing or therapeutic massage from the comfort of your own home. Enjoy your day knowing you don't have to drive anywhere afterwards. The perfect solution if your children are too young to leave home or you don't have transport.
Our Top Offers
60mins
PREGNANCY MASSAGE
Starting $80.00
Pregnancy massage is a great way to relax those achy sore muscles.
SPECIAL OFFER
60mins
AROMATHERAPY MASSAGE
Starting $80.00
Aromatherapy is a specialized relaxing massage using pure therapeutic essential oils.
60mins
RELAXING MASSAGE
Starting $80.00
Relax and unwind as the stress and tension of the day are massaged away from your body and mind.
Opening Hours
Monday: Closed
Tuesday: 8:30 am to 5:30 pm
Wednesday: 8:30 am to 5:30 pm
Thursday: 9:00 am to 6:00 pm
Friday: 9:00 am to 6:00 pm
Saturday: 8:00 am to 1:00 pm
Sunday: Closed
Get your much-needed massage today! Book online!
NeuroMuscular Therapy
1hr
Remedial Massage
Remedial Massage
An advance level of Remedial massage, it is a structural body work more sophisticated than straight out remedial massage, not only to eliminate pain and restriction but to find out the original symptom of the pain. Therefore to treat the problem to the i
NeuroMuscular Therapy
1hr 30min
Remedial Massage
Remedial Massage
Looking at the body as a whole to solve problems rather than just working on the area that hurts. This is not a relaxing massage
Qualifications
Certificate In Dry Needling
Diploma In Aromatherapy
Diploma In Reflexology
Postgraduate Diploma Neuromuscular Therapy
Certificate Nutrition And Wellness Coach
Certificate In Sports Massage
Certificate In Spa Therapy
Certificate In Treatment Massage
---