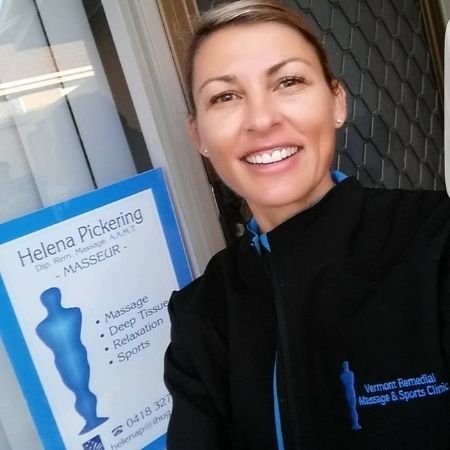 Vermont Remedial Massage & Sports Clinic
Clicking on the Send Me Details Now button opens an enquiry form where you can message Helena Pickering directly
Send Me Details Now
Long-term or recurring pain and injuries can make your day less pleasant and leave you feeling stressed. Massage therapy may help. With Helena's specialised before and after assessment, you will see and feel if your condition has improved. Schedule an appointment with Helena or send an enquiry.
Remedial & Sports Massage Therapist
Servicing area
Treating Vermont & Eastern Suburbs
---
Focus areas
Fibromyalgia
Feet
Chronic pain
Lymphatics
Joint pain
Private health
---
---
Helena has been practising remedial massage therapy for over 9 years and has devoted herself to treating patients with a common-sense approach.
As a private practitioner and mobile masseuse, she has developed professional relationships with local community groups, nursing homes, Eastern Football League clubs and cricket clubs.
Before and after treatment assessments are Helena's specialty. She believes this is essential to ensure both practitioner and client see and feel the difference.
Furthermore, this is to ensure that the quality of the treatment provided remains high.
Her biggest passion is treating people suffering from persistent aches and pains with innovative treatments.
Helena works with a diverse group of clients including children, the elderly, athletes, entrepreneurs, teachers and more. She has a special interest in treating pregnant women and babies.
She specialises in treating:
Old and new sports injuries
Fibromyalgia
Chronic pain
Joint Pains
Back, groin, hamstring & calf Stress
Sciatica
Headaches/jaw pain
Muscle dysfunction & ligament strain
Private Health Fund Accredited. Gift Vouchers Available.
Service Offered
Remedial Massage
During remedial massage, muscles are stretched and massaged to break down scar tissue and inhibit muscle spasms to treat specific problems with muscle pain and injury.
What happens on the first visit?
The initial consultation will involve a comprehensive medical background check, including an assessment of your symptoms, diagnosis, and development of a treatment plan specific to your needs.
A re-assessment will be conducted thereafter.
To maximise your recovery and to minimise the risk of recurrence, a follow-up appointment is recommended even if you're feeling better.
What are the techniques used during treatment?
Remedial massage can involve one or more of these things, depending on your circumstances:
Deep tissue massage
Lymphatic drainage
Scar tissue treatment
Stretching
Rehabilitation treatment
Relaxation techniques
Pre/post-operative treatment
How long do sessions take?
Full Body Treatment: 1 hour
Specific Area Treatment: Half-hour
If you require general maintenance, 30- and 60-minute sessions are available too.
Opening Hours
Monday: 9:30 am to 5:00 pm
Tuesday: 9:30 am to 5:00 pm
Wednesday: 9:30 am to 5:00 pm
Thursday: 9:30 am to 5:00 pm
Friday: Closed
Saturday: 9:30 am to 5:00 pm
Sunday: Closed
All sessions by appointment only.
Here are some testimonials from Helen's previous clients:
"I've been a client of Helena's for over 12months now. My initial reason for treatment was to help reduce the pain I have due to having MS. Since being diagnosed (2013), I've seen lots of Physios, Chiro's and Osteo's etc etc to help manage my pain - although they were all able to help, the relief would only last between 1-2 weeks. Helena has been the only one who's been able to maintain the relief for 4 weeks. Not only has she helped with the pain, but she's also helped with my range of movement, and she also preforms lymphatic drainage to help with circulation. I often walk in struggling to move/walk and always walk out of the clinic with ease, a smile on my face and ready to face the world again. A treatment I'm now unable to live without." - Tiffany Giorgianni
"I have been seeing Helena for three years now and my body has never been in better condition. She is very thorough in her assessments, professional and extremely friendly. I would definitely recommend her services." - Ruth Fabris
"Helena is great at what she does. I go in feeling sore and come out feeling like a new person. Highly recommend" - Mitchell Morris
Massage therapy promotes internal healing by increasing blood flow and enhancing lymphatic circulation.
With regular massage treatments, everyone can reap the benefits.
Make an appointment with Helena online or send an enquiry today.
Qualifications
Diploma In Remedial Massage
Certificate IV In Remedial Therapy
Professional Membership
AMT - Association of Massage Therapists
SMA - Sports Medicine Australia
---