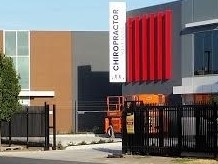 Dr Victor Portelli Strive for Health Clinic
Bachelor Applied Science – Human Biology and ChiropracticOrgan BiomechanicsApplied Kinesiology, Muscle TestingNaturopathMetagenics Provider
Strive for Health Clinic
Servicing area
Keilor East, Victoria
---
Focus areas
Tension
Vitality
Posture
Biomechanics
---
FAMILY CHIROPRACTOR

DOCTORS OF CHIROPRACTICS, APPLIED KINESIOLOGY, ORGAN BIOMECHANICS, ACUPUNCTURE

GROW STRAIGHT, GROW TALL, GROW SMART Copyright 2015


Definition of Visceral Biomechanics
Health and Vitality through Visceral Biomechanics.

Visceral Biomechanics is the science of understanding health and vitality through the position and tension of tissues throughout the body. Visceral Biomechanics evaluates organs and tissues tension from other structures including posture, it also evaluates that organs are anatomically and physiologically positioned in the correct place so that they do not have any mechanical tension or pressure that limits their function.

Finding and correcting these tissue faults requires an insight into the way the tissue lies and moves in the body and an understanding of what mechanical pressures may be placed upon them. This requires skill and a thorough training in visceral biomechanics. Often, once the problem is located the symptoms are eliminated quickly as tissues and organs return back to the way they were meant to function in a healthy way.


---