What Is Corporate or Workplace Massage?
Corporate massage, also known as seated chair massage, is a professional service given to various workplaces by a qualified massage practitioner. This is performed on an ergonomically-designed massage chair that is both convenient and appropriate in the workplace. This kind of massage does not require the removal of any clothing, nor does it use massage oil so there is no need to shower after.
Several techniques and methods are performed to increase energy, reduce or prevent stress and fatigue. The therapy usually focuses on the arms, back, shoulders, hands, and feet, which are the areas of the body that are most affected by long periods of work, stress, and fatigue.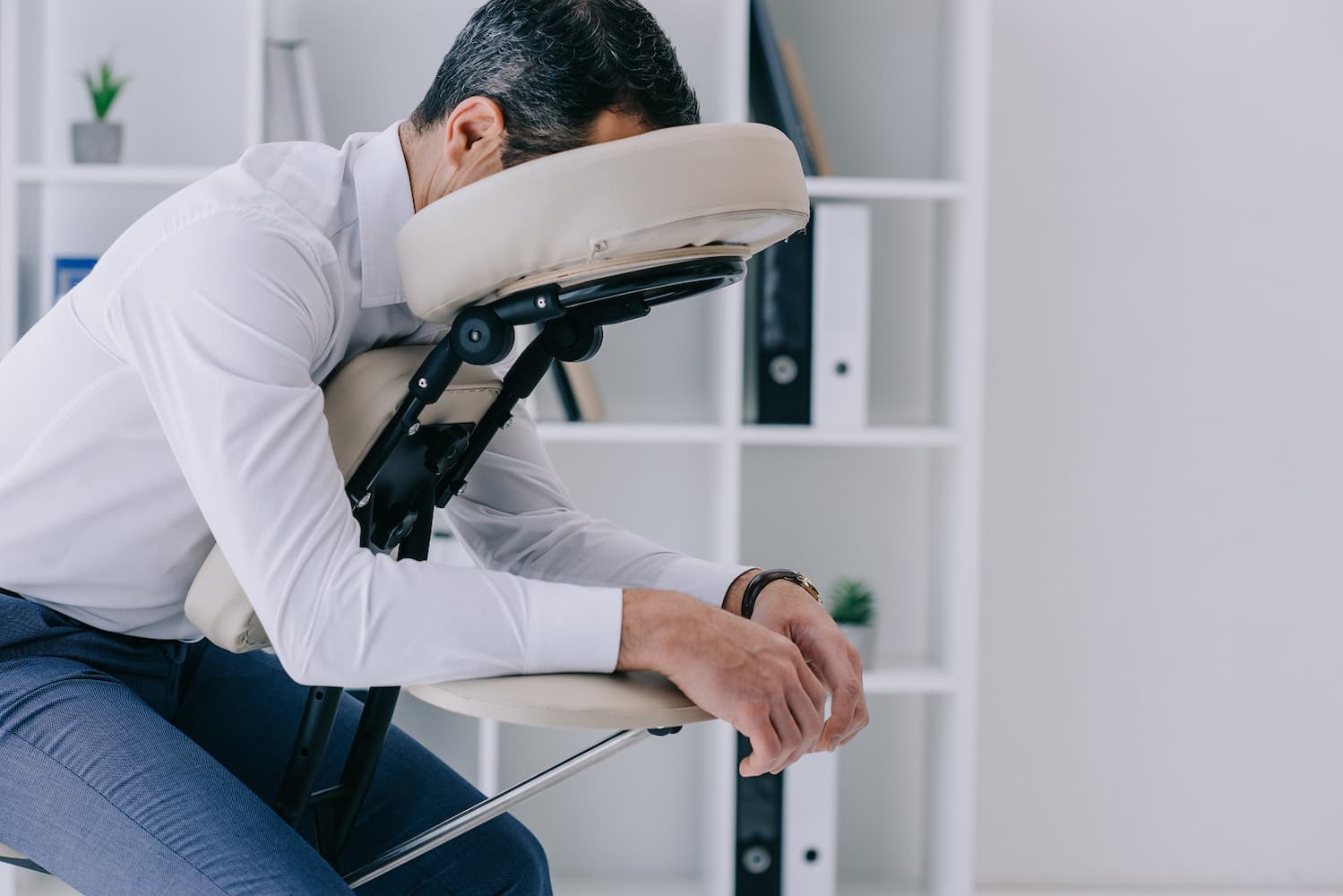 How Does Corporate or Workplace Massage Work?
A workplace massage typically addresses muscle tension in the neck, shoulders, arms and hands as well as backaches. The massage therapist uses different massage techniques, depending on the area they're working on. A head and neck massage will entail gentle circular movements with the fingertips and palms of the hands. When working on the client's back, the therapist may use their hands and elbows to address deeper layers of muscle.
The pressure used throughout the massage session may vary from light, medium to intense, and should always meet the client's preference. Most office workers get a massage to address back pain, while others need it to relax and reduce stress.
What Are the Benefits of Corporate or Workplace Massage?
Research reveals that stress, anxiety and depression lower the productivity in the workplace. It is more difficult for depressed employees to perform well on their jobs and be productive. Stress is the number one factor that affects an employee's productivity, plus it leads to anxiety, listlessness, poor concentration, irritability or, worse, anger.
Booking a massage session for office employees and executives will not only make them feel valued and appreciated, but it will also reduce absenteeism and create a healthier, more invigorating work environment. What's more, it will boost everybody's morale, professionalism and productivity. Holding regular massage sessions in the workplace will also help prevent all sorts of conditions, whether they're related to work or not, such as the following:
Headaches and migraines
Back pains
Eye strain
Weakened immune system
High blood pressure
Ulcer
Heart disease
Stress, anxiety and fatigue
Tense muscles
Insomnia and other sleep disorders
High blood pressure
Poor circulation
Lack of concentration
What Can You Expect From Corporate or Workplace Massage?
A massage therapist who specializes in corporate or workplace massage would always arrive at the therapy session with their essential equipment, which includes a portable massage chair. However, the employees have the option to get a massage in their office chairs if they want to.
A massage session typically lasts for 5 to 15 minutes. Before getting down to work, the massage therapist will ask the employee if they have any injuries or medical conditions. The client has to be completely honest with their answer to avoid contraindications.
In between sessions, the massage therapist applies a hand sanitizer and disinfects the massage chair with an alcohol-based disinfectant or baby wipes. After getting a massage, the employee should feel more relaxed and ready to face the day.