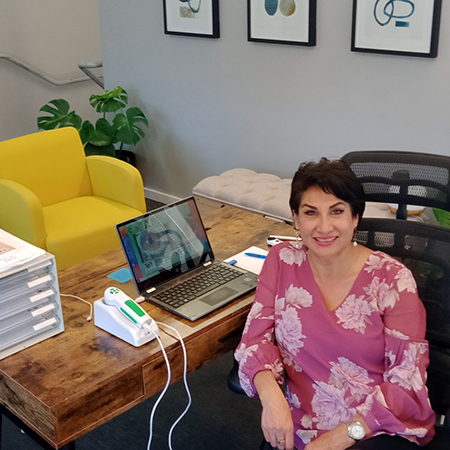 Dr. Marjaneh Malihi
What my clients have said Initial Consult 15% Discount
Testimonials
Servicing area
Ryde, Chatswood, St Leonard, Parramatta, Lane cove, Epping
---
Focus areas
Weight management
Health assessment
Lymphatic system
Habits
Purpose
Health goals
---
---

I highly recommend Dr Marjaneh Malihi to anyone who is interested in health and wellbeing. With Marjan's assistance, I've been able to find a balanced diet and lifestyle. She has provided me with the necessary tools to make a positive lifestyle change. Marjan is a knowledgeable and experienced naturopath who is caring and supportive through her approach. Marjan does her job passionately and you can see the difference in your first visit. She always provides me with invaluable well-ness support and advises and I am highly recommending Marjan to anyone who is caring about her/his health. - homeirah

Dr Malihi, Thank you for being the honest, thoughtful, compassionate, courageous, understanding doctor that you are! You always g above and beyond and work tirelessly towards a healthy outcome. I feel so blessed to know you and have you as my doctor. Every day of my life will be better because of you. - mshamsarya

I do appreciate Dr Malihi for your great diet consolation that helps me to feel better after a few days, the prescription was really easy to do and impressive while I thought it should be a tough procedure. - kasrafiroozi

Such a lovely and knowledgeable nutrition and personality consultant. Your method of consultation and curing is very unique and helpful which I've never seen before and I wish more people know about it. Your knowledge about food and life can be life challenging for many people.
Consultation with her is highly recommended and surely it can change your lifestyle for better. - Reza Safa

Dr Malihi os a thorough professional who often will do extra research into treatments and methods which would be beneficial to her clients. She has a real dedication to her profession and enthusiasm to help people. I would highly recommend Dr Malihi to others who would benefit from her treatments. - efat_jan

"I also want to add that I really appreciate the help and advice I have received from Dr Mailihi. She has really lead me to alter my approach to health and implement positive changes in my lifestyle. Thank you so much Dd Malihi." - Leora Lussi

"Dear Dr. Malihi
I've been watching your videos and believe you should be teaching other doctors the reality of natural medicine. They are all brainwashed. You need to tell the truth to everyone about the natural way out! I am thankful for all your passionate love and care for human dreams to stay happy and healthy." - Monica Lussi

"Dr. Malihi is a consummate professional. She has great wisdom and good intuitive fees, backed up by sound knowledge and theory as she is constantly reading, learning and expanding her skill repertoire. I had a great result after taking her advice to lose weight properly with no need to tea a strict diet. I can not recommend her highly enough." - ali_niaki

"I didn't have any idea about how iridology works. I was so amazed when she told me my problems exactly as it was. Over the years, I have been to various therapists but once I went o Dr. Malihi, I did not look anywhere else. She knows how to treat any problem I have with my arthritis and skin problem.
She is also very personable and relates well to her client. I have recommended many friends and colleagues to Marjaneh." - maryammalihi
Diet and weight management consultation
30min
Qualifications
Doctorate Degree In Pharmacy
Natural Therapist
Iridologist
Weight Management Consultant
Professional Membership
Australian Holistic Healers Association
IICT - International Institute For Complementary Therapists