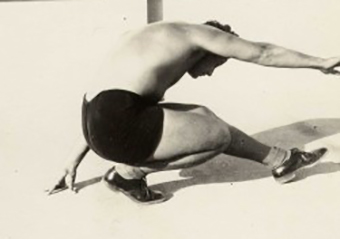 Want to find out my availability, pricing or opening hours? Click on Send Me Details Now to get started.
Send Me Details Now
Clicking on the Send Me Details Now button opens an enquiry form where you can message Somatic Space directly
Movement is life.Life is a process.Improve the quality of the process and you improve the quality of life itself   Moshe Feldenkrais
Somatic Space - The Feldenkrais Method
Focus areas
Stiffness
Gong
Qigong
Emotions
Well-being
Nervous system
---
---
The Feldenkrais Method® is a system of organic or kinaesthetic learning. It is a method of somatic education using movement with guided attention, sensing and awareness.
Awareness Through Movement® classes and workshops are offered as well as personal individual sessions called Functional Integration®. You may prefer to engage in classes, workshops or individual sessions. Some people love it so much they use all 3 formats. Whichever you choose the Feldenkrais Method® is designed to enhance your ability to move, act and be in the world.
How do we break old habits and move towards our intentions, goals and aspirations
The gentle somatic lessons of the Feldenkrais Method® use guided attention and awareness to improve your wellbeing and enjoyment of daily activities. This guided attention feeds and nourishes your nervous system with sensory-motor information. The Method® stimulates your brain and nervous system allowing new neural pathways to form. The sessions give you an opportunity to delve deeply into the experience of your physical body and listen to your whole system. Some people report a sense of increased vitality, inner calm and clarity of thought.
Other experiences may include
Freedom from pain or stiffness
Improved quality of breathing
Finding more ease and comfort
Greater emotional resilience
Rediscovering lost abilities
Moving out of stuck or limited patterns
Discovering more enjoyment in everyday activities
Greater coordination and balance
More resources to cope with life's challenges
A subtle means of maintaining mind-body Connection
A change in one part affects the whole
In this Method® movement refers to all parts of you including body, mind, emotions, spirit…
What I'm after isn't flexible bodies, but flexible minds. What I'm after is to restore each person to their human dignity
Moshe Feldenkrais
---
Each one of us speaks, moves, thinks and feels in a different way, each according to the image of himself that he has built up over the years. In order to change our mode of action we must change the image of ourselves that we carry within us. What is involved here is a change in the dynamics of our reactions, and not the mere replacing of one action by another.
Moshe Feldenkrais
Awareness Through Movement


Who was Dr Moshe Feldenkrais
Dr Feldenkrais started developing his movement based method in the 1940's to help himself recover from severe knee injuries. He had worked as a nuclear physicist with the Nobel laureate Joliot-Curie. He also had a long international career in Judo. Drawing on his scientific background he proceeded to teach himself anatomy, kinesiology and physiology.
Moshe Feldenkrais drew on a wide range of knowledge including biomechanics, physics, electrical engineering, neuroplasticity, early childhood development, autosuggestion and martial arts to develop a unique approach based on human function and development.
Dr Feldenkrais dedicated the rest of his life to teaching the Method® across the globe. He was prolific in developing Awareness Through Movement® and Functional Integration® lessons.
Long before neuroplasticity became widely known, Dr Feldenkrais recognised this capacity in human beings. The Feldenkrais Method® uses organic learning to create new neural pathways in the brain. The Method® gives people more options and choices.
© International Feldenkrais® Federation Archive.
---