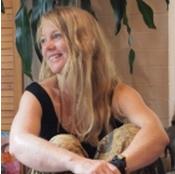 Kirsten Holmes
This account is currently inactive on Natural Therapy Pages, but you can browse from hundreds of other practitioners in your local area.
Search for practitioners in Sydney
Alert Practitioner
By clicking on the Alert Practitioner button, we send the practitioner a message on your behalf that you would like to get intouch with them.
Would you like to explore your personal mysteries, taking in the whole composition of the unique being that you are? We can look at your dreams and desires, learn what creates meaning in your life and discover a new you
Kirsten Holmes
Focus areas
Growth
Dialogue
Art therapy workshops
Well-being
Life path
Nurturing
---
Transpersonal Art Therapist
---
Ask yourself the following
Are you looking for a creative medium to express yourself?

Would you like to nurture a sense of wellbeing?

Does living your life authentically appeal to you?

Do you see the benefit in seeing your questions from a new vantage point?

Where words may be difficult or where you do not have the words to express something, Art Therapy explores many other avenues of communication.


Dialogue freely and confidentially, overcoming stagnant situations in your life.

Unveil your personal truth, and rediscover your path when the way ahead becomes obscure.

Explore the meaning in your life path

Best described this form of therapy is counselling which incorporates creative media varying from music, meditation, drawing, clay work and movement expression as tools in which to aid you in accessing deeper levels of understanding. From this, your personal growth can be nurtured. Together we will focus on the idea of healing rather than curing.

"Transpersonal" means to encompass all of you from your cultural background, personal outlooks and beliefs, your environment as well as any presenting physical, mental or psychological natures. Nobody is a healer except themselves. We are all our own experts. We have all our own answers within us. Transpersonal Art Therapy aims to empower you through facilitating a safe space for this personal healing to take place.

'Art with HeArt' - creative workshops for you
---
I feel very blessed to be welcomed into the Wellbeing Program at the Prince of Wales Hospital. Alongside activities such as gardening, music, Tai Chi and movement, I will be offering:

'Art with HeArt' - Creative workshops with Kirsten. Suitable for all abilities, including spectators and socialites!

Art Therapy workshops for Spinal and General Rehab patients. Every 2nd and 4th Monday from 3.30-4.30, Prince of Wales Hospital, Randwick.

Hamlet said; "Who will draw the mystery out of me?"

Through Art Therapy practice, you can tap into your universal language - that is the language of the Self, the Soul and your personal creativity or passion.

Slowly and gently, a place of peace fills the space of hindering thoughts, and the heart's true voice speaks it's wisdom. Together, let us journey to reclaim this truth and wisdom that we all hold within us.

About Kirsten Holmes
---
Born in South Africa, where I spent my childhood growing up within a Camphill Community. This is a community for mentally disabled children and adults based on the philosophies of Rudolf Steiner. Camphill offers a nurturing environment to harness the full strengths and abilities of all those who reside there. This is done through work on the biodynamic farm, working with animals, and participating in the many creative workshops from weaving to woodwork.

At the age of 12, my family immigrated to the UK, where again I resided in another Camphill Community. My continuous creativity attained a BA(Hons) in Fine Art Sculpture at Wimbledon School of Art, London.

Having worked with my family in workshop based activities for mentally handicapped people, I continued this thread, teaching pottery and art classes to both able and disabled children. This continued in a career in childcare, where I specialized in creative activities. Having a free spirit lead me to many parts of the world, including a charity bike ride across Brazil to raise money for MENCAP.

In living in Australia for the past nine years I have opened another chapter in life, reflecting upon the path I have taken and realized that Art Therapy has been an integral, if not at first apparent, part of my journey and I am here to help others discover the benefits.


---