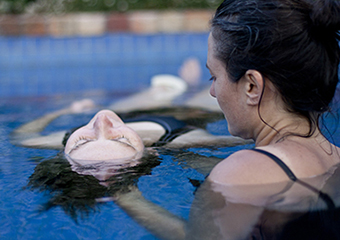 AQUATIC THERAPY with Rebecca Czapnik
Clicking on the Send Me Details Now button opens an enquiry form where you can message Rebecca Czapnik directly
Send Me Details Now
AQUATIC THERAPY with Rebecca Czapnik
AQUATIC THERAPY with Rebecca Czapnik
Focus areas
Nervous system
Hydrotherapy
Relaxation
Physical pain
Love
Mentoring
---
About Aquatic Therapy
Aquatic Therapy can be known by numerous names.
You may have heard it called Aquatic Bodywork, Watsu, Waterdance, Water Massage, Jahara Technique, Healing Dance or something else.
Created in the early 1980's in California and Europe,
it offers profound healing across
mind, body and spirit.


Benefits
Aquatic Therapy offers many benefits including relief to pain, tension and physical injury and reduction in stress and anxiety.
Aquatic Therapy calms the nervous system allowing receivers to enter a state of deep peace and relaxation.
It moves and stretches the body in ways unavailable on land. Relieved of the body's weight the muscles, joints and spine soften and release.
Almost anyone can benefit from an Aquatic Therapy session including:
Stressed Professionals

Sufferers of physical injury, Arthritis and Fibromyalgia

Pregnant Women

Mediators wanting a deeper state of mindfulness

Anxious Students and Parents

Float Tankers – this is another level of relaxation and healing
---
Rebecca is trained in numerous Aquatic Therapy practices including Watsu®,
WaterDance™, Fluid Presence® and Aquatic Integration™.
The Aquatic Therapy experience is multi-sensorial and its qualities somewhat indescribable.
A close description could be;
part massage,
part float tank,
part meditation,
part energy healing,
part dance.
The only way to truly know its benefits is to try it!
For more information see www.rebeccaczapnik.com/water

Follow me on Facebook and Instagram
---
Individual Session (75 minutes) – $180

Resting back into the arms of the practitioner you are floated, stretched, cradled, massaged and moved through warm water (34.5°C).
With the use of a nose clip you may also be submerged underwater (optional).
Package of Three Sessions (75 minutes each) – $480

Multiple sessions are suggested for those who want a deeper experience of Aquatic Therapy and its healing potential.
Each session is unique and builds upon the one prior, with the body progressively softening and opening to receive more.
Gift Certificates
The perfect gift for a loved one or even for yourself.


Location

Aquatic Therapy sessions are held at the hydrotherapy pool at Hawthorn Aquatic Centre at 1 Grace St Hawthorn Vic 3122.
This spacious, therapeutic pool is heated to 34.5°C.
Day, evening and weekend times are available.
It's suggested that you allow space for reflection and integration after the session.
---
About Rebecca
Rebecca is a passionate Aquatic Therapy practitioner and has trained in various water modalities including Fluid Presence, WaterDance and Watsu.
Inspired by movement and presence and how they catalyse healing and transformation, Rebecca lived in California for many years immersed in the teachings of internationally recognised aquatic therapy, conscious movement and energy healing pioneers.
Reach out if you're curious to know more.
---
Contact us today for more information.
Professional Membership
IICT - International Institute For Complementary Therapists
---