---

Turning Point Acupuncture offers professional Traditional Chinese Medicine (TCM), Acupuncture and Natural Therapy treatments. Julie Constantine is the principal practitioner and has treated regular clients for more than 10 years. Turning Point Acupuncture is located in Fortitude Valley.

Therapies offered:

Acupuncture
Cosmetic Acupuncture
Chinese herbal medicine
Cupping therapy
Moxa
Diet therapy
Flower essence consultations

TCM originated in China more than 3500 years ago and today it is practiced across the globe. It is an ancient way of healing in which different methods are used during the treatment, including acupuncture, cupping therapy and chinese herbs. When energy (qi) flows freely the body will function normally. When qi becomes stagnant or blocked, symptoms of illness will appear either physically, emotionally or mentally. TCM can be used to effectively treat a wide range of ailments and is particularly effective in treating chronic injuries that have not responded to other therapies.

The first consultation usually takes one hour. During your initial consultation, questions are asked, the tongue is examined and the pulse is read in order to make a diagnosis. Predominantly, acupuncture and Chinese herbal formulas are used. These methods compliment each other during the treatment. Acupuncture can also be used to maintain good health and balance in the body.

Julie Contantine is a Member of the Australian Acupuncture and Chinese Medicine Association (AACMA) 2285. Health Fund rebates are available.


---
Acupuncture Treatment Brisbane
Acupuncture is one of the oldest healing practices in the world and originated in China over 5000 years ago.
As part of Traditional Chinese Medicine (TCM), acupuncture is based on the concept that disease results from disruption in the flow of qi and imbalance in the forces of yin and yang.
The term acupuncture describes a family of procedures involving the stimulation of anatomical points on the body using a variety of techniques including moxabustion, cupping, laser therapy and electro-stimulation.
The acupuncture technique that has been most often studied scientifically involves the insertion of fine, sterile needles into specific sites (acupuncture points).The practitioners at the clinic use pre-sterilised single-use disposable acupuncture needles of the finest quality.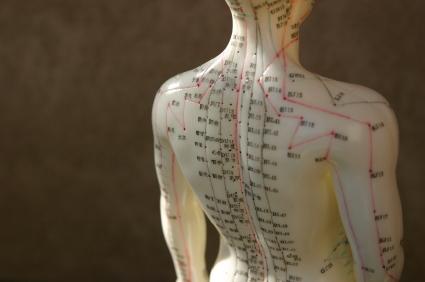 How does it work?
Acupuncture is based on the ancient Chinese theory that energy (qi) and blood (xue) flow through the meridians or pathways that are located all over the body. Specific points lie along these pathways. The insertion of a fine needle gently stimulates the qi. This restores the healthy flow of qi and assists the body to heal itself.
The purpose of acupuncture is the promotion of good health. No pain should be felt. In general, people will experience a free flow of energy, a subtle tingling feeling or electrical sensation around the needle or traveling up and down the body.
What happens during the initial consultation?
First, your practitioner will ask about your health then we will examine your tongue's shape, color and coating, feel your pulse. After making a diagnosis we will be able to make a treatment program to address your particular treatment plan. We include an acupuncture treatment in the initial consult, the needles are usually retained for 30 minutes. Most people don't feel discomfort and have reported that it feels very relaxing.
Tongue Diagnosis
As part of the diagnostic process your tongue will be inspected, the tongue shows us what is going on internally. We look at the tongue's shape, color and coating.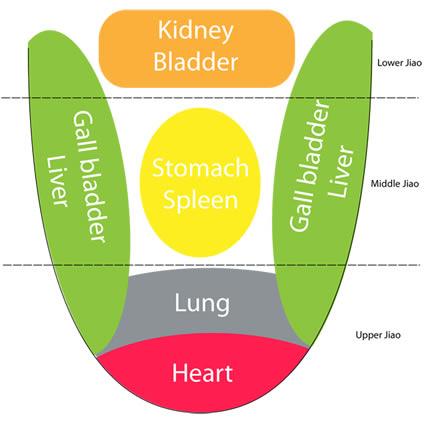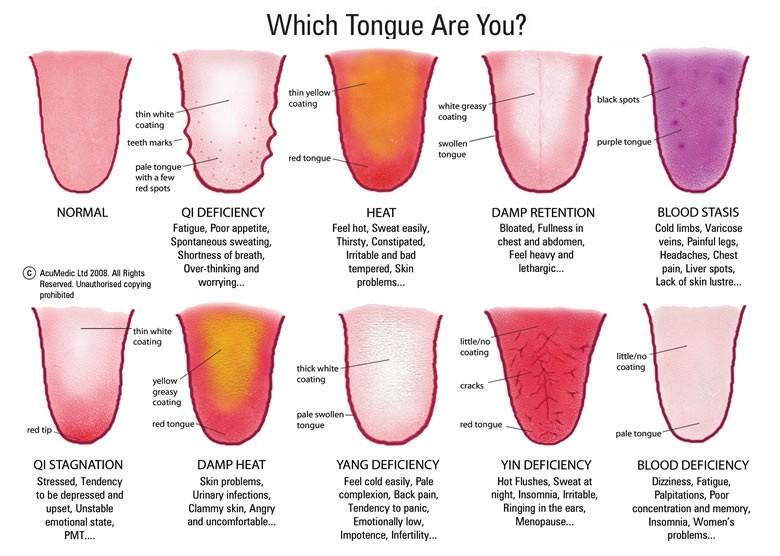 Pulse Diagnosis
Pulse diagnosis is a significant tool that we use to assess the health of all major organ systems of the body. It's not just the speed as in Western Medicine pulse, it's a skill required as a useful diagnostic tool. Your pulse is often checked throughout the duration of your Acupuncture treatment to check for changes of your internal systems. When the desired change is present we will make changes to the acupuncture points to get maximum results.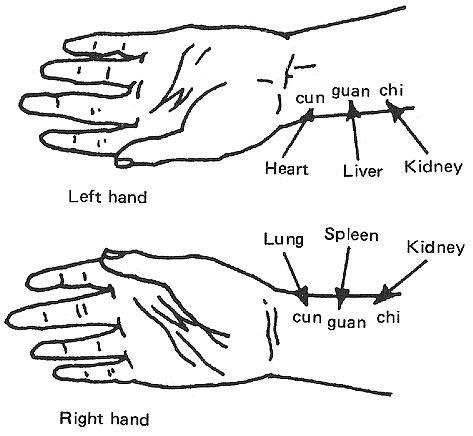 What can I expect from after the treatment?
After treatment, you will usually feel a sense of general well-being and relaxation. Although individual responses vary, most people experience an improvement in sleep, digestion and energy levels. Some people experience a mild exacerbation of symptoms after the first treatment, but this does subside and will be followed by an improvement in the condition over subsequent treatments.
How many treatments will I need?
The number of treatments will depend on how severe and long-standing the condition is, each patient responds differently to therapy. Usually a course of treatments will generally provide long term relief for most chronic ailments. Some acute problems may only require a single treatment. You will be given some idea of how you should respond in your initial consultation, and certainly experience an improvement in your first few treatments.
Can I have Acupuncture during Pregnancy?
It is important that you tell your acupuncturist if you are or may be pregnant. Acupuncture is very effective in pregnancy to relieve symptoms such as morning sickness, indigestion, sciatica, and fatigue. Acupuncture may assist with natural labor induction, breech presentation and post-labor recovery.
---

About Julie Constantine

Julie Constantine is a highly qualified and experienced Acupuncture and Traditional Chinese Medicine practitioner who has treated regular clients for more than 10 years.

Julie completed a three-month medical internship at Zhejiang Medical Hospital in Hangzhou, China, in 2010. The internship included working within the various departments of the hospital covering acupuncture, internal medicine, oncology, gynecology, infertility, dermatology, paediatrics, traumatology and cardiology. During her internship Julie had the opportunity to observe and learn alongside highly experienced Chinese doctors within the Chinese hospital system and attend seminars presented by experienced professors.

Julie has worked in various clinics in Perth and spent fours years with Alba Therapies in Brisbane working as both a practitioner and the clinical manager. She is dedicated to ongoing professional education and development, and attends regular seminars and conferences in Australia and China to ensure her clients receive the most current health information.

Julie's specialities include treating women's health issues, infertility, balancing emotions and anxiety conditions. She is experienced treating painful conditions including muscular, skeletal, neck, shoulder and period pain.

---