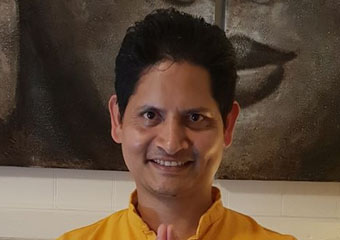 Anandam Wellness
Want to find out my availability, pricing or opening hours? Click on Send Me Details Now to get started.
Send Me Details Now
Clicking on the Send Me Details Now button opens an enquiry form where you can message Anandam Wellness directly
Wellness is the process by which one becomes aware of and makes choices toward a fulfilling and healthy life. It goes beyond being free from illness, it is a dynamic state of growth and change. Are you in this dynamic state? Schedule a free 15-minute discovery call to learn more!
Anandam Wellness
Focus areas
Telehealth
Online consultations
Herbal prescriptions
Energy cleansing
IVF support
Fertility acupuncture
---
---
Anandam Wellness aims to empower people to heal themselves through the use of natural medicines like acupuncture, energy healing, naturopathy, and yoga.
The primary goal of the program is to balance the body as a whole, not just the physical self, but a holistic approach that encompasses the psychological, emotional, and spiritual factors, addressing where the disease originated.
Comprehensive diagnosis and healing ensure not just the absence of disease or infirmity but a state of health on all levels: physical, mental, and social.
The clinic has a team of natural healers who are all highly skilled and have mastered their field of specialisation.
Services Offered
Naturopathy
The goal of naturopathy is to identify the underlying causes of illness rather than suppress symptoms and work towards making appropriate interventions to prevent future illnesses.
Naturopaths can do this by working with conventional medicine and by utilising various techniques and modalities, including:
Herbal Medicine
Energy Cleansing
Breathing Techniques
Mud Pack Therapy
Magnetic Field Therapy
Acupuncture
Traditionally, acupuncture has been used to stimulate acupuncture points through needles, finger pressure, and heat (moxibustion) and more recently, electro and laser stimulation.
As a result of this process, the central nervous system responds in the following ways:
Improves blood circulation
Boosts the release of neurotransmitters such as endorphins
Promotes hormone balance
The clinic also offers pregnancy acupuncture to help support couples who are undergoing IVF and other assisted fertility methods through all stages of pregnancy and birth.
Initial consultations include pulse diagnosis and detailed case discussion. Treatments include tailored needling to specific points and one or more of the following techniques:
Auriculotherapy
Gua-Sha
Moxibustion
Electro-Acupuncture
Chakra Puncture
Ultimate Healing Experience
Energy Healing
The goal of energy healing is to help people come to terms with their experiences and circumstances.
To grow and develop emotionally, it is vital to release and resolve thoughts and memories from the subconscious mind, so that the past no longer controls your thoughts, feelings, or emotions.
Emotional healing does not just apply to emotions, it also applies to the body. Pain, aches, heaviness, and physical illnesses can result from emotional blocks.
Whether you are aware of them, past incidents affect your daily life, and emotional healing can help release them.
Massage
Massage is often part of larger treatment plans and can benefit a wide range of individuals, including those with disabilities, expectant mums, office workers, athletes, and labourers.
It can treat a wide range of conditions, including:
Loosening tensed muscles
Improving muscle tone
Increasing flexibility
Treating musculoskeletal disorders
Complementary treatment wounds or cancer care
Enhancing circulatory, lymphatic and neurological functions
You can choose from a variety of massage techniques depending on your needs and therapeutic goals:
Relaxation Massage
Therapeutic Massage
Hot Stone Massage
Herbal Poultice Massage
Reflexology Massage
Chakra Massage
Yoga and Exercise
As you practice yoga, you can develop mindfulness and focus your attention on the sensations, thoughts, and emotions that accompany each pose or exercise.
Yoga teachers will work with exercise physiologists to ensure that your exercise program is safe and effective even if you have a chronic or sub-acute medical condition.
Call today to schedule a free 15-minute discovery session!
Online Initial consultation Case history Blood reports Systemic overview
Naturopathy Follow up
30min
Follow up is after 2 weeks of Initial consultation
Qualifications
Degree In Physiotherapy
Degree In Naturopathy
Degree In Yoga Sciences
Masters Degree In Sports Health
---